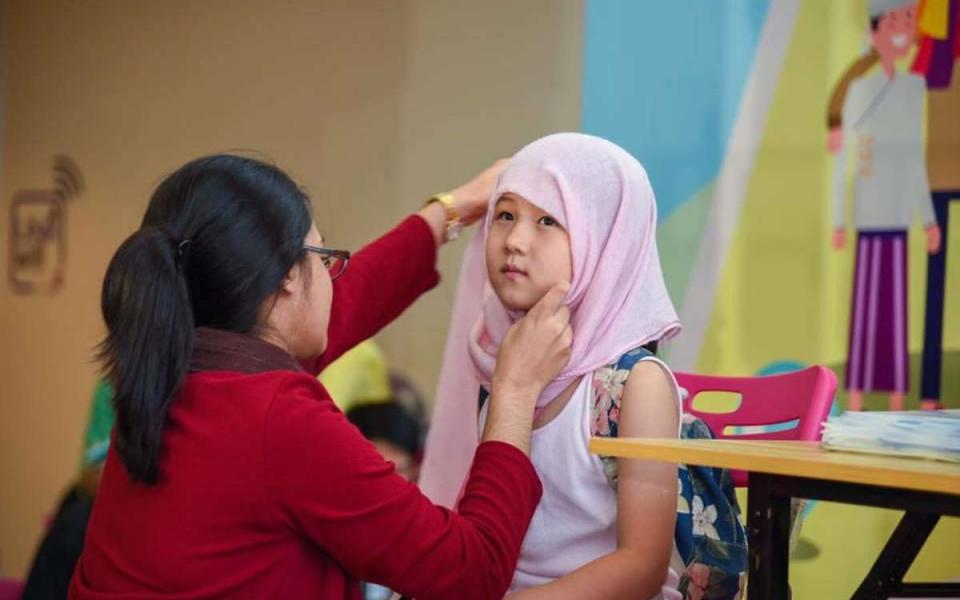 Sep 26, 2017. 
[#WedoWednesday - 文化之星誕生 @ 世界和平日 & 旅遊日] 
賽馬會「衝吧!」世心領袖計劃 嘅參加者已經轉眼成為文化之星,同公眾分享文化經歷  仲籌備左好多跨文化活動,例如跨文化小遊戲,分享同表演!小編表示見到唔同背景嘅學生係同一個台上面表演同埋慶祝多元文化而覺得好神奇,適逢最近喺世界和平日 & 旅遊日,係一個好好嘅祝賀方式 
其中一位巴基斯坦裔活動主持Naveed嘅心聲:"今次係我第一次成為需要講廣東話嘅主持,一開始覺得好緊張,但最後我都完成左! !我的而且確跳出咗我嘅舒適範圍,我亦都好享受今次嘅經歷!我依家好有信心喺未來成為任何活動嘅主持。" 
負責包頭巾體驗環節嘅華裔學生Yvette嘅分享:"我學識到點樣去包頭巾同埋背後嘅因由,而且我都好開心可以同其他本地華裔參加者分享。呢個活動好有趣,而且大家一齊擁抱多元,推動文化,呢個畫面實在係太美啦!" 
想睇多啲有關呢個計劃嘅資料同報名方法:  https://www.wedoglobal.com/zh-TW/trips/program-details 
歡迎與我哋同行,一齊令香港變成一個更多元文化嘅國際大都會啦 
[#WedoWednesday The birth of WEDO Cultural Stars @ International Day of Peace and Word Tourism Day] 
Participants of the Jockey Club 'GO! Leaders of the World' (GLOW) Programme had transformed to be Cultural Stars who take action and share their cultural experience with the public.  Together, we organized a cross-cultural event with cultural games, sharing and performances! It's just amazing to see students of different backgrounds performing on the same stage and celebrate cultural diversity together, what a great celebration for the International Day of Peace and Word Tourism Day.
"This is my first time being a Cantonese MC, I felt nervous at the beginning, but I did it! I did step out of my comfort zone and enjoyed the experience a lot! I gain the confidence to be MC of any event in the future!" said Naveed, one of the Pakistani MCs of the event. 
"First I learned how to tie a Hijab and then I was happy to share that with other local Chinese participants. And I realize I can do a better one for others than doing it for myself, haha. It was fun and it looks beautiful for people who can embrace diverse cultures!" said Yvette, Chinese student organizing the Hijab session. 
For more details about the JC GLOW programme and registration methods, click here.
Welcome to join us to cultivate our city with cultural diversity! 
#culturalStars #embracediversity #mixcultures #MC #performances#cultureisfun #Wedo_global #CulturalDiversity #community #JCGLOW#GLOWProgramme #buildbridges #embrace #EMxChinesecrossover 
Cooperation Circles Involved