By words and actions, people all over the world give voice to URI. In this "Every Voice" series, Sally Mahé shares inspirational quotes from members of the URI community.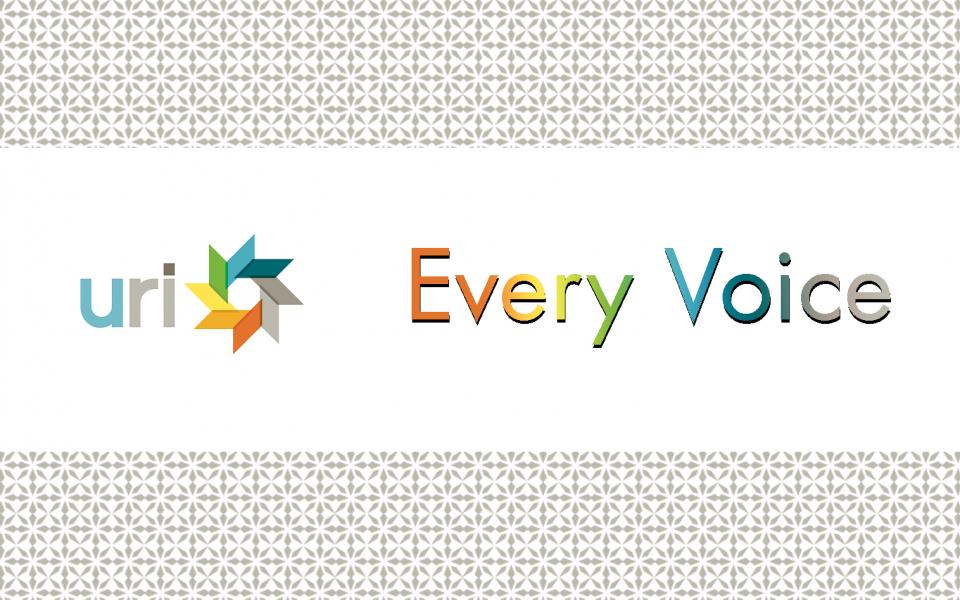 Every Voice, 8 August 2018 – Maria Crespo
Maria Crespo, a long-time Cooperation Circle leader and staff member, shares "A Community Prayer for Challenging Times."
Every Voice, 1 August 2018 – Diana Arsenian
Diana Arsenian is a talented artist who helps graphically visualize the URI network.
Every Voice, 25 July 2018 – Dee Hock
Dee Hock is a banker and founder of the VISA card. He developed key organizational concepts for URI.
Greshma P. Raju is a former youth member of URI and Eco-Spirituality scholar.
The Reverend Patrick Lumumba is a committee member of the Acholi Religious Leaders Peace Initiative Cooperation Circle in Uganda.
Every Voice, 4 July 2018 – Gard Jameson
Gard Jameson is a generous friend and member of the URI North America Leadership Council.
Father Louis Dolan is a Catholic priest, a citizen of the US and Argentina, a founding URI leader, and the first regional URI coordinator in Latin America.
Jack Lundin is a Lutheran pastor and inspiring jazz pianist who served as a Global Council Trustee.
Margaret Jones is a URI member who created a set of guidelines for creating a safe space for interfaith dialogue.
Every Voice, 6 June 2018 – The Drum
In this installment, we hear from different URI members about the "heartbeat of the drum."
Audri Scott Williams is a URI trustee and founder of the Trail of Dreams Cooperation Circle, based in Alabama, USA.
Tomoko Watanabe is a URI member born in Hiroshima, Japan, just eight years after the atomic bombing.
Michael Ayala, a URI member from Peru, speaks about Indigenous identity and the "condition of Mestizo."
Every Voice, 9 May 2018 – Sally Mahé
Sally Mahé, Senior Consultant, shares why URI is "a harbinger of a deeper democracy."
Adelia Sandoval is a treasured contributor to URI, Cooperation Circle member and former Global Council trustee.
Every Voice, 25 April 2018 – Sarah Talcott
Sarah Talcott is a former Coordinator for URI's Young Leaders Program.
Every Voice, 11 April 2018 – Charles Gibbs
The Reverend Charles Gibbs is URI's founding Executive Director.
Every Voice, 4 April 2018 – Diana Whitney
Read about Dr. Diana Whitney and the principles behind URI's meetings to encourage a close-knit and growing community.
Sr. Mary Tarcisia is a URI member who lived through generations of war in Northern Uganda and helped young girls who had been used as sex slaves in that war.
Every Voice, 21 March 2018 – URI Staff
URI staff share memories from a major URI global gathering in Sarajevo, Bosnia in September 2017.
Every Voice, 14 March 2018 – T.D. Singh
Dr. Thoudam Damodara Singh (T.D. Singh) is a scientist, spiritual leader, and URI Cooperation Circle leader.
Betsy Stang and Deborah Moldow both served on the URI Global Council in its early years.
Dr. David Cooperrider is a professor, founder of Appreciative Inquiry, and a "first responder" to the idea of a "United Religions."
Fire Women Association is a URI Cooperation Circle from the Democratic Republic of the Congo.
Every Voice, 14 February 2018 – Gary Gunderson
Dr. Gary Gunderson highlights URI's structure as the "right vehicle to shepherd profound change in an uncertain world."
Hhear a prayer from Dr. Potre Diampuan, Senior Interfaith Advisor for URI in the Philippines.
Every Voice, 31 January 2018 – Julia Ha
Julia Ha is a URI member who encountered URI in the 10th grade.
Dr. John Paul Lederach is an esteemed educator of peacebuilding and conflict transformation.
Rosalia Gutierrez is a leader of the Indigenous People of Argentina Cooperation Circle in Buenos Aires.
Every Voice, 10 January 2018 – Stephan Fuqua
Stephen Fuqua is a member of the Bahá'í faith and former student at the University of Austin, Texas.