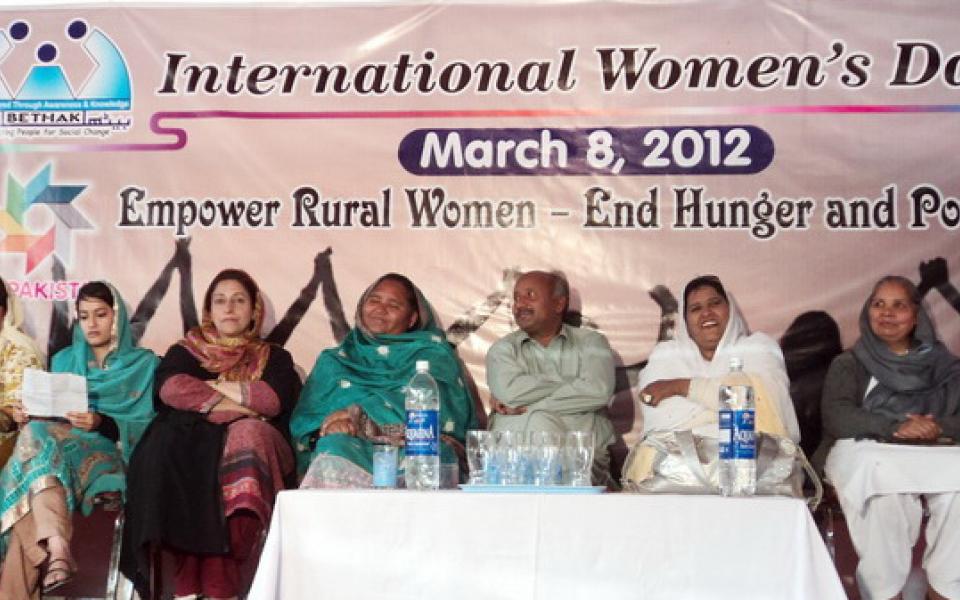 A seminar on the International Women's Day was conducted by BETHAK -cc and AAP-CC under the chair of Francis Jacob Director BETHAK Organization. A large number women and men from all walks of life attended the seminar. Francis Jacob Doctor BETHAK enlightened the audience that in male-dominant society, a woman's role as the iconic mother of mankind hardly gets the meaning and significance it requires. Religious ideologies and scriptures are misused and misinterpreted to oppress women, instead of empowering and emancipating them. Social development can only be achieved by equal participation and involvement of both the male and female sections of the society. Akeela Naz, Bushra Adiel, Dr. Christopher, Amir Hussaini, Sohail Javed, Rao. Noushad, Sarfraz Clement, Shahida Ahmad, Huma Saeed, Roohi Bano, Khalida Shahid, Nadeem Najid, Roshan Sikander, Karar Shah and Shahzad Francis also explained that Male domination and subordination of women are the underlying tenants of the country's social structure. Men have the economic control and therefore are the decision makers. Women's lives are dominated by a highly restricted social structure. Although women contribute to the family, often their efforts are not valued. They further said that respect for diversity and for diverse forms of social and cultural expression and identity must guide all human rights principles; equally important is the recognition of the dignity and worth of women as full human beings. International human rights law has repeatedly stressed that women's human rights cannot be violated on the grounds of cultural or religious norms. In end a local singer Stephen Sharif and Nazar Hussian entertained the audience with their melodies.  
click here to see more pictures
http://www.facebook.com/photo.php?fbid=2764842088944&set=a.2764839088869.2114603.1494636163&type=1&theater
BETHAK have launched its website under www.bethak.org.pk. please visit to know more about BETHAK.
Cooperation Circles Involved