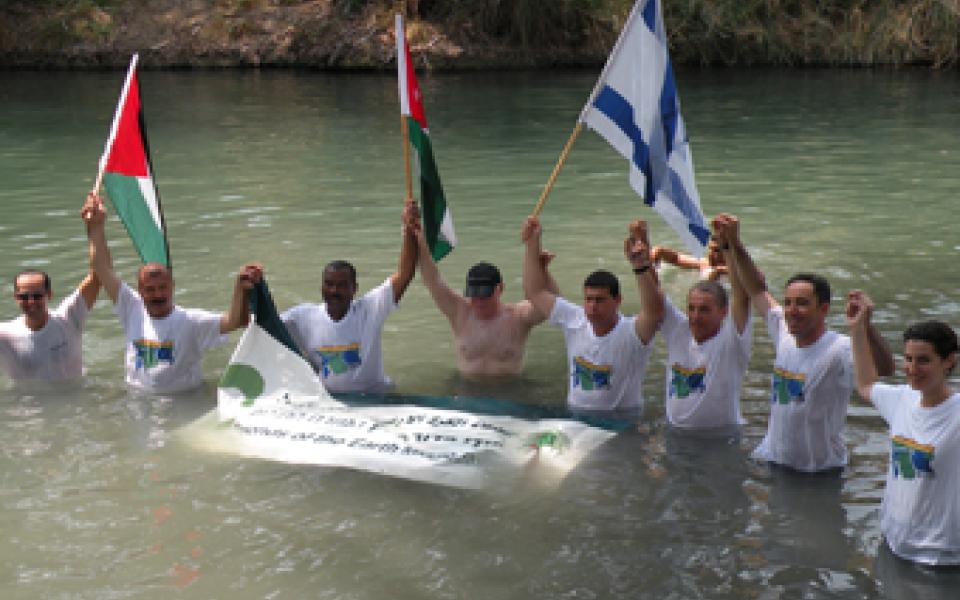 EcoPeace/Friends of the Earth Middle East (FoEME) became a member of the URI family in late April. This new Cooperation Circle's members come from Muslim, Jewish, and Christian backgrounds. Environmentalists working together to protect their shared environmental heritage, the dedicated individuals of FoEME are Palestinian, Jordanian and Israeli.
FoEME is a project-based organization that has been working together on community development projects in the Jordan Valley since the early 2000s and operating out of Amman, Bethlehem, and Tel-Aviv. 

"Friends of the Earth International is the largest grassroots environmental network in the world. We have much in common with URI, particularly the interfaith component and the grassroots dimension," said Elizabeth Koch-Yaari, primary contact for EcoPeace.

Highlights of previous projects include the "Good Water Neighbors (GWN) project to raise awareness of the shared water problems of Palestinians, Jordanians, and Israelis. Their "Protecting Groundwater" project aims to promote sustainable management of water resources and to alleviate pollution of groundwater in Mediterranean basins.

"We seek to advance both sustainable regional development and the creation of necessary conditions for lasting peace in our region through Environmental Peacemaking work," Elizabeth said. 

Jordan Peace Park, a project endorsed by mayors and communities on both sides of the river, is considered by many to be the first step in rehabilitating the Jordan River. 

Just this month, FoEME/EcoPeace united people in its Faith Based Campaign to rehabilitate the Lower Jordan River.  FoEME's directors met with the senior advisor to the Archbishop of Canterbury and the Board of Deputies of British Jews. They also co-hosted an interfaith event for Muslim and Jewish community members in the Wembley neighborhood of London. 
Leaders of these events were able to encourage the use of FoEME's Water, Ecology and the Jordan River sourcebooks, created in order to educate faith-based communities about the river's importance, as well as to inspire people around the world to raise their voices to rehabilitate the Jordan River.

The new EcoPeace/FoEME Cooperation Circle hopes to become connected with other URI CCs through its newfound membership.

"Being a part of URI's large global network will enable us to learn from likeminded organizations, share experiences and resources, as well as promote our work," Elizabeth said.  
Cooperation Circles Involved