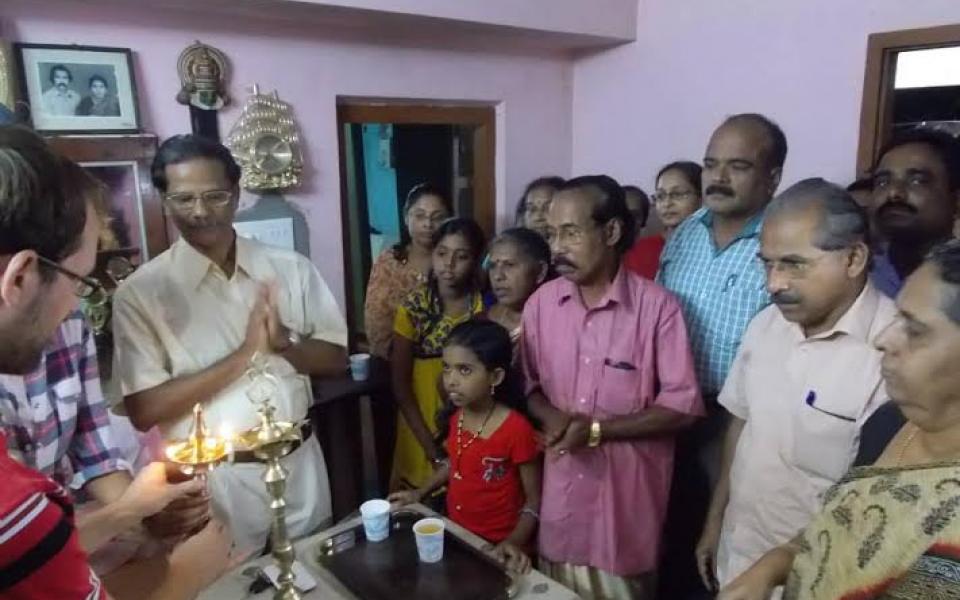 After a recent visit to India to work with burgeoning young URI leaders and supportive elders, Associate Director of Global Programs for Youth Leadership Development Matthew Youde reflects on the role of hospitality within URI and the interfaith movement. Above, he lights a lamp at the inauguration of the new Cooperation Circle (CC) Neeleswaram. 
 

Principle 6 of the URI Charter states that, as members, "We give and receive hospitality." But what does this look like and why is it important?
It probably isn't a stretch to imagine that, for people from different religions, cultures and beliefs to form relationships that enable everyday dialogue and cooperation, they need to have interactions that move outside of conferences, programs, rallies and even dialogue itself. They need to encounter each other in life. In their homes, shops and cafes. With each other's families and friends. At each other's festivals, birthdays, funerals. They need to borrow sugar from each other, collect each other's mail and feed their cat when they are out. When tensions rise between communities, those friendships become the bedrock for resilience and calm and can be vehicles for peacemaking.
Hospitality, therefore, has something important to contribute. The reality of what this principle is like in action was brought home to me through my India trip. Many cultures place great value on hospitality and, I daresay, that's how it ended up in the Charter in the first place. In India, this is apparent. As Isaac, one of our Youth Ambassadors in South India, told me, "The guest is God" (a pretty big role for me to live up to). 
During my time in Kerala, South India, I stayed in the home of URI Asia Executive Secretary Abraham Karickam. I had breakfast there (and lots of tea – my goodness, I love tea), a comfy bed and the good cheer of a family winding down and relaxing after work. No soulless hotel for me. Each evening Abraham, his wife Susan and I would join Krithika, who was staying with another family, to visit the home of a different Cooperation Circle (CC) leader for dinner.
Having home-cooked meals made us very happy indeed. And happy people work better together. It's no small thing. Moreover, since I'm allergic to all nuts and coconut (which is pretty much in everything in Kerala) our hosts changed their menus to accommodate me—talk about creating a safe space!
It's one thing for people to simply be hospitable to guests and visitors from overseas. But at URI, hospitality can itself become a vehicle for doing the work – and indeed these dinners and homestays gave us some great opportunities to learn more about the work of our CCs and build relationships with some of the leaders. We learned about projects that taught people how to grow organic produce in their gardens; some CCs are even learning to keep bees, with some forming a honey buyers' club of sorts! Other CCs raised money for disabled people to have wheelchairs with community members really coming together to set up centers for substance addicts to recover and rehabilitate.
Sitting in the main room of someone's house and hearing the host describe how CC members and their families gather in that same room, discussing issues and developing plans to work on them, really allowed me to get a feel for what URI is really like at the grassroots level.
So what value does hospitality bring to our work? Firstly, it brings interfaith into the home, changes its feel and focus and makes it more about people than about theology, issues or projects. It makes interfaith normal and routine, something anyone can do, anywhere and at any time, which is what URI needs in order to create "cultures of peace." In this and a previous visit, we attended many CC launch events in schools and offices of organizations and, wonderful though they were, it was a great pleasure this time to hold a less formal inauguration of Neeleswaram CC in someone's home. We lit a lamp, shared our thoughts and reflections in a circle, and then had dinner! This really felt like URI being brought into the home.
Hospitality also provides a safe and nurturing space (and not just for allergy sufferers) for dialogue to occur. I think that all of this is far more sustainable than a set-piece approach to interfaith (through conferences and so on) and it is what makes URI a little different. It's a big world with lots of people and, if we want to continue to focus on the grassroots, we need to operate sustainably. The presence of extended family and neighbours at the CC inauguration speaks to that.
But most important for me is that the emphasis on hospitality also makes URI more than an organisation in which friendships between colleagues are circumstantial. URI actually places friendship and fellowship at the heart of its network building. Our members often refer to each other as family, much like other movements have done throughout history.
For me, friendship is the engine that powers URI's Cooperation Circles and the whole network. Learning to give hospitality to others—and indeed to receive it—is a big part of becoming friends with people. Having been inspired by these reflections on hospitality, I was excited to host several URI young leaders in my home on Sunday to honour their volunteerism as part of the Youth Program's affiliation with Sewa Day, a global day of volunteer service. Other groups of young leaders around the world did similar, connecting us all.
So here's a shout out to all those in the URI network I can confidently call my friends, some of them very dear friends. Friendship isn't just an indulgent bonus to doing the work. It is the work.
Cooperation Circles Involved