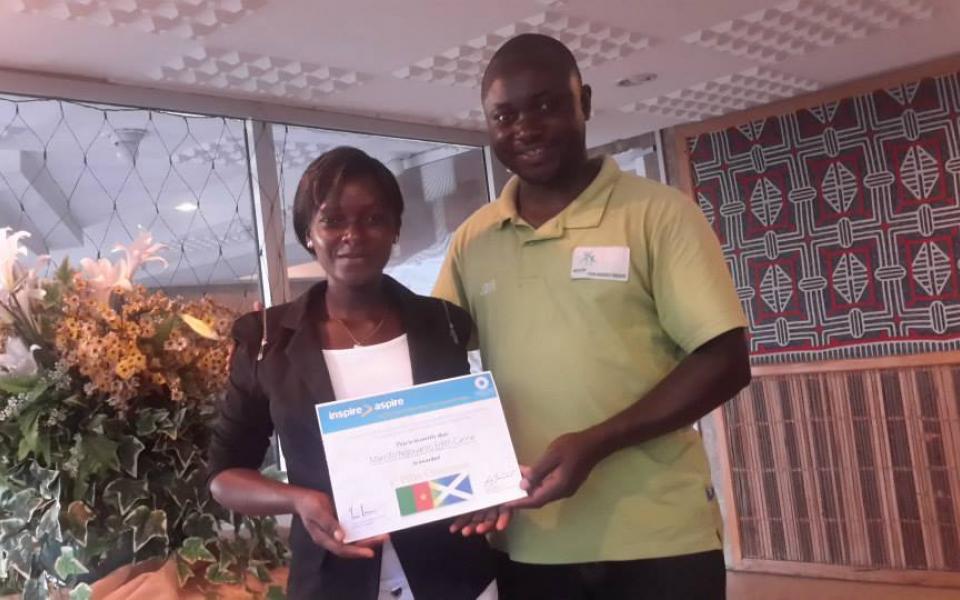 Carine Mamifo Ngouanto [18] recently won 1st prize for her Commonwealth country Cameroon in our inspire>aspire: Global Citizens in the Making International Awards. Carine completed her poster earlier in the year whilst she was in her final year of secondary school at the Government Bilingual High School of Santchou.
In exciting news, Carine has now begun her tertiary education at The University of Douala where she is studying Sociology within the school of Human Sciences. It is a notable achievement for Carine to be accepted into the course of her choice given both her age (it is difficult for young people aged 18 to get into university in Cameroon) and the traditional gender discrimination attitude that Cameroon still faces, despite education advances in the country over the past decade.
Carine referenced the issue of racism and discrimination throughout her inspire>aspire poster and listed the late Nelson Mandela as her inspiration for his work fighting peace and freedom. Carine aspires to create an organisation to help tackle the issue of discrimination and racism within society, to help achieve peace in the world.
We have developed a fantastic working relationship with the organisation Global Compassion who is operating the inspire>aspire: Global Citizens in the Making programme throughout schools in Cameroon. Global Compassion (a URI Cooperation Circle) is a non-profit organisation working with humanitarian issues such as education of children, providing food, resources and community services.
Global Compassion Founder and President Clement Awanfe Ngueto has been central to the success of the inspire>aspire programme in Cameroon and has kindly shared Carine's success story with us.
As well as her university studies, Carine is also working hard to improve her computer/internet literacy skills as she has not had the opportunity to develop these at school. Clement is helping Carine develop these skills to help her connect with young people throughout the world and to help benefit her future aspirations post university.
We look forward to inspiring more young people in Cameroon like Carine with our programme next year and hearing of many more success stories.
For more photos, visit the Global Compassion Flickr page!
(Reposted from Inspire>Aspire UK, written by Alex Gregg)
Cooperation Circles Involved