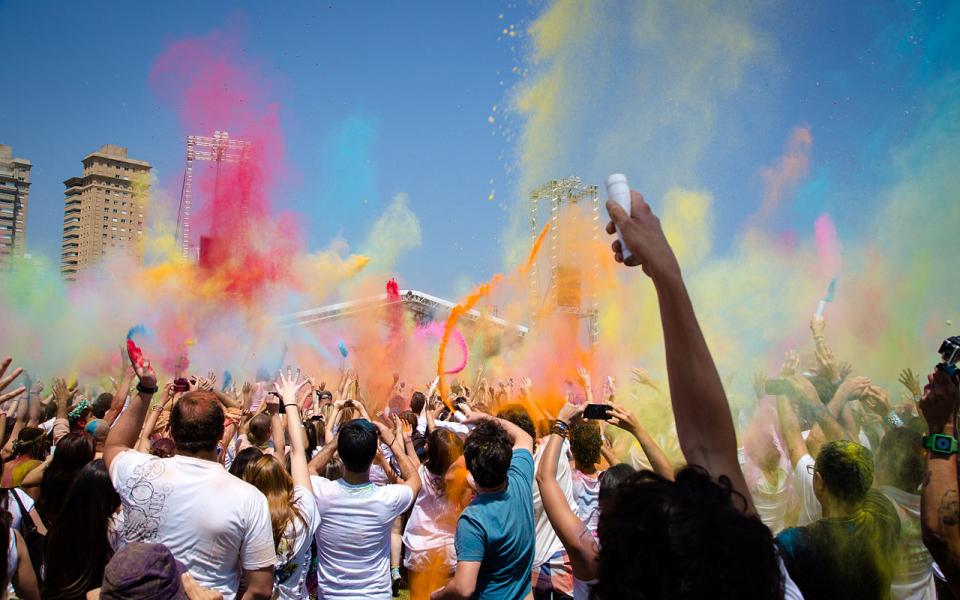 Holi, the Hindu "festival of colors," begins tonight. Growing in popularity among communities of many faiths around the world, Holi celebrations include singing, dancing, and throwing colored powder. As the festival commences, blessings and well wishes are coming in from friends of URI all over the world. Here are some of the messages we've received so far. Please add your messages for an even more festive celebration!
We would love to see photos from your Holi festivities. Please send them to newsdesk@uri.org so we can feature your celebration!
---
Greetings of peace and love!
Today 5th March 2015 evening in Pakistan the Hindu community is celebrating Holi Festival. To learn more history of Holi Festival click here.
The celebration in Lahore is organized by the Government of Punjab with collaborations of other Interfaith organizations. It is a great joy that the organizer of celebrations at Krishna Mander is our URI-CC Coordinator Dr. Munawar Chand, Anglo Asian Friendship Society-CC.  
The URI Pakistan, Peace Center and many CC coordinators & members will join. This celebration is an interfaith gathering. There will be a fun celebration, and interfaith prayers for peace and harmony, in Pakistan and around the world. Join us in prayers for the joint celebration to fulfill URI PPP.
URI Pakistan extends a warm Happy Holi to our Hindu Brothers and Sisters.
May Peace Prevail in Pakistan!
May Peace Prevail on Earth!
---
From Kiran Bali MBE JP, URI Global Council Chair
Wishing everybody around the world, a bright, colourful and joyful Holi.
---
From Ms. Elisabeth Lheure, URI Global Council Trustee for Europe
Happy Holi Festival!
Love and blessings from Barcelona
---
From Rupsi Burman, founder, Hope in Life Foundation
Happy Holi to all of you. May your lives be as beautiful as those colors. May the colors serve as different faiths that co-mingle and are lost in one another, removing all differences.
---
From Father Charles Kwanya
Happy feast day my brothers and sisters Hindu, we love you all.
---
From Pauline Crosbie of Bumblebee Global Renewal Projects CC
Bumblebee CC Australia sends you abundant blessings for Holi Festival, our work also is with the Rainbow of Hope as we deliver our colourful message with our hands to support and sustain projects for women and children around the Globe. May this blessing carry with it the invitation to support you in any way as to blend the colours to be a shining white light of Peace for you and your beloved country.
Yours in Hope for collaboration by all faiths, all cultures around the Globe as to reveal the Heaven that already exists on this Earth.
---
From Rev. Victor H. Kazanjian Jr., URI Executive Director
Wishing a very happy Holi to my Hindu sisters and brothers and to all who celebrate this beautiful spring festival. May the colors of Holi mingled together as they are on this festival day, remind us of the ways in which all our lives are interconnected in the beautiful colors of humanity. 
---
Please send your photos and Holi messages to newsdesk@uri.org so we can feature your celebration!
Cooperation Circles Involved