For World Interfaith Harmony Week 2015, Cooperation Circles worldwide celebrated by organizing group interfaith prayers for peace, compassion, and unity. Members of different faiths visited each other's houses of worship to learn more about the unique traditions of each faith, as well as discovering commonalities between faiths. Below are some reports submitted by Cooperation Circles detailing their experiences.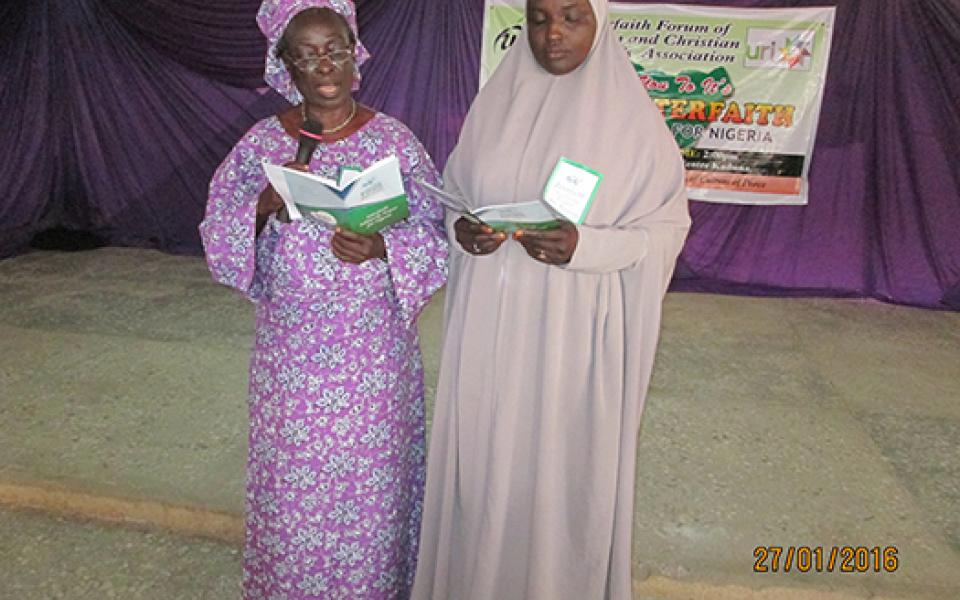 Location: Kaduna, Nigeria
The Women's Interfaith Council (WIC), aka Interfaith Forum of Muslim and Christian Women's Association, organized its annual Interfaith Solidarity Prayer to bring together participants from many women's faith groups including NGOs, the Bureau for Religious Affairs (Christian and Islamic Matters), O.L.A. Sisters, URI's African GC African Trustee, and more. The representative of the First Lady of Kaduna State expressed delight in the interfaith solidarity prayer, which she said was not only very timely, but will also contribute greatly to the building of sustainable peace.
Submitted by Emmanuel Ivorgba, Regional Coordinator, West Africa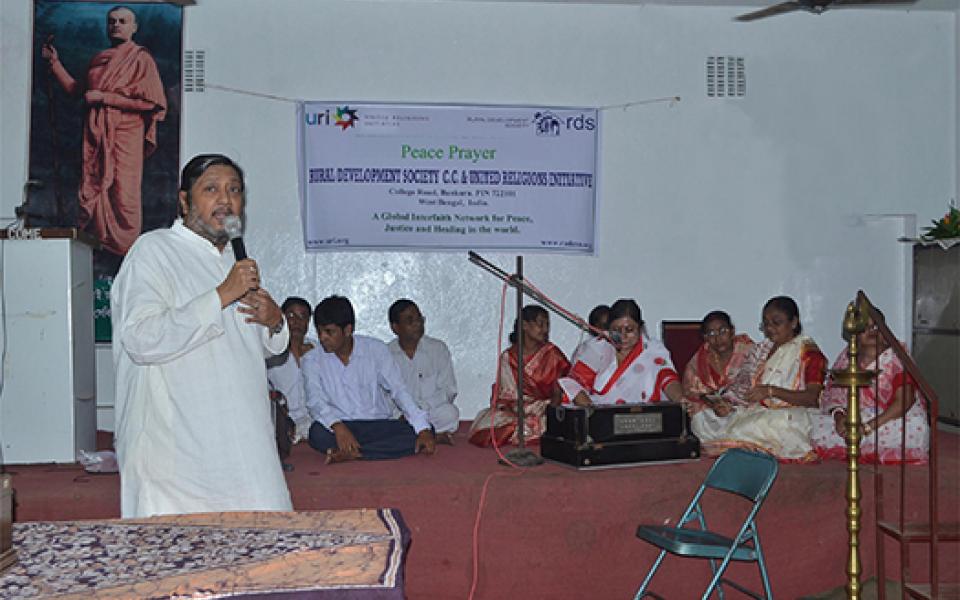 Location: Bankura, West Bengal India
The Rural Development Society celebrated World Interfaith Harmony Week among the members with a special honor to Mahatma Gandhi, and later members did an interfaith prayer including music. Rev. Kisku addressed the gathering. The URI principles and a peace message were read. The event took place for two days.
Submitted by: Biswadeb Chakraborty, Regional Coordinator, India, East Zone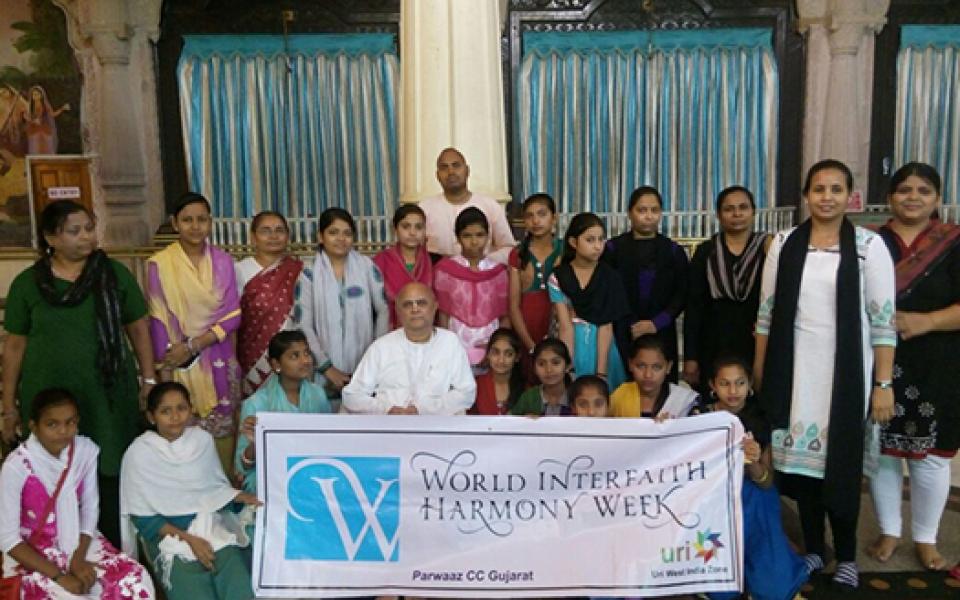 Location: West India
Cooperation Circles from West India took community groups to visit the places of worship for different religious communities. For all of them, it was the first visit of its kind. It was heartening to see priests welcoming the groups warmly and sharing teachings from their respective scriptures as the groups experienced other religions' rituals and sermons for the first time.
The participants' feedback was very moving and emotional. Some said that, after the communal violence, URI was the first organization to guide community members in an interfaith experience. The values of love and compassion shone through the apprehension they had experienced prior to participating.
Submitted by: Qutub Jehan Kidwai, Regional Coordinator, West Zone, India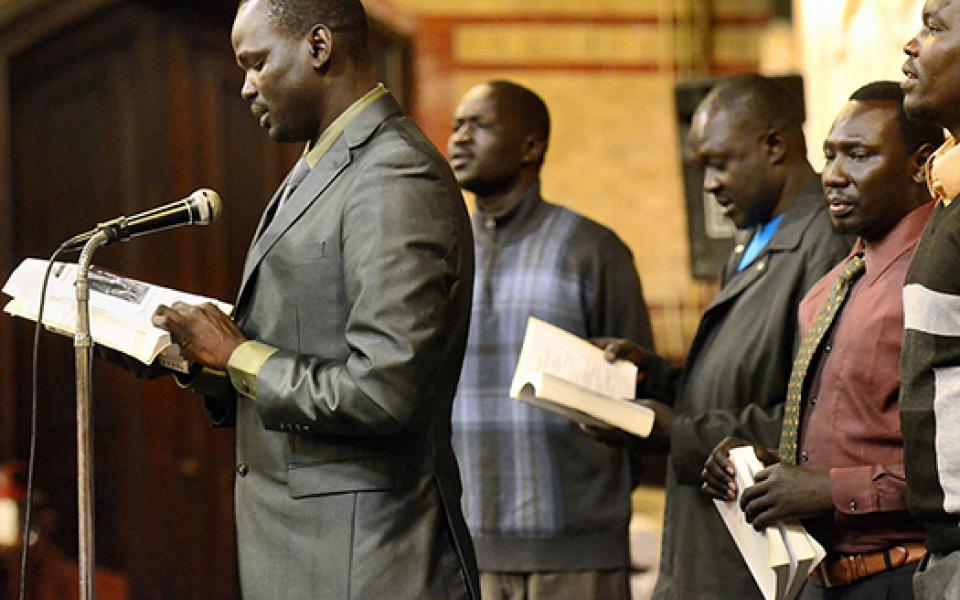 Location: Syracuse, New York, North America
Celebrating the United Nation's annual observance of World Interfaith Harmony Week, the sanctuary of St. Paul's Episcopal Cathedral in downtown Syracuse was filled with a kaleidoscope of different faith communities. On February 8th, the colors of our stained glass windows were bested by the colorful community assembled within. Muslims joined with Christians, Jews joined with Muslims, Mormons joined with Lutherans, Hindus, Sikhs, Sudanese Christians, Zen Buddhist monks joined with Unity; all to express our commonality within diversity.
Submitted by: Sari Heidenreich, Regional Coordinator for North America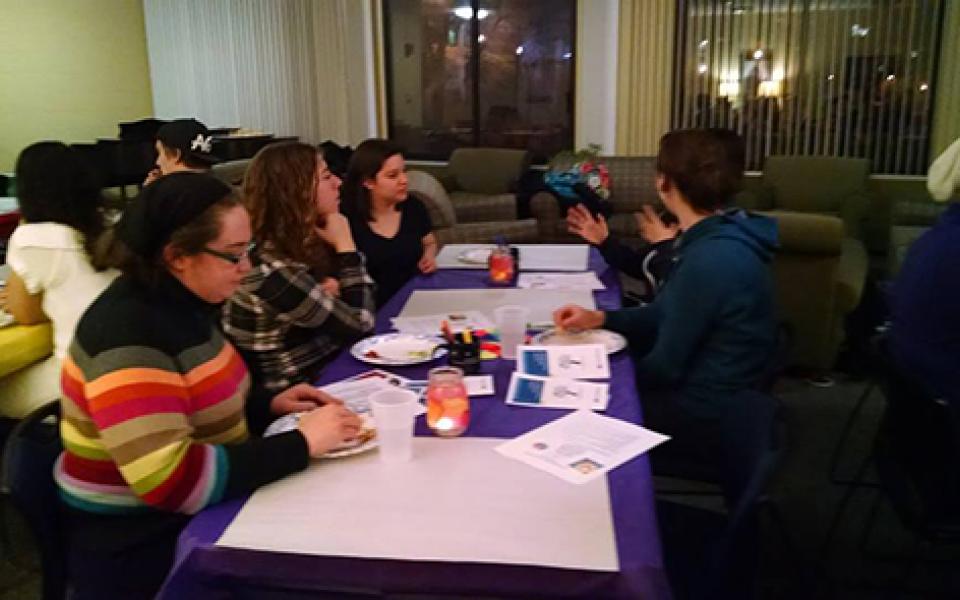 Location: Rochester, New York, North America
Fifteen non-Muslim students visited the Islamic Center of Rochester (ICR) and learned about Islam from the youth group at the ICR. They observed prayer, toured the center and engaged in interfaith dialogue with the members of the ICR youth group. For all but one of them, this was the first time they had ever visited a mosque or spoken to Muslims.
The Student Association for Interfaith Cooperation teamed up with the University's Pride Network to sponsor an evening of interfaith conversation at our weekly Interfaith Cafe on the issue of the intersection of LGBTQIA identity and religion. Given that religions are typically seen as hostile to the LGBTQIA community and that the issue of LGBTQIA inclusion is often avoided in interfaith conversations, SAIC wanted to offer an opportunity for that kind of dialogue to occur. We were delighted to see students at the Interfaith Chapel for this conversation who usually avoid anything remotely religious. The conversations were lively and informative and students learned about religious traditions where the LGBTQIA community can safely pursue their religious life.
Submitted by: Sari Heidenreich, Regional Coordinator for North America 
Location: Caracas, Venezuela
Members of Venezuelan's URI CC for Dialogue and Luis Dolan's Chair, friends, and peace lovers came together inside the Diocesan Center of Anglican Episcopal Church in Caracas. Catholic, Anglican, Presbyterian, Buddhist, Baha'i, Brahma Kumaris and Hare Krishnas offered songs, pieces of their scripture, and prayers to inspire peace and harmony towards reconciliation and unity.
The gathering was hosted by Monsignor Orlando Guerrero, Bishop of Venezuela and Curacao, who is nationally and internationally recognized for his interfaith work. The altar of the Anglican Chapel was specially decorated to present symbols from multiple spiritual traditions including Christian symbols, the emblem of the Brahma Kumaris, a representation of the Buddha, and the seven-branched candelabrum.
Enoé Texier, URI Regional Coordinator for Latin America and The Caribbean, made the opening remarks explaining the meaning of the United Nations's call to the celebrate the World Interfaith Harmony Week. The meeting closed with sharing foods and drinks all participants brought.
Submitted by: Dra. Enoé Texier, Coordinadora Regional de la Iniciativa para las Religiones Unidas, (URI) América Latina & El Caribe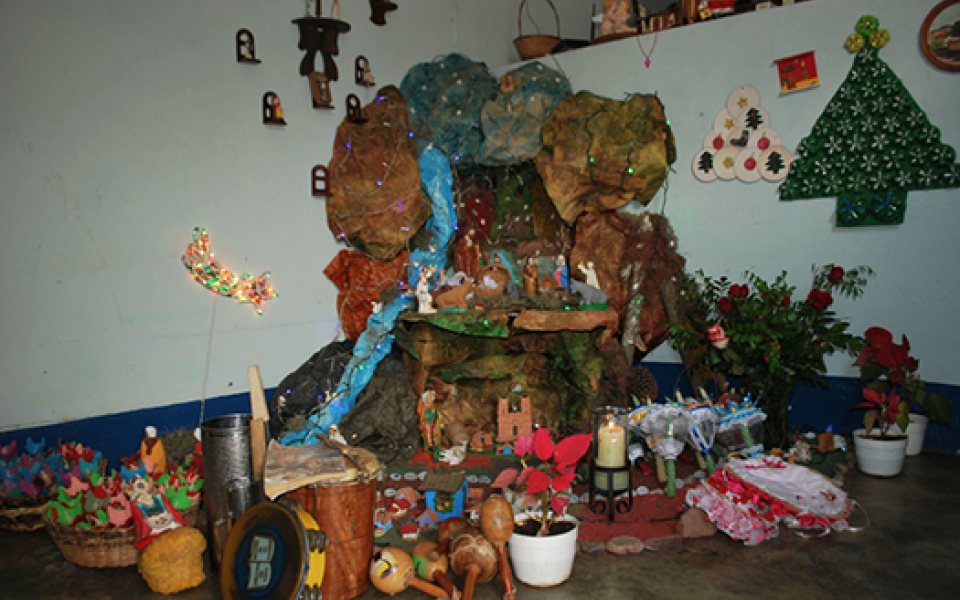 Host Cooperation Circle: Quinaroa
Location: Lagunillas, Mérida. Venezuela
Our URI CC Quinaroa gathers members from different faiths: Catholic, Evangelical and Indigenous Cosmovision, who came together offering prayers and songs that inspire peace and harmony towards reconciliation and unity. On Tuesday 2nd for the WIHW they celebrated the ritualParadura of the Child Jesus, which is a traditional family gathering. They listened to religious music, playing violins, cuatro, maracas and other instruments, and they shared foods and sweets with friends and relatives. The ritual centered on engaging in prayer for the welfare of society.
Submitted by: Dra. Enoé Texier, Coordinadora Regional de la Iniciativa para las Religiones Unidas, (URI) América Latina & El Caribe
Host Cooperation Circles: Multiple
Location: Tyrol, Austria
In Tyrol, we provided schools with informational posters about the world's major religions and ethical discussion questions for mankind. These resources will also help soldiers and refugees to learn more about the different faiths and their common beliefs.
We lighted "Candles for Forgiveness" in front of the house for refugees, inviting contemplation and healing for religious violence in families and worldwide. Men, women and children from Syria, Iraq, Dagestan, Bosnia, Uganda, Kenya, Pakistan, Afghanistan, Ghana, Palestine, and Cechenia thanked us for the possibility and together we prayed for all countries experiencing violence.
One Catholic bishop lit an altar candle for a man and woman who were beheaded by the Nazis 70 years ago because they did not agree with the war. He took the candle to the capital of Tyrol, where his prayers for forgiveness and a peaceful future were broadcasted all over Austria. Four more churches burned candles and offered prayers for the rest of February. We invited spiritual groups from all over Austria to pray simultaneously. It was a very touching time and we will do it again next year.
Submitted by Elisabeth Ziegler-Duregger 
Host Cooperation Circles: Multiple
Location: Al Mallka Aliya, Amman, Jordan
In celebrating the World Interfaith Harmony Week 2014, the URI office organized an "Interfaith Harmony Walk" at Al Hussein Sport City's pine forest. During the walk, the participants gathered in a circle and prayed for the soul of the brave Jordanian pilot Muath al-Kasaesbeh (murdered by Isis militants). Some participants reflected on this tragic action by highlighting the fact that it does not represent Islam. Then the participants shared prayers for peace from different religious traditions.
Afterwards, the URI regional coordinator conducted an exercise that shows how the followers of all religious traditions get closer to each other while they are striving to achieve their ultimate goal, which is to get closer to their creator. Hence, it would be easier if mankind cooperated to achieve this goal instead of competing with each other.
In honor of World Interfaith Harmony Week, King Abdullah's office in Jordan produced a World Interfaith Harmony Anthem about loving our neighbors.
Submitted by Mamoun Ahmad, Regional Coordinator, URI Middle East and North Africa
---
Read even more accounts of World Interfaith Harmony Week 2015 celebrations.
Cooperation Circles Involved