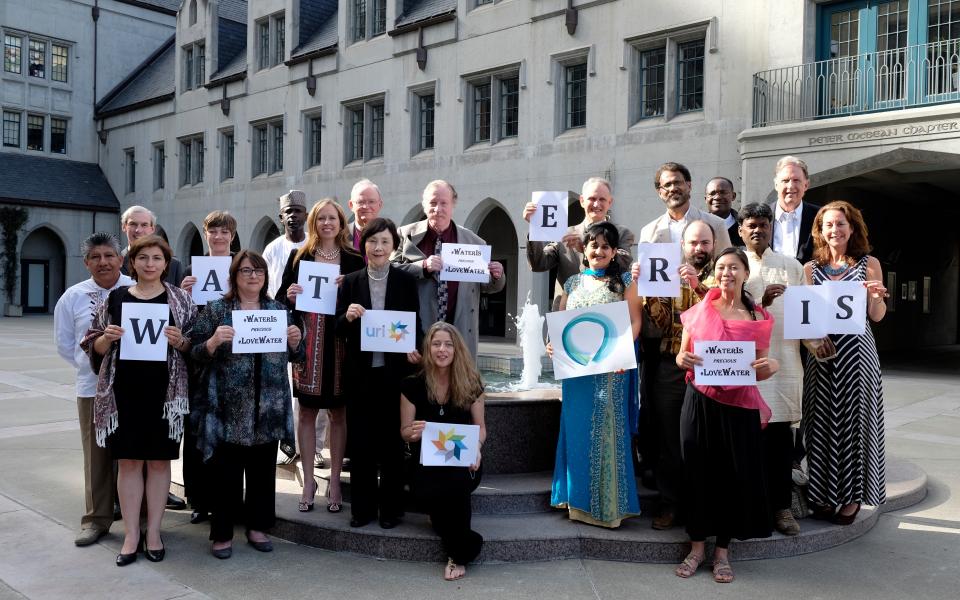 The United Religions Initiative family engaged in celebrations worldwide in recognition and honor of the United Nations World Water Day, March 22nd, 2015. The following are a few accounts of how the URI global community celebrated.
Many members of URI Cooperation Circles took part in a telecast including H.E. Ambassador Anwarul K. Chowdhury (founder of the Global Movement for the Culture of Peace), Global Council Chair Kiran Bali, Global Council Trustee Chief Phil Lane Jr., Earth Dr. Reese Halter of Global Healing CC, and many members of the Environmental Resource CC. "From the banks of the Ganges in India to the shores of Lake Merritt in Oakland, California, this global link up will unite hundreds of events worldwide and will send a powerful wave of intention across our planet." - Uplift.
A Water Blessing Ceremony for UN World Water Day was held at the Inukshuk English Bay, Vancouver, where First Nations People(s) included Environmentals, Elders and Tradition Keepers in many Faith Communities, and Social Change Stewards in the region. Global Council Trustee Rebecca Tobias and Hereditary Chief Phil Lane Jr. took part, both of whom are part of Protecting and Restoring the Sacred CC (which includes Mona Polacca of the 13 Indigenous Grandmothers, who conducted the water blessing ceremony). 
The #LoveWater social media campaign was launched at the URI Circles of Light gala at for World Water Day, March 22nd 2014, as a project of UNIFY CC, together with Uplift. Members of the Environmental Resource CC workshop took selfies in cooperation with UN Water, which were shared worldwide with the hashtags #WaterIs Precious and #LoveWater. There were a number of videos produced of our workshop participants.
The editing team at Unify CC and Uplift are putting together ten videos from the Environmental Workshop of speakers answering four fundamental questions: 

1. Why is it so important to raise global consciousness about water? 

2. What work do you do?

3. What are some solutions to the water crisis?

4. Even with the oceans in their polluted state, do we even have the ability to fix this problem? 
Cooperation Circles Involved