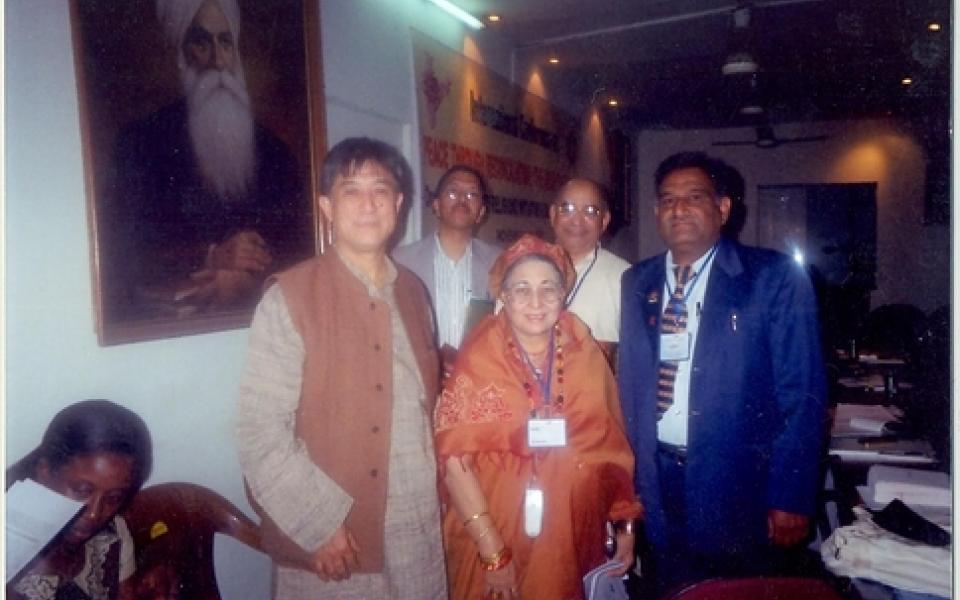 Meet three Cooperation Circles who are working towards improving overall society health and living conditions. Through programs like hospital and cancer care, health camps, and water sanitation projects, these URI groups are using interfaith cooperation to make a huge difference in the lives of their communities.
Santhwanam Cancer Care and Palliative Centre, Kottarakara, Kerala, India
Santhwanam Cancer Care and Palliative Centre is primarily dedicated to ensuring cancer victims and their families have access to education, advocacy, healthcare programs, and interfaith understanding. The Cooperation Circle recognizes that society can only achieve peace when all communities co-exist in a peaceful atmosphere. They provide a space for interfaith understanding to bring peace among different cultural, class, and religious groups. "Our strategy is to help all patients (especially cancer patients) irrespective of their religion and caste. We reach out to all sections of society through our health care programs and training programs for farmers, women and other laborers." 
"Mr. Muraleedharan was a casual laborer of the Electricity Department. He fell down from the electric post while working with the electric lines. He was paralyzed and in bed for several years. He did not get any support or insurance coverage from the Electricity Board, as he was only a casual laborer. Our CC supported him in several ways by offering water, a bed, wheelchair, etc. Assistance was also made available for his family. We come across many people suffering like this. The pity is that we cannot help all those who approach us for assistance.  We often wonder about the ways and means to mobilize maximum support of the people to bring comfort to as many patients as possible."
CLICK HERE TO READ THEIR FULL CC PROFILE
---
Interfaith Youth Partnership, Kampala, Uganda
Interfaith Youth Partnership (IYPA) is focused on five major areas; addressing the living standards of youth, environmental sensitization, hygiene, sanitation, peace-building, and interfaith cooperation.  IYPA was founded in 2003 by an interfaith youth group from the Orthodox, Christian, and Muslim faith communities. The major social problems in the local area include a high rate of HIV and AIDS, child abuse and neglect, marriage and family breakdowns, early marriage, teenage parenting, domestic violence, abject poverty in homes, unemployment, poor environment, sanitation and hygiene, and poor nutrition. 
"Some activities that have already been implemented are the environmental sensitization activities targeting one high school, Kasengejje High School in Wakiso district. The activity was implemented in collaboration with Pamoja CC, and Body and Soul Development CC, also with support from URI San Francisco office. We embarked on a sensitization exercise for students on tree planting, garbage disposal, and environmental debates. The exercise also engaged the youth on interfaith cooperation to appreciate the different cultures, religious values, and traditions. The planned hygiene and sanitation exercise along with the cleaning of the water sources are aimed at responding to the health concerns of the communities of Nansana Town Council, who are faced with poor sanitation conditions, unclean water sources, poor garbage disposal, blocked and minimal drainage systems."
CLICK HERE TO READ THEIR FULL CC PROFILE
---
Ahl-e-Aman Society CC, Bhopal, Madhya Pradesh, India
Ahle Aman promotes national and international initiatives that cultivate peace and harmony among diverse religious groups. Ahle Aman programs draw upon the CC's connections with social activists and non-governmental organizations to host workshops and seminars focused on educating community members on topics such as governance, peace building, and raising awareness about issues like water sanitation. The cooperation circle also organizes health camps, interfaith meetings, and intercultural get-togethers: "It is through these means that we are trying to facilitate cooperation among people belonging to different faiths."  
"We are going to visit schools and colleges and provide lectures on governance and communalism in the society. In educational institutions we try to remove the biases and prejudices of students about different religious communities. We are also going to organize health camps where we will distribute fliers about URI's missions and objectives. We are organizing functions inviting religious leaders of different religious faiths to participate in interfaith dialogues."
Cooperation Circles Involved