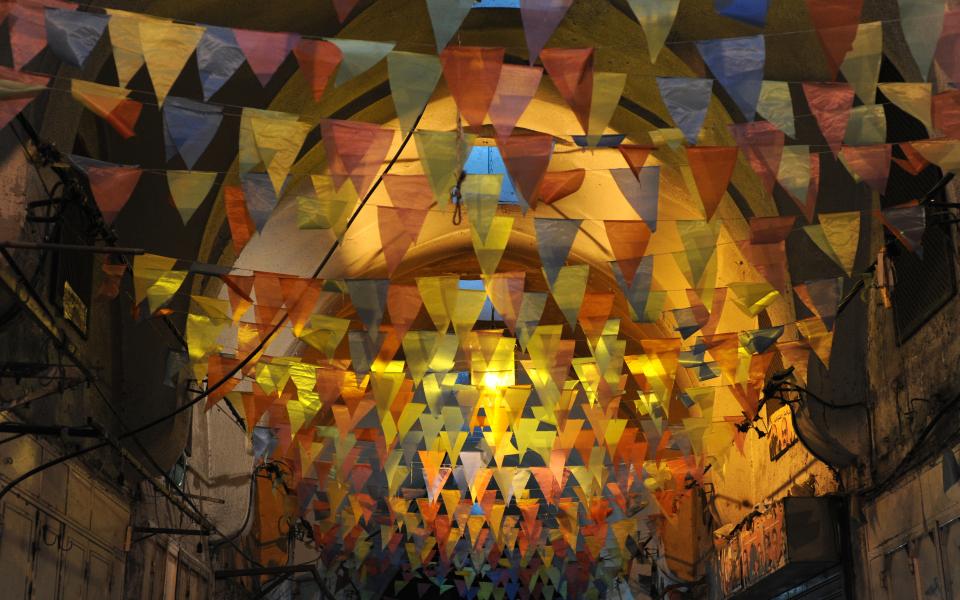 Blessed Ramadan!
During the month of Ramadan, followers of Islam abstain from food and water from dawn to dusk, engage in prayer and spiritual reflection, refrain from unholy thoughts and actions, and give generously to charity. Celebrating each other's holidays has become a way for the United Religions Initiative family to show mutual respect and appreciation. Learn more about Ramadan.
--
Ramadan Mubarak. We celebrate with our Muslim sisters and brothers the revelation of the Holy Quran to the Prophet Muhammed, may peace be upon him, and thereby to the world as a blessing for us all. Ramadan is a time for reflection and prayer, a time for family and friends, a time for remembering those who struggle in the world around us, and a time to align oneself with the spiritual principles of peace within each of us and in the world around us. These beautiful teachings at the heart of Islam are a gift for which we are so very grateful. A blessed Ramadan to all.

Peace... Victor
URI Executive Director Victor Kazanjian
--
Naoufal EL Hammoumi, 2010 URI Youth Ambassador, URI Salam Shabab URI CC Coordinator, Morocco, shares these wishes for a blessed Ramadan with the United Religions Initiative family:

May This Ramadan be as bright as ever.
May this Ramadan bring joy, health and wealth to you.

May the festival of lights brighten up you
and your near and dear ones' lives.

May this Ramadan bring in u the most
brightest and choicest happiness and
love you have ever Wished for.

May this Ramadan bring you the
utmost in peace and prosperity.

May lights triumph over darkness.

May peace transcend the earth.

May the spirit of light illuminate the world.

May the light that we celebrate at Ramadan
show us the way and lead us together on the
path of peace and social harmony

Wish you a very happy Ramadan Mubarak (Blessed Ramadan)
The network of URI grows day after day. We are proud of the large number of CCs everywhere. Nine years before the Covenant on activity and mobility we built together our URI CC Salam Shabab. 
We are always at your side, working for the miracle in the future. Hand in hand we are the power. We pray for peace and safety. I hope this work will shine and stop the expansion of violent extremism in North Africa. 
Naoufal EL Hammoumi, 2010 URI Youth Ambassador, URI Salam Shabab URI CC Coordinator, Morocco
--
Dear Sisters and Brothers,

Wishing you all the blessings of the holy month. May this Ramadan bring joy, peace and prosperity to all.

In prayer,
Kiran Bali MBE JP  - URI Global Chairperson
--
Ramadan  Kareem (generous month; blessed Ramadan) w-Mubarak  to  all  the  Muslim  friends. 
Dr.  Shlomo  Alon
--
Dear friends,
Greetings from Nepal!
May this Ramadan give immense joys to our friends and help mother earth settle down.
Praying for you all,
Jagannath Kandel
--
Dear URI friends,
Greetings from Pakistan!
We wish to all our Muslim sisters and brothers blessings for the month of Ramadan. May this month give you much peace and strengthen you for tolerance, forgiveness and conflict prevention.
Regards,
Naveed Bhatti, Project Coordinator, Ezaz-e-Niswan Development Organization (EDO), Sargodha – Pakistan
--
Dear Brothers and Sisters,
Greetings from Jordan,
Ramadan Mubarak for your family.
Peace & Love
Best Regards,
Ameeneh  Yaqoob "Daraghmeh"
--
Greetings of peace and blessings to all from Northeastern Nigeria. May we all continue to be guided by the Golden Rule.

Ramadan Mubarak!
May peace prevail on earth.
Inuwa Usman
--
Amen.
Ramadan Kareem! Ramadan Mubarak!
Rabbi Pam Frydman
--
Dear Muslim Friends, 
I hope you will achieve the purification of the soul upon commemorating the month of Ramadan. May the holy Month of Ramadan be the source of peace, love, harmony among families, friends, society, in your country and May Peace and love be Prevail where there are frustrations, violence, and wars. Wishing you a Happy and Blessed Holy Ramadan!
May Peace Prevail on Earth! 
Yuel Bhatti, Coordinator and member, A Better Community for All Pakistan CC 
--
Dear all,
I wish the entire Muslim community a very blessed and holy month of Ramadan! May they experience the blessings and closeness to God while fasting, breaking the fast, giving alms, offering prayers and meditation/contemplation upon the Holy Quran. And may the coming feat of Eidul Fitr bring them true joy and lasting peace!
In Pakistan month of fasting begins tomorrow. 
In peace,
fr James Channan OP
--
Dear URI Family.
May the world open its hearts more fully to understand the blessed and Holy time of Ramadan for our brothers and sisters of Islam - and for all of us.
May we share in this time in all our prayers and meditation, in our words and our actions, our love for all people and all faiths - especially the witness we are to children in this love, leading to PEACE.
May all be abundantly blessed. 
I enjoy  the privilege very much in sharing the vigil with my sisters, praying with them and being with them in the holy meal at the breaking of the fast, after being in the kitchens with them during the day. Ii remember when I first did this… the feeling of joy in my heart.
My sisters said to me, ''To whom are you praying?" (as I am of Christian faith). And I said with a smile, with a veil on my head, ''To the very one that you are praying to. We are all one in the divine's eyes, but you show me more fully how to pray...''  They too smiled! There is a prayer rug in my home, that I treasure, very much, always ready for their visits and these prayers.
with love.
Pauline Crosbie, Bumblebee Foundation CC URI Australia
--
Dear Victor and All in URI,
Blessings of Ramadan to you and to all in your family! Thank you so much for this wishes conveying the essence of Ramadan Month, and prayers and hope that Peace prevails. The principle of Peace becomes a part of our life and worship. Amen!
Some quotes from Holy Quran and Prophet Mohammad PBUH:
Al-Qur'an:
"Ramadan is the (month) in which the Quran was sent down, as a guide to mankind and a clear guidance and judgment (so that mankind will distinguish from right and wrong)." (Q 2:183)
"Oh you who believe! Fasting is prescribed to you as it was prescribed to those before you, that you many learn piety and righteousness" (Q 2:183)
Prophet PBUH
The Messenger of Allah (saw) addressed his companions on the last day of Sha`ban, saying, "Oh people! A great month has come over you; a blessed month; a month in which is a night better than a thousand months; month in which Allah has made it compulsory upon you to fast by day, and voluntary to pray by night. Whoever draws nearer (to Allah) by performing any of the (optional) good deeds in (this month) shall receive the same reward as performing an obligatory deed at any other time, and whoever discharges an obligatory deed in (this month) shall receive the reward of performing seventy obligations at any other time. It is the month of patience, and the reward of patience is Heaven. It is the month of charity, and a month in which a believer's sustenance is increased. Whoever gives food to a fasting person to break his fast, shall have his sins forgiven, and he will be saved from the Fire of Hell, and he shall have the same reward as the fasting person, without his reward being diminished at all." [Narrated by Ibn Khuzaymah].
Blessings!
Qutub Jahan, URI Regional Coordinator West India
Cooperation Circles Involved