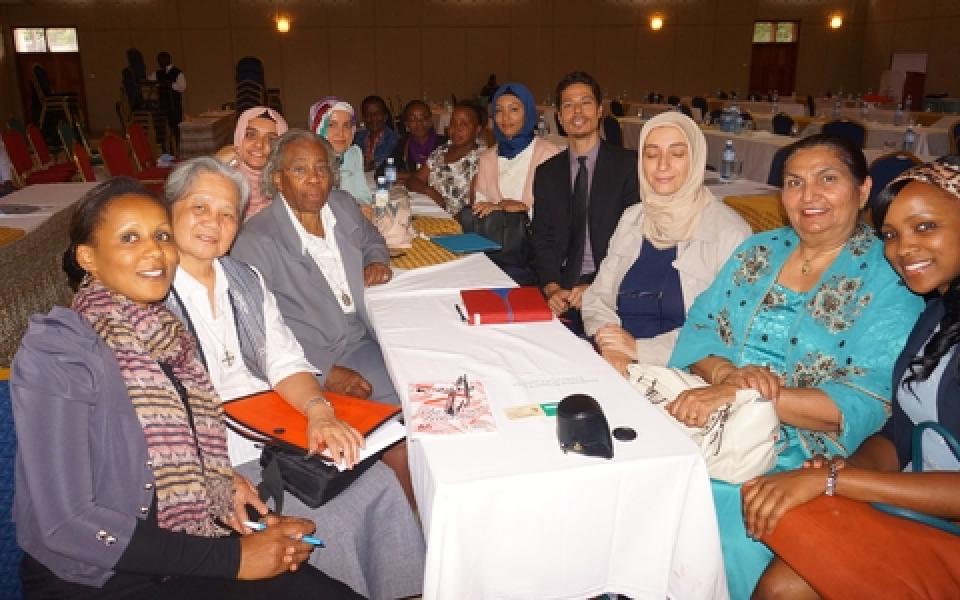 The three URI Cooperation Circles featured here all concentrate on improving communication and fostering dialogue between those of different faiths and traditions. By strengthening the links, both spiritual and logistical, that allow people of different groups to come together in dialogue, these Cooperation Circles are laying the foundations for more well-connected communities that find strength in their diversity.
---
United Religions of Nairobi CC (Nairobi, Kenya)
United Religions of Nairobi works to increase community engagement by concentrating on welcoming new members, and mentoring new United Religions Initiative Cooperation Circles. Their aim is to ensure that a good sense of direction is instilled in the various Cooperation Circles who work on peacebuilding projects in Kenya. "We hope that the CCs will reorganize and be as practical in facilitating not only the multiplication of CCs but to ensure that those that are newly formed are well inducted in the URI system, both locally and in the stream of the larger URI family."
Because this Cooperation Circle was the first to be formed in Nairobi, its members are in the perfect place to mentor and guide new groups. They succeed in fostering links between flourishing Cooperation Circles, such as Cepacet and Bloodlife Initiative, and link them with upcoming Cooperation Circles, such as Vision Young Mothers and Undugu Society. 
The group recognizes that Cooperation Circles' work varies widely and can be encouraged on a number of levels: "Interfaith work can be as basic as just being curious about each other. The Nairobi CC grew in a different dimension, such that sometimes people just sat, ate and shared poetry and music, and that is how we managed to convince other groups to become our members. It is the simple tolerance and acceptance of others."
CLICK HERE TO READ THEIR FULL CC PROFILE
---
Unity-and-Diversity World Council CC (Los Angeles, CA)
Unity-and-Diversity World Council CC is a nonprofit organization located in Los Angeles, California. The CC's primary focus is to foster the coming together of all ethnicities, cultures and religions into communities that respect unity and diversity both locally and around the world. Although tension is not always obvious in the Los Angeles community, political tension is on the rise because of current events in the Middle East. Therefore, the group's work concentrates on education and honoring the common values of all paths of faith to better prepare for crises as well as to create an ongoing culture of peace. 
The Cooperation Circle's vision is twofold: First, to create a people's equivalent of the UN: which would include a worldwide General Assembly that includes groups, networks and individuals working on peacebuilding activities pertaining to interfaith relations, the environment, education, and other society-building topics. "The idea is that democracy starts with people – not with nations! Nations are to serve the people. Democracy really implies interfaith because if we don't have the connection between faiths going on then there isn't really much democracy happening." Second, the Cooperation Circle wishes to create space for the birth of a new global civilization where there can be a new religious identity of interfaith, and a space for people identifying as such to be welcomed. 
"In 2015, we are celebrating our 50th anniversary! So we have been moving towards these dreams for 50 years." 
CLICK HERE TO READ THEIR FULL CC PROFILE
---
Pakigdait CC, Inc. (Mindanao, Philippines)
Pakigdait, Incorporated Cooperation Circle aims to "enhance the capacity of individuals, groups, and communities to transform conflict towards constructive change." Because the chronic conflict in Mindanao has eroded relations between Muslims and Christians in the area, hundreds of communities are suffering. Families have lost property as well as human lives. The Cooperation Circle says of its origins, "Seeing the atrocities brought by the war, a few peace-loving people in the province decided to establish an organization that will respond to the challenge of peace-building."
To encourage positive relationships between religious groups, Cooperation Circle members conduct interfaith dialogue among Muslim and Christian leaders. "This has paved the way for the creation of the ad hoc Municipal Inter-Faith Council (MIFC) composed of an equal number of Christian and Muslim representatives. As a result, a building that was formerly used by combatants and victims of the Mindanao war in Kauswagan, Lanao del Norte, now serves as the Peace Centre Building and is used for on-site trainings and assemblies, and Maranao language classes to bridge the communication divide in Kauswagan and nearby Iligan City." Showing additional success, The Lanao del Norte Month of Peace is celebrated every March as a showcase of the successful policy-making and lobbying done by peace-based civil society organizations with the LGU on the provincial level.
When religious tensions exist among communities, community members tend to blame religious differences for all conflicts, such as land grabbing disputes. Therefore, Pakigdait members' ongoing intervention in land disputes has lessened what could erupt into a misinterpreted religious conflict between Muslims and Christian landowners. "While the land dispute it is only one aspect of the bigger picture, the efforts to address this particular problem is surely a means to extricate a strand from the complex whole."
CLICK HERE TO READ THEIR FULL CC PROFILE
Cooperation Circles Involved