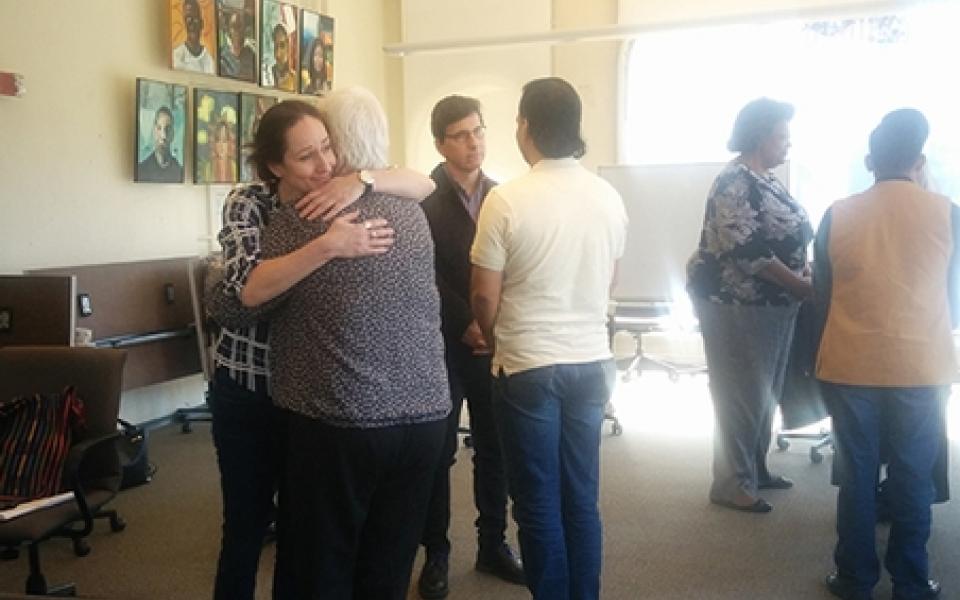 Peacebuilders from URI Cooperation Circles around the world gathered in San Francisco in preparation for URI's 13th annual Circles of Light Gala, which honored "Peacebuilding Through the Arts." On Friday, they met for a workshop to discuss the role of the arts (including visual art, music, dance, poetry, theater, and more) in peacebuilding work.
Marianne Horling, representing Interkultureller Kreis URI Bonn in Germany, works with children in refugee camps, leading painting activities and teaching them new language skills. She reflected on planting "seeds" in children's minds in the form of these positive experiences with interfaith tutors. "The more seeds we plant, the children can develop more, and perhaps the next generation will say, okay, we can also contribute something to the world."
Biswadeb Chakraborty, representing Ektaan CC in West Bengal, India, found his calling while conducting a workshop with children in Johannesburg, South Africa. "I learned about apartheid. Back in India we also have caste discrimination. It was overwhelming for me. I realized I must work with my music to end discrimination in the name of caste, creed, and religion." He channeled his lifelong love of music into hosting a new workshop in a rural area of India, where Muslims, Christians, and Hindus of higher and lower castes participated together; an experience many of the people of lower castes had never had before. It was a hot day and the group only had a single water bottle. At first, the higher castes weren't willing to drink after the lower castes. But Biswadeb led the way. "After three hours of making music together, it was different. As they were leaving, the lower castes were hugged."
Anjan Sadavarte, representing Springtide Opus CC in Mumbai, India, recalled how he first felt a calling to help the world and wondered how he could mix interfaith work with his other passion, music. After meeting Biswadeb Chakraborty and learning about URI, many years later, Biswadeb was surprised to see a Cooperation Circle application come in from none other than Anjan Sadavarte and Springtide Opus. Now, Springtide Opus gathers musicians from different religious backgrounds to run activities, including music and dance, for street children and orphans to bring their lives more opportunities and hope.
Micheal Buyondo, representing Faiths Together Uganda in Africa, originally despaired of the violence he saw around him. "Working in a war zone, it was always on my mind. What can I do? How can these people have peace?" He realized that Uganda's many clashing tribes needed something to unite them. "Every tribe has a traditional dance. Traditional instruments; music." He began a music school, which attracted so many homeless children, the project also ended up generating a house where all the children could live and continue their studies into adulthood. "When I saw those kids performing, I realized it was a dream I didn't even know I had." Now, the children from the music program spread out to attend different schools, and in each school they start an interfaith and intercultural music program. Faiths Together Uganda supplies the programs with traditional instruments. Currently, the music schools attract international students and visitors from around the world, all who are eager to learn how to play traditional African music.
Aicha Chibani, representing Salam Shabab in Morocco, recounted how she grew up surrounded by artist friends, but never believed she was an artist herself. Then, while working with a group of schoolchildren in a weekend workshop series and despairing of finding a way to truly engage them, she came with the idea of arranging them in a circle and inviting them to dance. It worked. "In Moroccan culture, children don't get many opportunities to fully express themselves." The invitation to dance came with no instruction; just an opportunity to move in whatever way moved them. "The dance workshops were a way for the children to express themselves besides being aggressive to each other. It made them more humble; more peaceful." Even the staff at the school noticed the difference in their students. "I realized: art is more powerful and expressive than any other tool."
Peter Mousaferiadis, representing Cultural Infusion CC in Australia, delivers intercultural experiences and programs for schools, youth and communities to create a more cohesive and richer society. "We are all artists. The arts give a sense of belonging. They can be used as a safe haven to discuss sensitive issues you can't normally talk about." In working with one community that had a tragic history of Indigenous massacres, his work with teaching traditional songs ended up bringing people together and healing some of the wounds. "That's the relationship between the arts and peacebuilding: they bring everyone together without the need to say anything."
Paul-Gordon Chandler, representing CARAVAN, a URI Multi-Region Cooperation Circle, grew up in Senegal. Being raised as a Christian child in a culture where the majority were Muslim, he witnessed religious tensions and remembers always thinking there had to be a better way. "As I grew up, that was my passion: finding ways to bridge the two religions." When he moved to Egypt, shortly after the September 11, 2001 attacks in New York City, he witnessed a divide taking place between the Middle East and the West. In Cairo he arranged the first CARAVAN art exhibition, and observed that art was one of the most effective mediums for building bridges between creeds and cultures; "Since art is indirect, people's walls don't go up as quickly."
Claire Marie Pearman, also representing CARAVAN, recalled an occasion where she was working with children who had cerebral palsy. "We had to put together programs to reach children who couldn't communicate. How? There's no direct link." But one day she was sitting with a non-verbal boy, and she beat a rhythm on an inflatable ball. To her surprise, he beat a rhythm back. They continued back and forth, having discovered music as a common communication. Later, the boy's mother was shocked to see her son finally recognizing and responding to another person. "To me, that's what art is; a place where, whoever you are, whatever your background, you can have an interconnection between souls. All you have to be is human. Art is a fundamental, universal language. That's why it's so precious to me."
Perri Kathryn McCary, representing the Multi-Region Cooperation Circle Think Peace International Inc. and Rothko Chapel in Texas, USA, always thought of herself as a "civil rights baby." Growing up, she was friendly with the daughters of Martin Luther King Jr. and Malcolm X. "I've seen a lot of change, but I've also seen things stay the same. Integration was supposed to be a win. The Civil War was, too. But there are people with long memories. We're still living in the past. We're going to have to talk about our problems if we're going to fix them. And art is the tool we can use." She compared cultural discrimination, classism, and sexism to elephants in the room, and offered some sage advice: "And, you know what happens when you have a room full of elephants? Someone has to clean up the mess and that's us."
Manuel Icó Xol , representing Alianza por la Espiritualidad, Maya Q'eqchi', Mopán e Itzaj (APEM) CC in Guatemala, said that his society faces a problem in holding onto its musical heritage. "We are sad our sacred music is being lost. It's dying because the youth aren't learning it. This is why the work we're doing is so important: we're keeping our culture and heritage alive and passing it to the next generation." APEM started in 1990 with the idea that the wisdom of Indigenous cultures could be preserved and passed on to new generations. "For me to be able to be here with the rest of you, listening to my brothers and sisters sharing the music of their own cultures, is a great joy. I pray that we're all able to develop a way to share our cultures with our children, so they can learn."
Cooperation Circles Involved