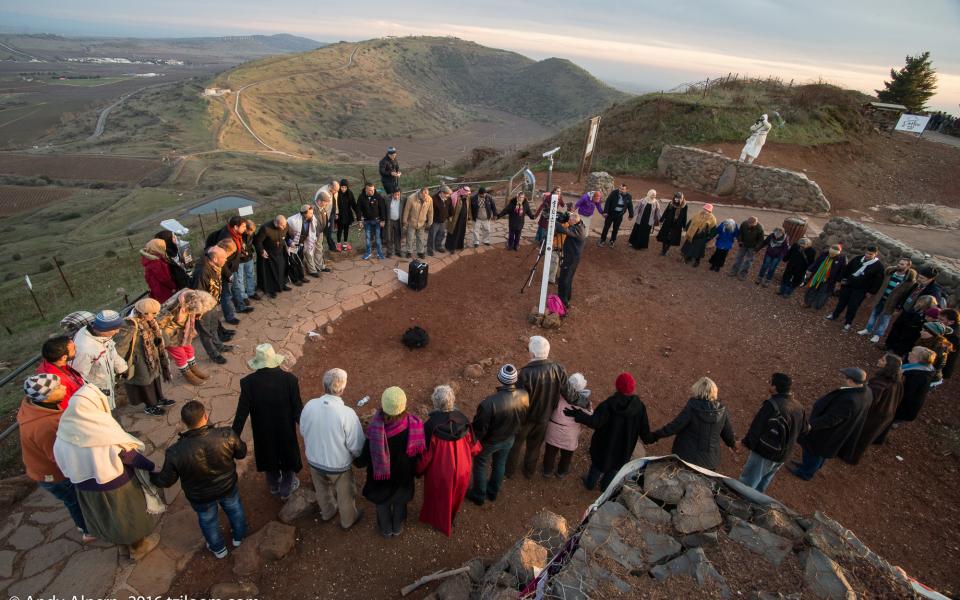 The United Religions Initiative (URI), a global interfaith network composed of grassroots groups called Cooperation Circles, just expanded its reach to 100 countries worldwide.
Together, URI members in these 100 countries cultivate peace and justice by engaging people to bridge religious and cultural differences and work together for the good of their communities and the world. Each Cooperation Circle is formed of people who observe different religious, spiritual and cultural traditions. They work side-by-side on projects, such as building schools, empowering women, and securing clean drinking water. These interfaith groups serve as living examples that humans can transcend their distrust of "the other" and collaborate to create peaceful, thriving communities. 
From its charter signing in 2000, URI has grown exponentially every year. Around 10 new Cooperation Circles apply to join the network monthly; a number that is steadily increasing. In 2015, an expansion of regional support staff energized the international community and resulted in a record of 91 new Cooperation Circles joining URI from around the world. This year may eclipse that record.
Why is this important? Each new group that joins the URI network is amplified in its efforts to bring peace to its community. Cooperation Circles benefit from joining the URI network in many ways. They become connected to other groups doing similar work worldwide, and can trade resources, wisdom, and inspiration. They receive support for projects and programs, including training and education to increase their effectiveness and visibility. Belonging to URI's larger network also elevates local groups and provides an accessible platform for local and international partnerships.  
"[We are] a young and newly established organization with a similar vision [to URI] - building a peaceful world," says Building Better Society, one of the newest Cooperation Circles. "URI offers great support and connectivity, as a network organization. We see that this is a very good opportunity for us."
In the beginning, URI was a small network with big dreams. It only needed eight regional offices to support the work happening on different continents around the globe. Now, regions like Africa have expanded to the point where sub-regional offices (such as the staff in the Horn of Africa) are necessary to keep up with the tremendous energy and momentum. Some countries, like India, are now busy enough to require URI coordinators for four unique zones within the country. It is an exciting time to be a part of the network.
Maria Crespo, URI Director of Cooperation Circle Support, recalls meetings during URI's early years where members dreamed about what would happen 15 and 20 years down the line. "At that time, we couldn't imagine a grassroots network that has developed as this one has," she says. "We've exceeded expectations not just in numbers, but also in depth. Now we're really hearing the voice of the grassroots, which was not easy in the beginning."
When URI's Regional Coordinators recommend potential new Cooperation Circles to the approval committee, they highlight the specifics of how each new group will enrich the URI community as a whole. Every Cooperation Circle shares its knowledge with its brothers and sisters for an interconnected network that inspires and nurtures, avoiding the isolation and burnout of being the sole voice of peace amidst war and violence.  More and more often, large and established organizations are applying as URI Cooperation Circles because of the increased opportunities for partnerships the network provides.
As URI's geographic reach widens, the network is also developing deeper roots in global influence. In 2002, URI became a non-governmental organization (NGO) affiliated with the United Nations Department of Public Information. Five years later, URI expanded its accreditation to the United Nations Economic and Social Council.
Today, URI's connection with the UN is stronger than ever. URI Executive Director Victor Kazanjian and URI Representatives to the UN Mussie Hailu and Monica Willard are actively building connections with the UN and related agencies who will have the most direct impact for URI Cooperation Circles. "We hope to build more formal partnerships which allow both our Cooperation Circles and regional offices to be in closer contact with UN agencies," Victor Kazanjian says. "It allows the UN to see us as a partner in distributing materials to the grassroots, and allows us to be a partner in strategic policy work that affects the communities in which we work around the world."
URI's influence is growing within the hearts of the upcoming generation. New Cooperation Circle applications are submitted more often by young people than ever before. Crespo observes a growing trend in youth involvement within the organization. "People who were born at the same time as URI are adolescents now. They have grown up with URI," she says.
Some Cooperation Circles, like Karickam International Public School in Kottarakara, India, use interfaith education as part of a school curriculum. As these students reach adulthood, many are reaching out and forming Cooperation Circles of their own. That's good news for nurturing peaceful and respectful communities for generations to come.
URI is also expanding virtually. Through social media, more people are discovering the peacebuilding organization and carrying its message – that people who follow multiple traditions can not only coexist peacefully, but work together for a better planet – into their own communities.
"Working in a hundred countries is impressive, but it is just a number," says Crespo, emphasizing the importance of sustaining the network. "We are not talking about numbers when we are talking about growth. We are talking about the participants in the network – how we are growing in the ways we support and enrich each other."
Cooperation Circles Involved