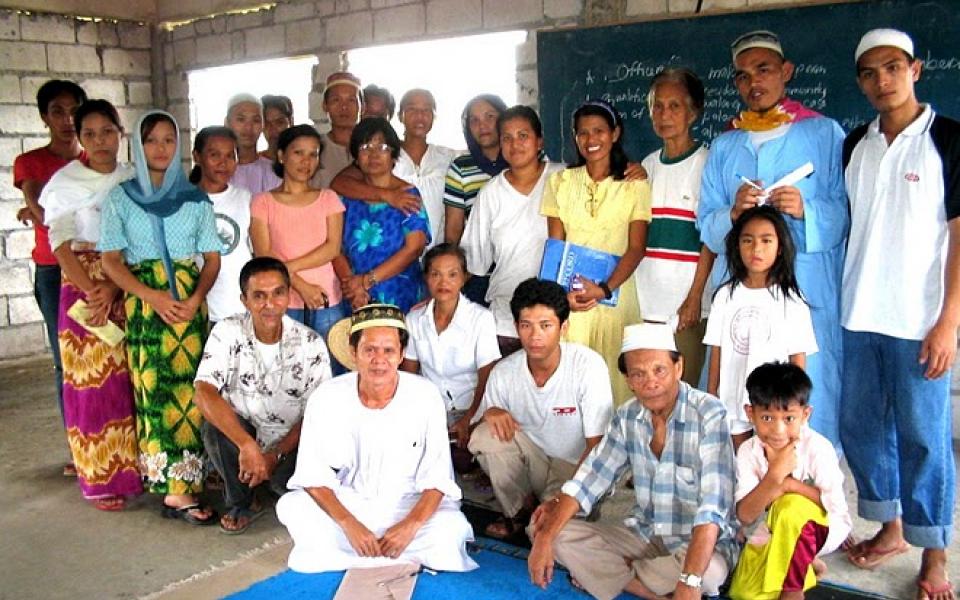 The URI community mourns the tragic passing of Eric Tomarompong, President of the Muslim Christian Peacemakers Cooperation Circle in Tala, Caloocan, Philippines in the URI Southeast Asia and the Pacific region. As a Cooperation Circle leader, our brother Eric helped fulfill Muslim Christian Peacemakers' purpose to promote peace, unity, and harmony between Muslims and Christians in their grassroots community in Caloocan City, Metro Manila, Philippines.
"The untimely death of Eric Tomarompong is a great loss to the URI family," says Musa Sanguila, URI Global Council Trustee and leader of the Pakigdait CC in Mindanao, Philippines. "He was a Muslim who professed his faith in the midst of a majority Christian community. He was a man of principle and wanted things to be done for the betterment of the society." 
We invite messages of condolence from our global community. May brother Eric rest in eternal peace, and may his loved ones be surrounded by compassion and strength during this difficult time.
---
Messages from the global URI community:
We in the Australia-Pacific are devastated to hear of the tragic passing of Eric. He was well known to many in the URI community, SEAPac and especially its heartland, the Philippines. I personally never had the honour of meeting Eric but from his many friends know he was well loved and respected and a true leader... 
With love and thoughts to Eric's family and friends and to all those whose lives he deeply touched. 
Nivy Balachandran
Regional Coordinator, Australia Pacific Zone; 
Communications Co-ordinator, South East Asia and Pacific Region
--
I write from New Zealand on behalf of URI members here to support Nivy Balachandran's message of condolence concerning the death of Eric Tomarompong. We here in New Zealand have many warm contacts with our Moslem brothers and sisters alongside us in struggles for peace and justice in New Zealand and in the wider world. We are very aware of the Philippines as "URI heartland" as Nivy puts it so well.
May you experience divine comfort as you comfort one another in your loss.
George Armstrong
--
May Eric be received well in Paradise. May God grant his family and friends comfort and Grace.
Nyambura Mundia,
Africa Continent Administration Officer
Nairobi- Kenya
--
My Condolence for the family and friends of Eric, and to the entire URI community. May God Rest His Soul in perfect peace that he searched and worked for during his life on earth among regions of the world. 
Rev. Fr. Charles Odira
--
As our dear Brother and Friend Eric proceeds on this journey, may our Brothers and Sisters in the Celestial Cooperation Circle welcome him in congregation and communion in Paradise, where justice is abundant, with Peace and Love flowing like a river.
Amen.
Emmanuel Ande Ivorgba, PhD
Regional Coordinator
United Religions Initiative (URI) - West Africa
--
We, URI Middle East and North Africa Region, express our deepest condolence to Eric's family, colleagues and friends, and to the Muslim Christian Peacemakers CC in Philippines and the entire URI community. May Allah have mercy on him and make it easy for his family.
In peace,
Mamoun Ahmad
URI Regional Coordinator for MENA Region
Amman- Jordan
--
My condolences to the family and friends of Eric. May his soul rest in peace!
Sincerely,
Fr James Channan O P
URI Regional Coordinator Asia-Pakistan 
--
My heartfelt condolences to the family and friends of Eric. May his soul rest in internal peace! 
Regards, 
Erick Ogallo
--
May Brother Eric rest in peace, may his family be comforted and may each of us continue the work he started!
In Peace,
Sari Heidenreich 
Regional Coordinator for URI North America 
--
May brother Eric be remembered in peace and serve as a guiding light for all of us as we commit ourselves to end violence. 
Katherine Hreib
URI Environmental Network Coordinator
--
May God rest Eric's soul in peace and give courage to the loved ones to bear this loss. Love.
Warm Regards,
Satya Kalra
--
We grieve with our URI community for the tragic passing of Eric Tomarompong, President of the Muslim Christian Peacemakers CC in the Philippines. May Eric rest in peace, may all you mourn his passing be comforted in their mourning, and may the leaders of the Muslim Christian Peacemakers CC have everything they need at hand to continue their wonderful and important work.
Peace and blessings,
Rabbi Pamela Frydman
on behalf of the Board of Rabbis of Northern California
Interfaith Council of Contra Costa County,
Marin Interfaith Council
Silicon Valley Interreligious Council
Interfaith Center at the Presidio
in concert with United Religions Initiative 
--
On behalf of the Faith Ecology Network, I extend my condolences to the family of Eric Tomarompong at this sad news and to the Muslim Christian Peacemakers CC in the Philippines.  It sounds like his was a life well-lived in the service of peace-making for a better world.
Peace and Blessings,
Anne Lanyon
Centre for Peace Ecology and Justice
Cooperation Circles Involved