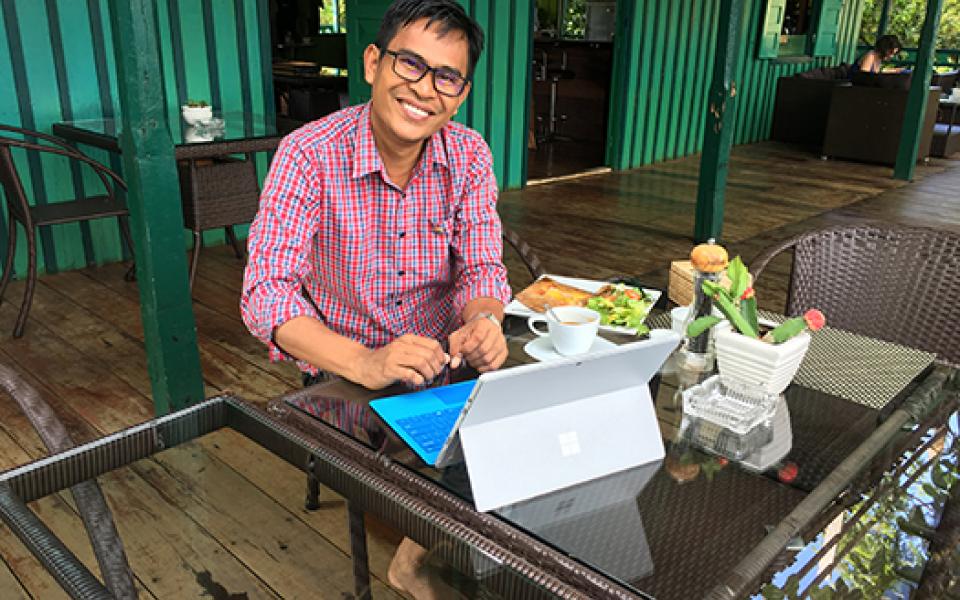 In the URI Preamble, Purpose, and Principles, Principle 19 states, "We are committed to organizational learning and adaptation." Following the spirit of that commitment, in January 2017, URI formed a "P19" team to gather information about how the global URI network is currently functioning, and how to enhance its positive impact for everyone involved. The team includes Cooperation Circle members, Global Council Trustees, President's Council members, and URI staff and partners.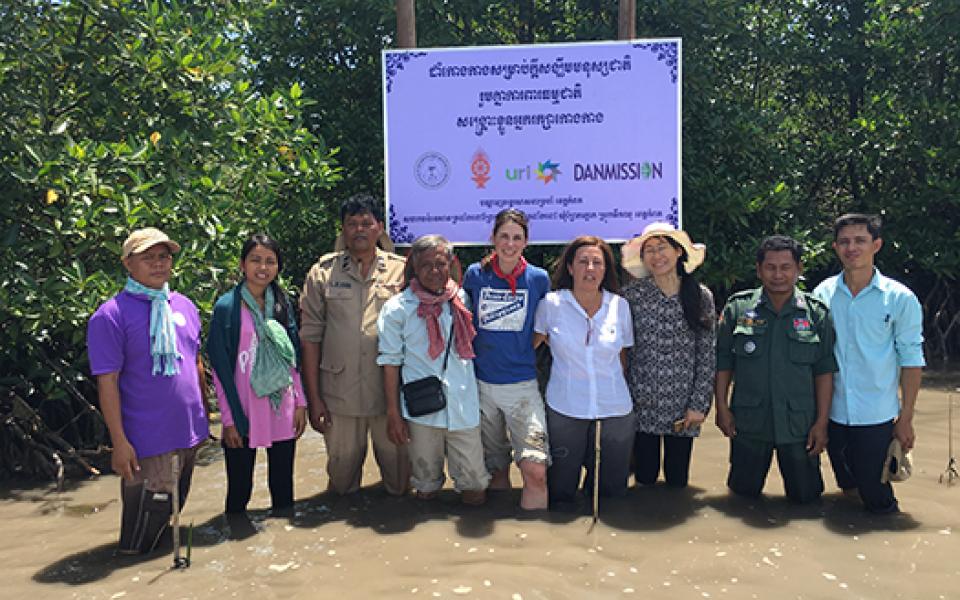 In May, several international P19 team members came together in Cambodia to connect with URI members there and begin the exploration and learning process face-to-face. Maria Crespo (Director of Cooperation Circle Support from Buenos Aires, Argentina), Frederica Helmiere (URI Multiregion Coordinator from Washington, USA), and Lee Cuba (sociologist and P19 project consultant from Wellesley College in Massachusetts, USA) joined Sothearwat Seoung, from Phnom Penh, Cambodia, who is the Regional Coordinator, for URI's Southeast Asia and the Pacific - West Zone. Together, the team embarked on a six-day field visit with URI Cooperation Circles in Cambodia.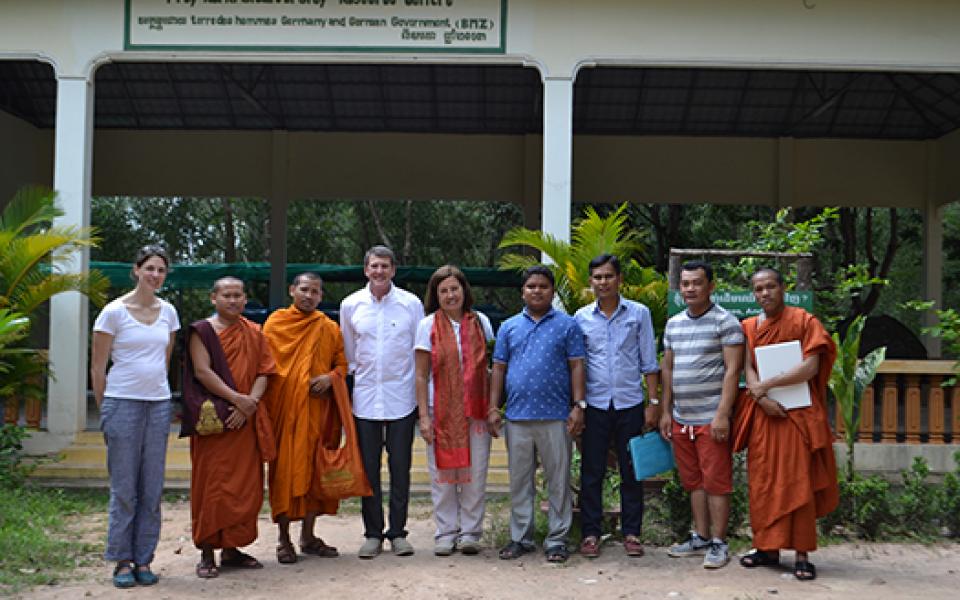 Frederica Helmiere says of her experience:
We were there as delegates of the "Principle 19" project, taking to heart URI's commitment to organizational learning and adaptation. Together we traveled in and out of Phnom Penh, as far as the Vietnam border to the east and down to the Gulf of Thailand in the south, visiting with Cooperation Circles and joining in their activities.
The Cambodian Cooperation Circles welcomed us warmly, and together we spent many hours in conversation-- on van rides along dusty highways, in roadside eateries, on bamboo porches late into the night, and around banquet tables in restaurants.
The young adult leaders in Cambodia are inspiring in their commitment to addressing the variety of interfaith conflicts that present themselves between Buddhists, Muslims and Christians in Cambodia. But they also displayed a keen awareness of the intersectionality of interfaith peacebuilding with, for example, natural resource management, child advocacy, education, job training and networking, etc.
One of the most beautiful moments of our visit for me was listening to members of a Cooperation Circle sit together and read the URI Preamble, Purpose, and Principles in Khmer, hearing these words in their own language for the first time and re-discovering a common rootedness in URI.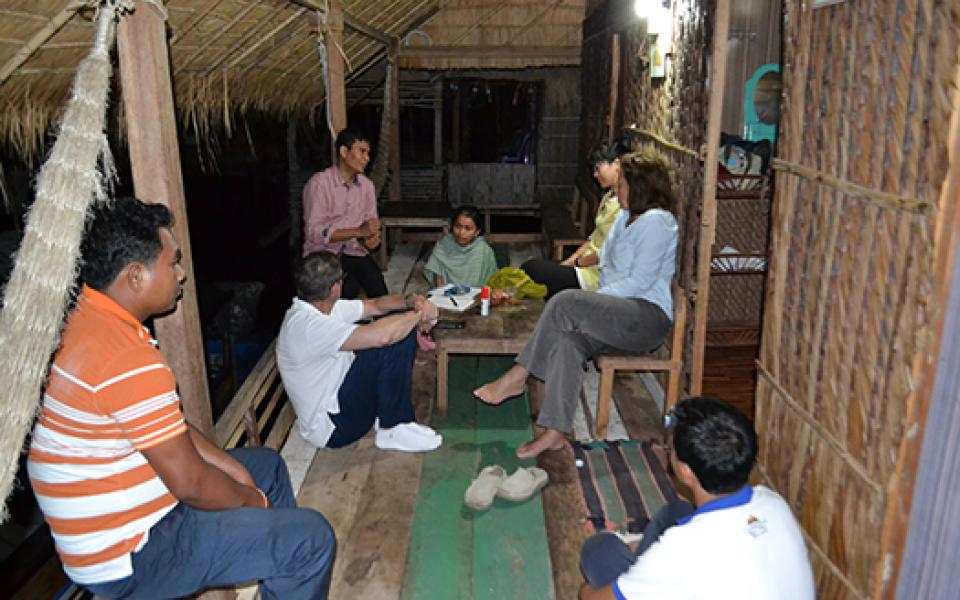 Sothearwat Seoung says of his experience:
There is a benefit of belonging to the URI network. In particular, URI Principle 6: "We give and receive hospitality" is a living principle. The visit of the P19 team helped me understand how important it is to have a strong connection. Our network here was so happy to see the P19 team. Everyone they met told me that URI people are very warm people. They are very good at building friendship.
I also heard how belonging to URI has changed their perspective about other cultures and religious practices. On a personal level, members of URI Cooperation Circles understand other people's religious practices and find relating to other religions easy. On an organisational level - depending on resources and time and interest, from one Cooperation Circle to another - is varied. How much they contribute to the different action areas depend on their interests. The thing is, members of Cooperation Circles act as role models to others on how to take other religions and interfaith practices positively.
My experience was that both the P19 team and Cooperation Circle members were happy meeting each other, and that their conversation was meaningful. They exchanged contact information and became friends on Facebook immediately. Cambodia Cooperation Circles are full of energy and many members are young people, so there is a lot of potential. This puts pressure on me, as a Regional Coordinator, to figure out how to mobilize this great resource that I have. I have the ability to facilitate them in creative ways so that they stay energetic and in good connection with the rest of the URI family, and make use of the URI network. 
Another observation is that the visit of the P19 team energized the network here in Cambodia. How awesome is that!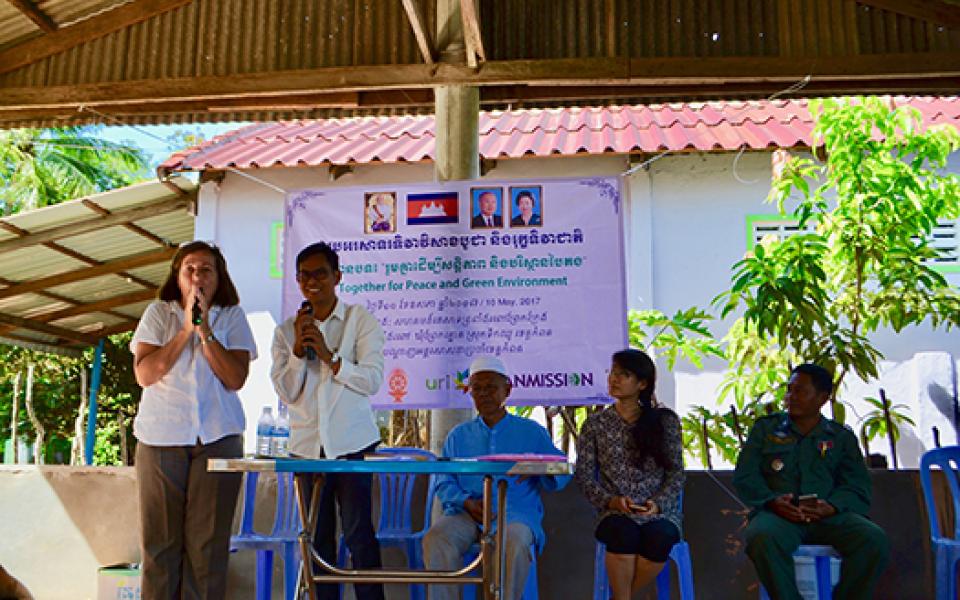 Maria Crespo says of her experience: 
Several times during the Cambodia field visit, we, visitors from abroad, were asked, "What is URI is doing to build cultures of Peace, Justice and Healing?" Or, "What is URI doing for the environment?" And my answer was: "What you are doing."
This might be odd, but I believe it is the right answer. URI is not an entity separated of its members. URI is its membership. URI is local work, globally connected. The parts are URI, and the whole is URI.
When we experience the parts, as we did in Cambodia, we grasp the beauty of relationships, the richness of diversity, the deepness of commitments, and the strength of a shared purpose. It's the whole URI in Cambodia, but only a part of the URI Southeast Asia and the Pacific region, and a small part of the URI community. As Director of Cooperation Circle Support, I want to support and serve 866 Cooperation Circles in the world, respecting their uniqueness and inspiring the feeling of belonging to a worldwide movement.