Amidst Increasingly Deep Divisions in America and the World,
 the United Religions Initiative Unites People of all Beliefs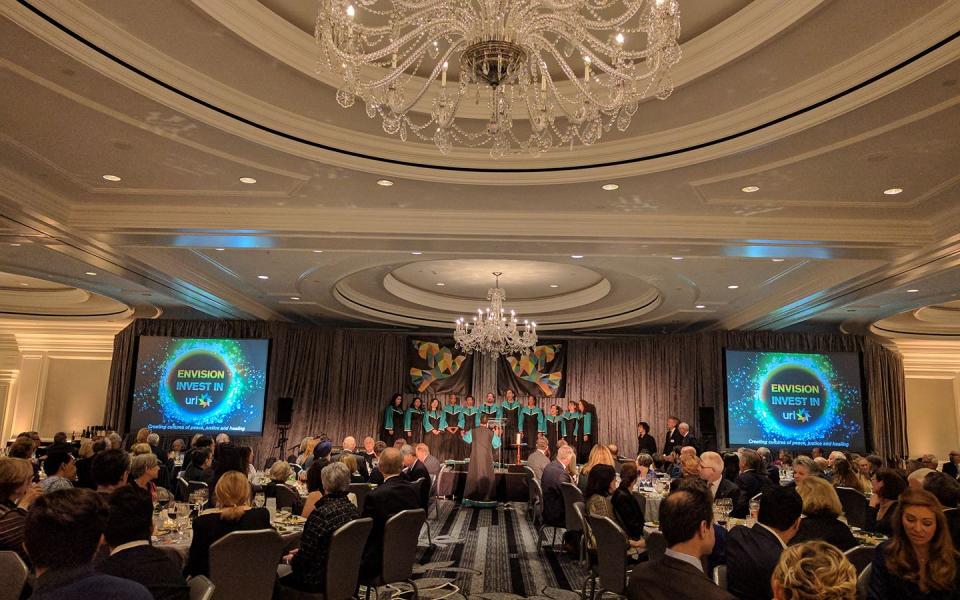 February 9, 2018 - San Francisco, CA, USA – In stark contrast to the prejudice, hate, political stalemates and culture clashes dominating today's headlines, the United Religions Initiative (URI) is standing up for peaceful coexistence among people of all beliefs.
For 20 years, the URI, the world's largest interfaith peacebuilding organization, has been bridging divides between people of all beliefs and cultures: Democrats and Republicans; Israelis and Palestinians; Christians, Hindus, Jews and Muslims; Indigenous cultures; people of all faiths; Humanists and atheists; bringing people of all beliefs together to work for the good of their communities and the world.
Based in San Francisco and working in 104 countries, URI builds bridges between religions and cultures that have historically been at odds with each other by inviting diverse groups of people into dialogue with one another and to organize local humanitarian projects. Even in violence-scarred locations like the Middle East, Afghanistan, the Philippines and Uganda, URI members unite for projects like building schools, cleaning polluted rivers, or hosting interfaith events. Across the United States, URI members unite to confront hate and prejudice by building strong coalitions who support one another and stand together for the common good.
On March 15, 2018, in San Francisco, URI will celebrate its 15th annual Circles of Light gala on the theme "People Uniting." This event of public unity brings together women and men of different religions, cultures, political beliefs, and age groups for a common cause: building bridges of empathy and working together for peace. In today's climate of rising hate, prejudice, terrorism and deepening mistrust between neighbors, URI gives hope to all who believe in the possibility of peaceful coexistence among all people in this country and on the planet.
Circles of Light 2018 Event Details:
Ritz Carlton Hotel San Francisco
Reception: 6:00 pm | Dinner: 7:00 pm
Cocktail or Festive Attire
Learn more and buy tickets here.
---
ABOUT THE UNITED RELIGIONS INITIATIVE
The United Religions Initiative is the largest grassroots interfaith network in the world. It cultivates peace and justice by engaging people to bridge religious and cultural differences and work together for the good of their communities. We implement our mission through local and global initiatives that build the capacity of more than 900 member groups and organizations, called Cooperation Circles, in 104 countries, to engage in community action such as conflict resolution and reconciliation, environmental sustainability, education, women's and youth programs, and advocacy for human rights.
URI holds the prestigious distinction of being a non-governmental organization (NGO) with consultative status with the United Nations Economic and Social Council, and has long-standing partnerships with several other UN agencies 
Contact us at info@uri.org for more information.