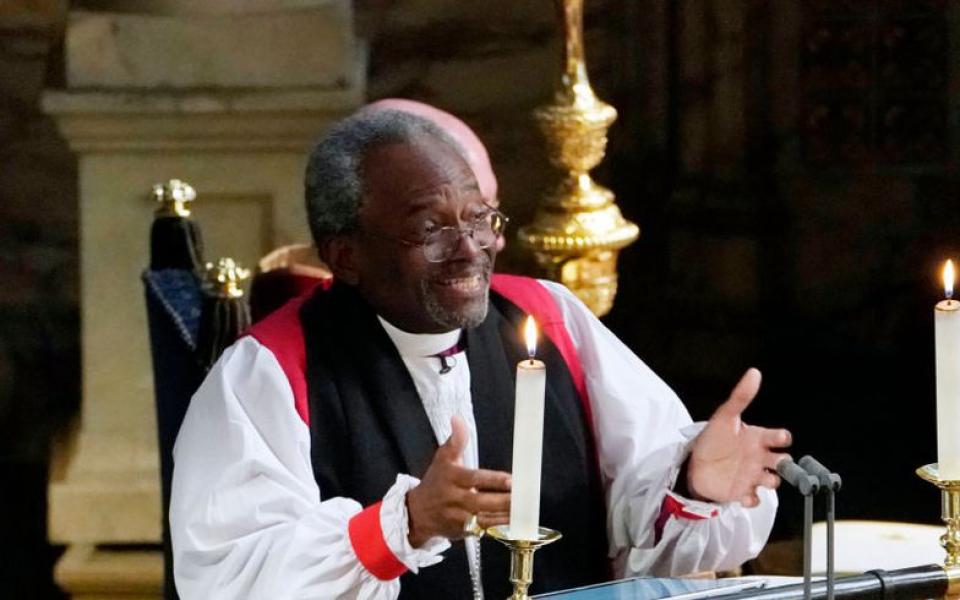 As the world watched the Royal British wedding of Prince Harry and Meghan Markle, the hearts of many URI members were drawn to the sermon given by the Most Reverend Michael Bruce Curry on the topic of love.
Love is a powerful force that keeps URI Cooperation Circles working courageously towards peace even in communities scarred and divided by decades of violence and fear, such as Christian Pastor James Wuye and Muslim Imam Muhammad Ashafa in Nigeria. These men were once brutal enemies to the extent that Pastor James lost his arm in the violent conflict, but now the Imam and Pastor have forgiven each other and work together to promote peace as part of the URI network. 
Love is what keeps URI members reaching out across boundaries and negative stereotypes to form bridges of friendships, and to create peace in small and large ways every day, around the world. As our founder (and former Bishop of California) the Right Rev. William E. Swing says, "We have just been looking for love in all the wrong places.  Don't look at the top of religions.  Look down.  It is at the ordinary believer's level, the grassroots, the amateurs of faith who practice for the love of their faith, not the power that could be exploited through faith."
"It is at the grassroots where folks realize that we have got to get along together for the sake of civilized life.  If the grassroots believers of all traditions can find each other and work together, if there can be more peace among religions than we have now, it will change world history."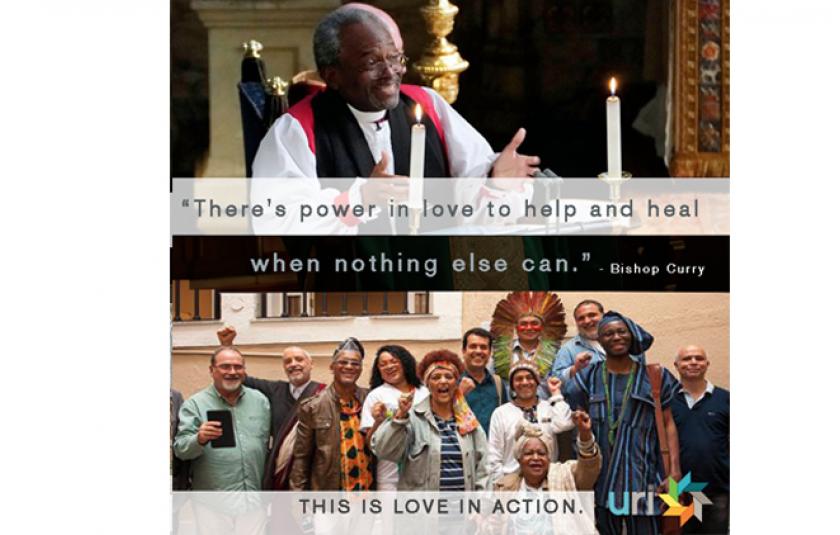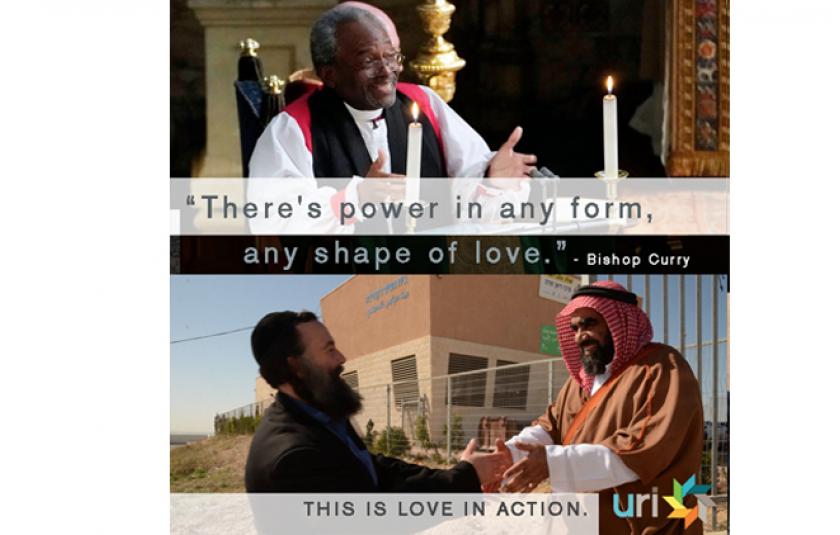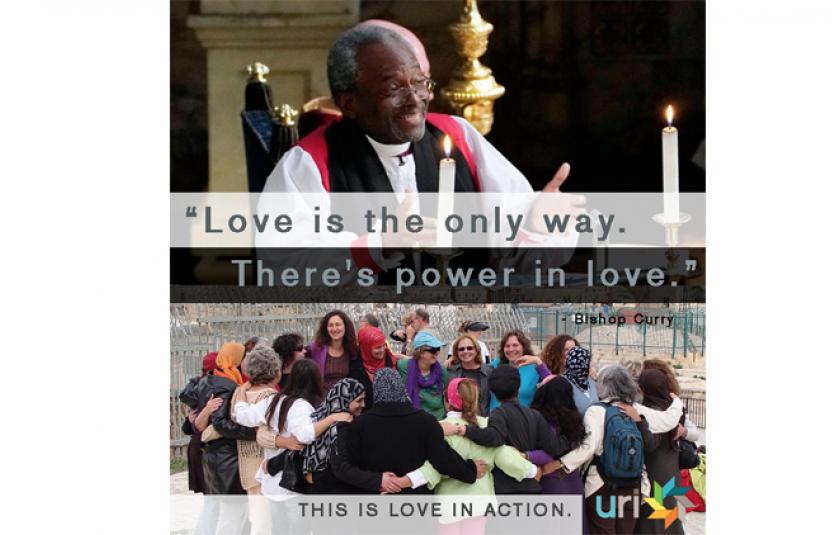 ---
Read Bishop Curry's full wedding sermon below:
And now in the name of our loving liberating and life giving god, father, son, and holy spirit, amen. From the song of Solomon in the bible, set me as a seal upon your heart, as a seal upon your arm, for love is as strong as death, passion, fears as the its flashes are flashes of fire, a raging flame. Many waters cannot quench love, neither can floods. Drown it out.
The late Dr. Martin Luther king once said and I quote, 'We must discover the power of love, the redemptive power of love, and when we do that, we will make of this old world a new world.'
There's power, power in love.
Love is the only way. There's power in love. Don't underestimate it. Don't even over sentimentalize it. There's power, power in love. If you don't believe me, think about a time when you first fell in love. The whole world seemed to center around you and your beloved. Well, there's power, power in love, not just in its romantic forms, but any form, any shape of love.
There's a certain sense in which when you are loved and you know it, when someone cares for you and you know it, when you love and you show it, it actually feels right. There's something right about it. And there's a reason for it. The reason has to do with the source. We were made by a power of love and our lives were meant and are meant to be lived in that love. That's why we are here. Ultimately the source of love is god himself. The source of all of our lives.
There's an old medieval poem that says, where true love is found, god himself is there. The new testament says it this way, beloved, let us love one another because love is of god and those who love are born of god and know god, those who do not love do not know god, why? For god is love. There's power in love. There's power in love to help and heal when nothing else can. There's power in love, to lift up and liberate when nothing else will. There's power in love to show us the way to live. Set me as a seal on your heart. A seal on your arm. For love, it is strong.
There's power in love, to lift up and liberate when nothing else will.
But love is not only about a young couple. Now the power of love is demonstrated by the fact that we're all here. Two young people fell in love and we all showed up. But it's not just for and about a young couple who we rejoice with. It's more than that. Jesus of Nazareth on one occasion was asked by a lawyer the sum of the essence of the teachings of Moses and he went back and reached back into the Hebrew scriptures and Jesus said, 'you shall love the lord, your god, with all your heart, all your soul, all your mind and all your strength. This is the first and great commandment.'
And the second is like it. Love your neighbor as yourself. And then in Matthews' version, he added, he said on these two, love of god and love of neighbor, hang all the law, all the prophets, everything that Moses wrote, everything in the holy prophets, everything in the scriptures, everything that god has been trying to tell the world, love god. Love your neighbors. And while you're at it, love yourself.
Someone once said that Jesus began most revolutionary movement in all of human history, a movement grounded in the unconditional love of god for the world. And a movement mandating people to live that love. And in so doing, to change not only their lives but the very life of the world itself. I'm talking about some power, real power, power to change the world.
If you don't believe me, well, there were some old slaves in America's antebellum south who explained the dynamic power of love and why it has the power, they explained it this way, they sang a spiritual, even in the midst of their captivity, something that can make things right, to make the wounded whole.