By Adriana Reyes
Last April, at the Central University of Venzuela Faculty of Legal and Political Sciences, the forum "Spirituality As a Construction of Peace II" was led by Dr. Dilia Parra Guillén and Luis Dolan. Dr. Guillén is a professor of the House of Studies and member of the Caracas-based URI group "Circulo De Cooperación para el Diálogo CC" (For Dialogue CC). Luis Dolan of FACES is the Chair of Interreligious and Intercultural Studies for Peace.
In this forum, which was organized by Human Rights students, Rev. Marina Tirado (first contact of Circulo De Cooperación para el Diálogo) and Adriana Reyes (assistant to the URI Latin America Regional Coordination team) spoke from their respective faith traditions about spirituality, and participated as speakers about the construction of peace.
The event had a large group of speakers and representatives of other spiritual traditions, who brought new knowledge to the students and attendees.
It should be noted that this is the second forum that has taken place in the Venezuela House of Studies, within the theme of spirituality and its contribution to the construction of a culture of peace.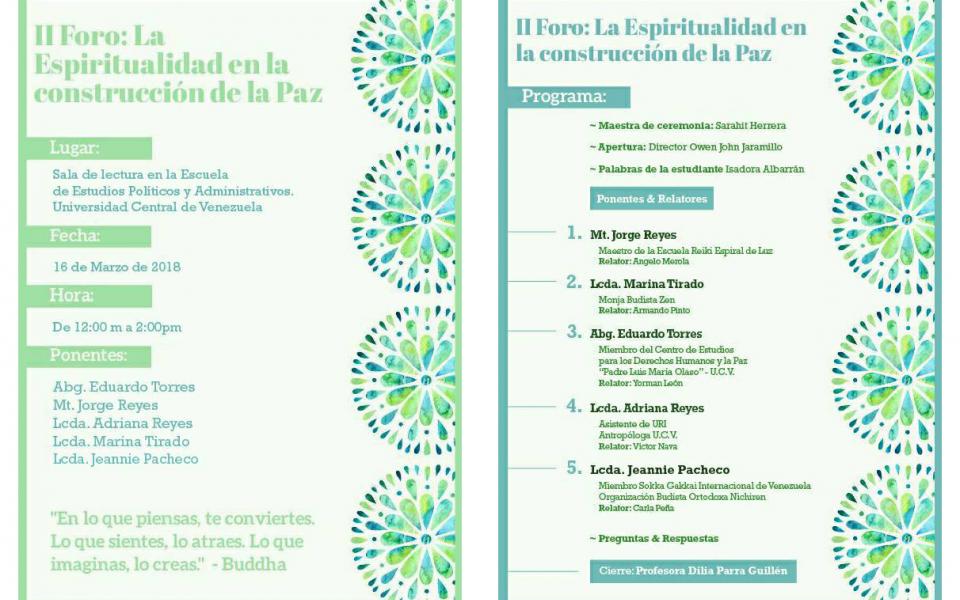 Cooperation Circles Involved