The worldwide United Religions Initiative community shares messages and wishes on June 26th, the 18th anniversary of the URI Charter signing.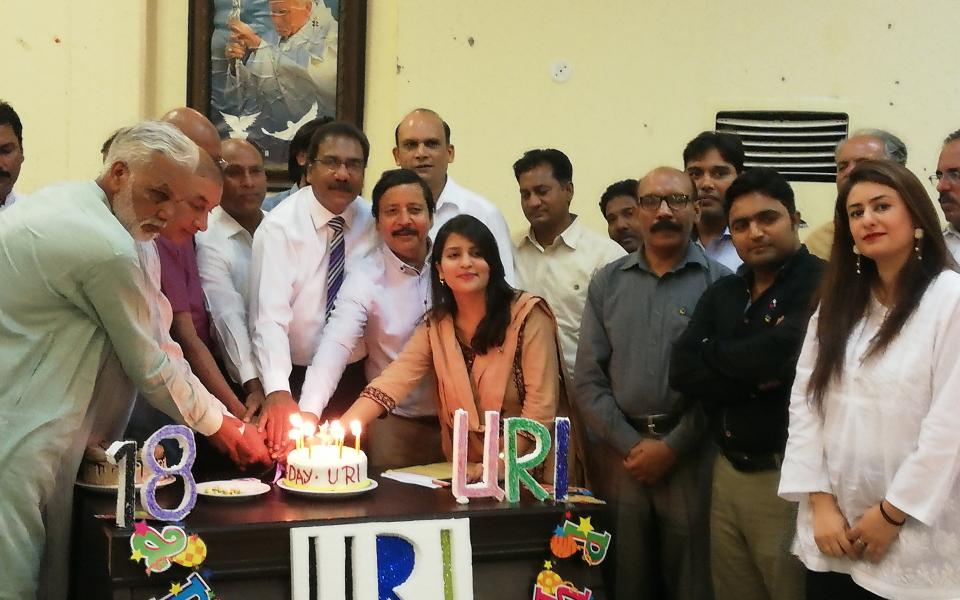 My dear sisters and brothers of URI, 
Eighteen years ago, a group of sisters and brothers from diverse religious, spiritual and Indigenous communities came together to put into action a vision of a healed world living in peace. From the collective vision of these forbearers, a Charter was created that carries their values, hopes, and dreams. That Charter, signed on this day June 26, 2000, gave us a Preamble, Purpose and Principles (PPPs) which continue to bind us together as one human family in service of one another and in care of this precious planet. Today we celebrate those URI Midwives who helped birth this global movement. 
Today, on this birthday, I invite all members of the URI community to recommit ourselves to carrying forward the responsibility that we have inherited, and to bring all of our creative energy and deep wisdom to take this movement forward in new and dynamic ways that could not have been envisioned 18 years ago. Like the ways in which the Earth renews itself, nurturing life with each new season of the year, let us, in the seasons ahead, bring new life and energy to the United Religions Initiative on behalf of the Earth and all living beings. 
Happy Birthday URI 
In peace...  
The Rev. Victor H. Kazanjian Jr.
Executive Director 
United Religions Initiative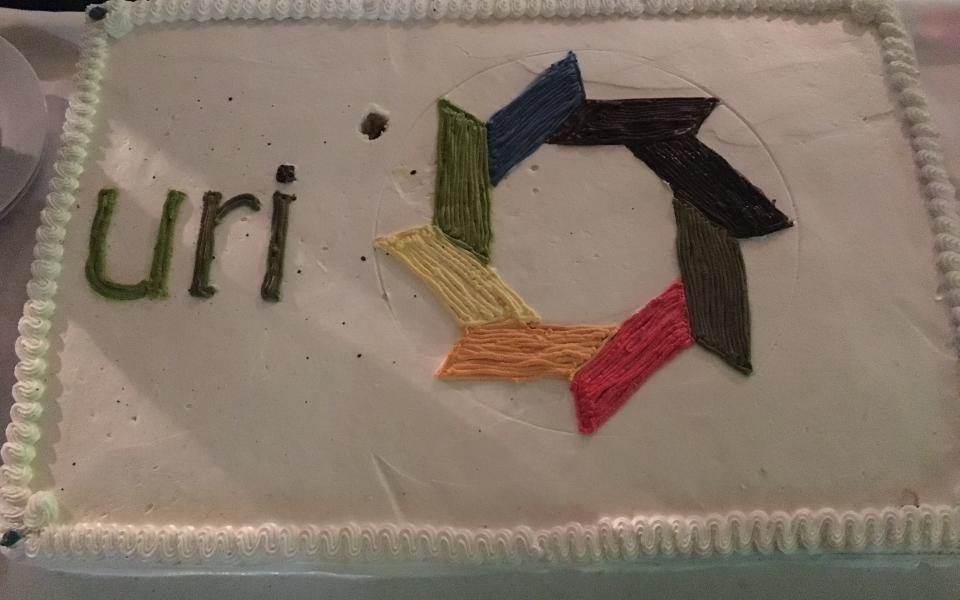 Dear URI Family,
We celebrated URI's 18th birthday on 26th June 2018 in Bankura, West Bengal, India. It was a day of great joy for all of us as we once again renewed our commitment towards bridging gaps between different cultures and religions.
We celebrated URI's birthday with Rural Development Society CC Bankura, Kaushik and Bikash from Helping Hands CC Kolkata, Subhas Tudu & Sobuj Mandi from Pichu Hadam Topol Ghonta CC.
Eminent personalities like Mr. Jayanta Mukherjee Senior Counsel, District Judges Court and Dr. Dilip Patra from JSS Min.of.HRD, Government of India and other important dignitaries were also present.
After cutting the birthday cake. We took an oath to establish a just and peaceful world free of violence, where no discrimination will be made because of caste, colour, creed or religion for all living beings. We took this occasion to felicitate our newly elected Global Trustee Rev. Kalyan Kumar Kisku.
We would like to take this opportunity to thank Rt Rev. Bishop William.E. Swing the Founder and President of URI, The Rev.Victor. H.Kazanjian Jr Executive Director and Kiran Bali MBE JP Global Council Chair for their endeavour in attaining unity among religions.
With gratitude and Shanti,
Yours truly,
Shreyosi Biswas
Secretary, Helping Hands CC
Click the yellow arrows to scroll through the photos in the slideshow below.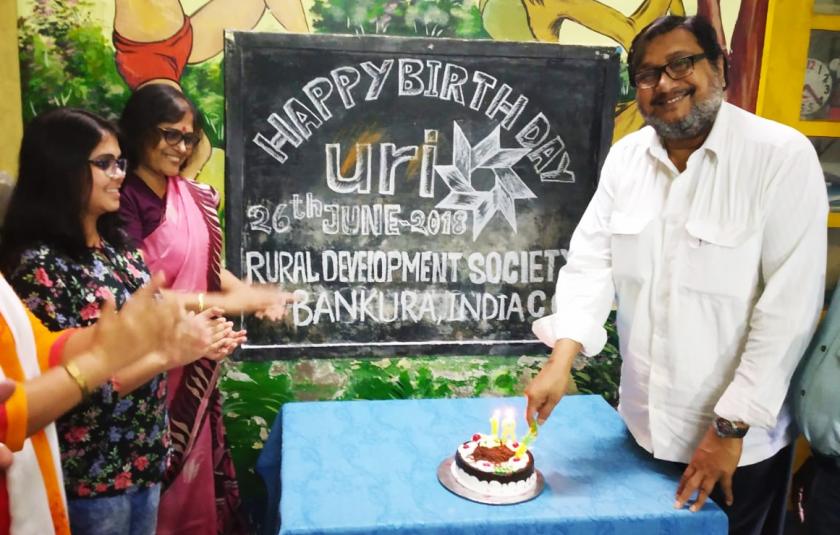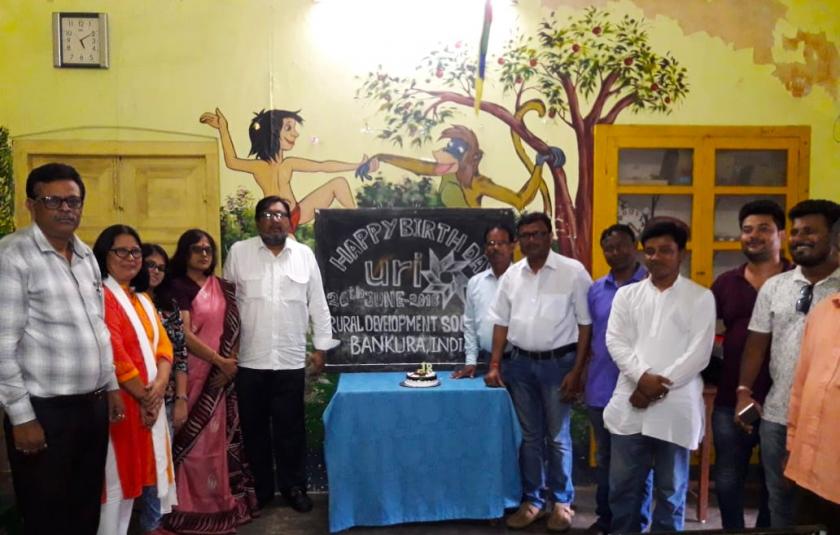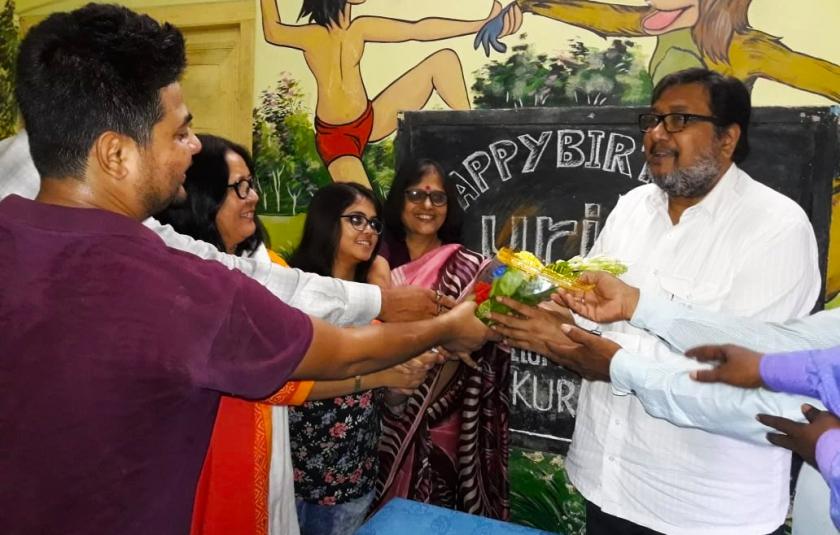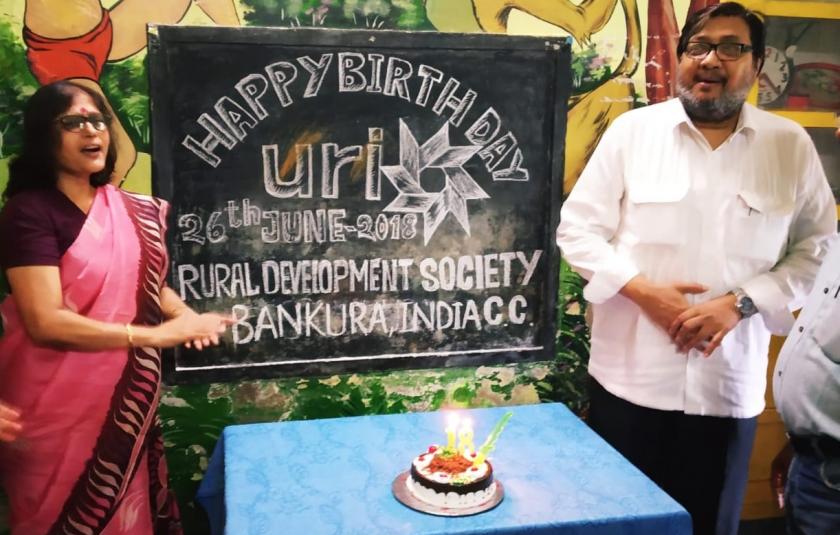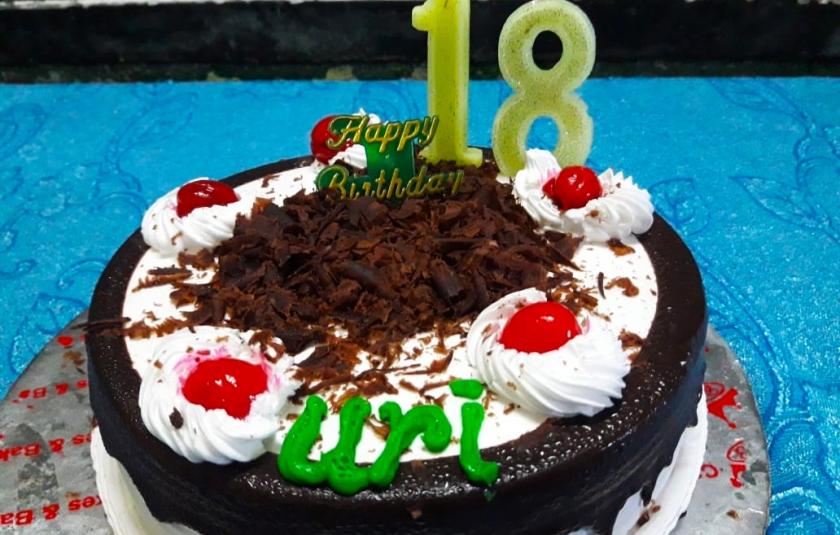 ---
The Voices for a World Free of Nuclear Weapons Cooperation Circle celebrated URI's 18th Anniversary with our phone call meeting, including The Nuclear Prayer. Join us by using this prayer in your work. Together, we can build a world free of nuclear weapons as we create cultures of peace, justice and healing for the Earth and all living beings! So glad to share this day with all of you! 
The Nuclear Prayer
The Beginning and the End are in our hands, O Creator of the Universe. And in our hands, you have placed the fate of this planet. We, who are tested by having both creative and destructive power in our free will, turn to you in sober fear and intoxicating hope. We ask for your guidance and to share in your imagination in our deliberations about the use of nuclear force. Help us to lift the fog of atomic darkness that hovers so pervasively over our Earth, Your Earth, so that soon all eyes may see life magnified by your pure light. Bless all of us who wait today for your Presence and who dedicate ourselves to achieve your intended peace and rightful equilibrium on Earth. In the Name of all that is holy and all that is hoped. Amen.
May Peace Prevail on Earth,
Monica Willard
URI United Nations Representative
---
As one of the signers of the URI charter, I am pleased to say happy birthday to UR. I remember the date very well. It was preceded by a number of years of trial and error which finally resulted in the charter which guides us today!
Happy birthday, URI - 18 is a good age!
Rita R. Semel
---
Happy birthday to all of us!  
In the Hebrew alphabet, each letter has a numerical value.  And the numerical value of the letters in the word "Chai" - or life - is 18.  So for us the number 18 always represents and symbolizes LIFE!  We're entering into a year filled with new life for URI and all of us.
May we go from strength to strength!
Blessings and love,
Elana Rozenman
Executive Director, TRUST – Emun
URI Global Trustee - Multiregion
---
Happy Birthday URI!
Cooperation Circle members from Myanmar wish you all the best.
Regards,
Thant Zin Aye
Myittar (Metta) Resource Foundation (MRF)
Myanmar
---
Members of Cooperation Circles in Buenos Aires, Argentina had the opportunity to celebrate URI´s 18th anniversary doing what we love: contributing to open hearts of youth to diversity
Happy Birthday to us Cooperation Circles in the world! Happy Birthday URI!
Maria Crespo 
Director of Cooperation Circle Support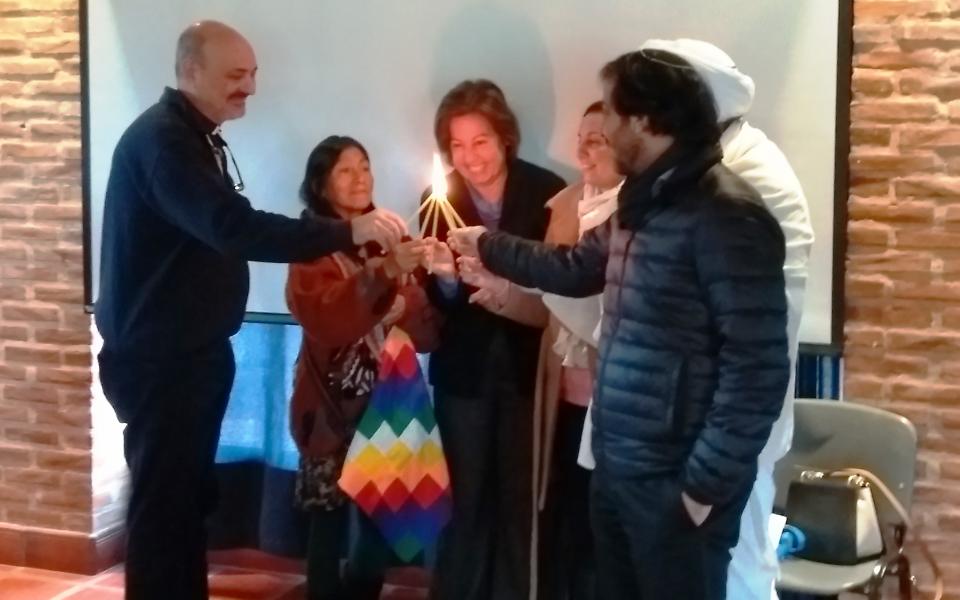 ---
I salute you all in URI in celebrating the important birth of United Religions Initiative, and I say great is he and those who mid-wifed this child of PEACE on Earth.
Unfortunately, brothers and dear sisters, I have no heart to celebrate with you. While you do so my kith and kin in Plateau state, where Dr Emmanuel is operating selfless services, are being mowed down by so-called herdsmen in Nigeria. I have attended countless numbers of peace conferences and meetings on indigenous farmers and insurgent herdsmen. It is believed that there is genocide going on in some states.
I'm feeling much grief and wonder sometimes if there is hope when those suppose to guarantee security watch people dying.
We'll continue to sing May Peace Prevail on Earth but we need sincere prayers also.
Thank you and celebrate in peace.
Honorable Elisha Buba Yero
URI Trustee for Africa
---
Namaste All,
Happy Birthday URI! 
We are so proud to be part of this amazing community. 
Much love and gratitude from all of us at Kashi Ashram. 
Love,
Swami Anjani
---
Dear friends, 
Wish you a happy birthday of URI. We are celebrating in the Peace Centre with URI Cooperation Circle Coordinators. We hope in this coming year will bring more blessings of unity, peace, love, tolerance, and acceptance. 
Regards, 
Shahbaz Khan 
Coordinator 
Tahareek Taraque-E Institute, Pakistan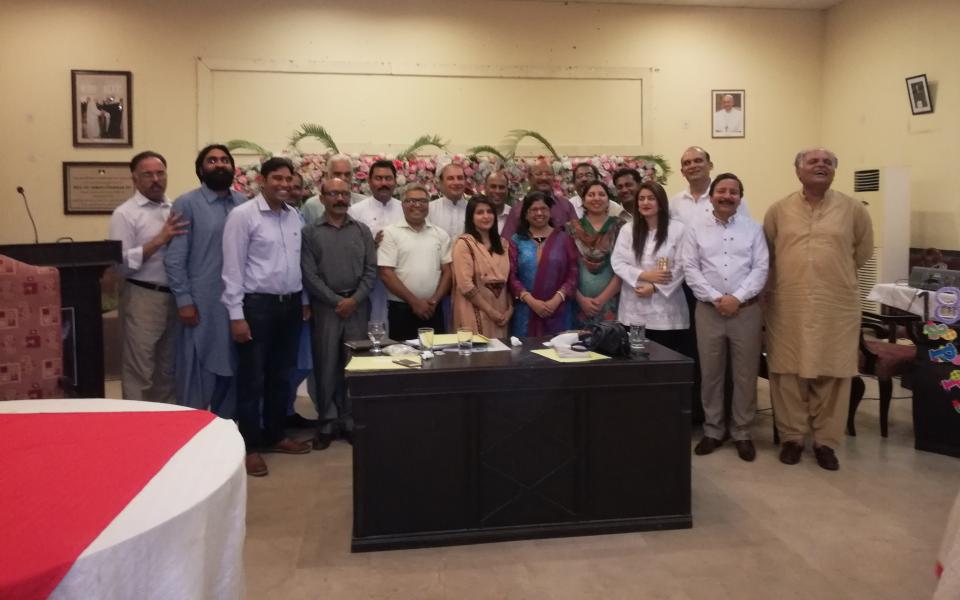 On this day, 26th June, there was born a great organisation that is destined to change the course of the world - URI. Happy birthday URI.

Warm regards,
Abraham Karickam
---
Happy birthday, with many many wishes!
Shaikh Sayeed Hossain
President, Global Peace Tourism
Dhaka 
---
Happy Birthday URI and wish you all the best to our family!
With best regards,
Yaqoob Sadiq 
Coordinator, Joy Foundation CC
Toba Tek Singh, Pakistan 
---
I congratulate all leaders and members of URI around the globe and wish you all of a very Happy Birthday of URI. It is wonderful to see that URI is 18 years old now and it is fully adult. It gives me immense joy that I was there when URI was born and I signed the Charter of URI on the 26th of June, 2000 in Pittsburgh, Pennsylvania, USA.
It was a great occasion to see people of all major religions in the world, under one roof, and signing the Charter of URI, thus committing ourselves to the noble vision of URI. 
My special gratitude and congratulations to The Rt. Rev. William E Swing, the Founder and President of this international organization! His dream has become a reality! Praise the Lord! 
Here are some photos of that grand and historic event.
In peace,
fr James Channan OP
URI Regional Coordinator Asia-Pakistan
Click the yellow arrows to scroll through the photos of URI's charter signing in the slideshow below.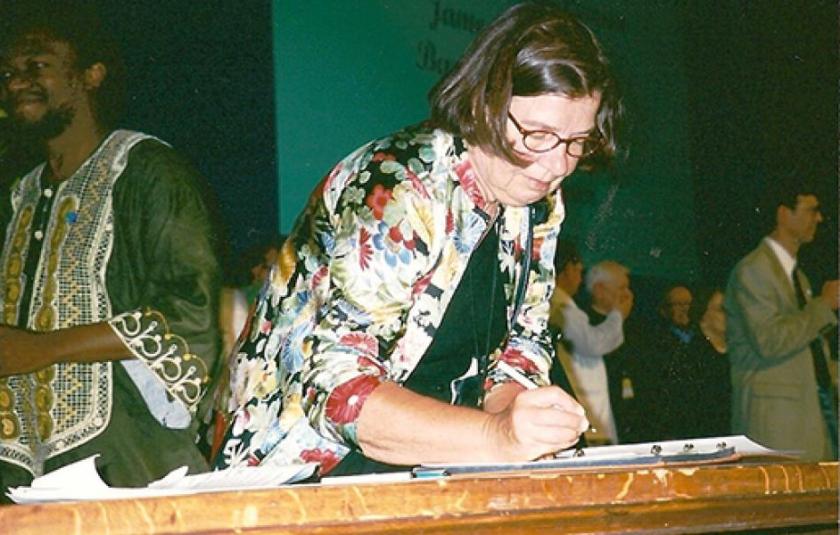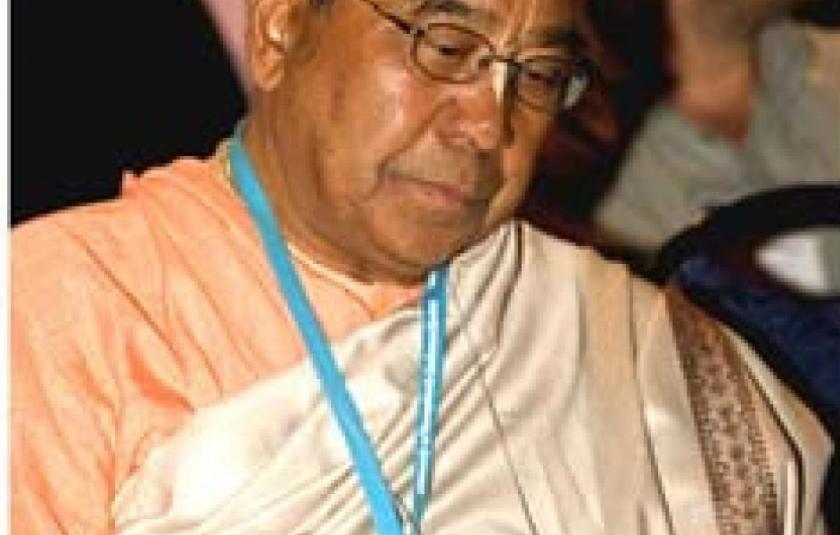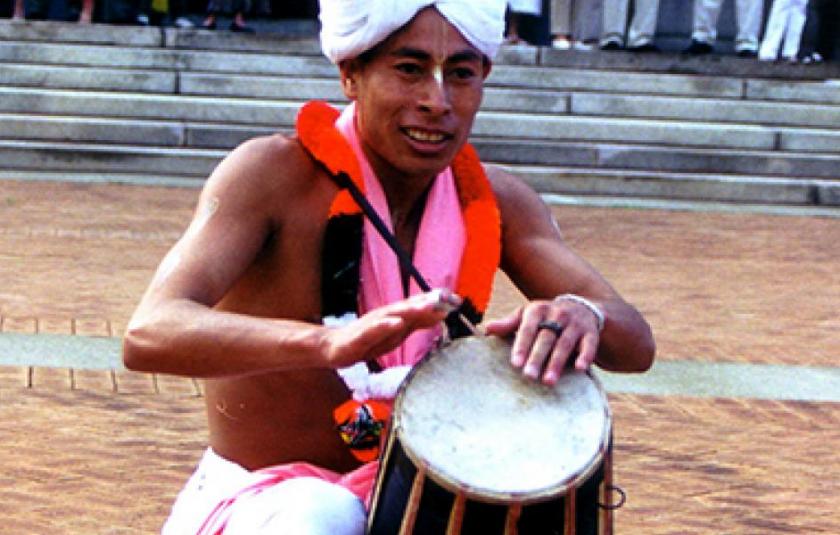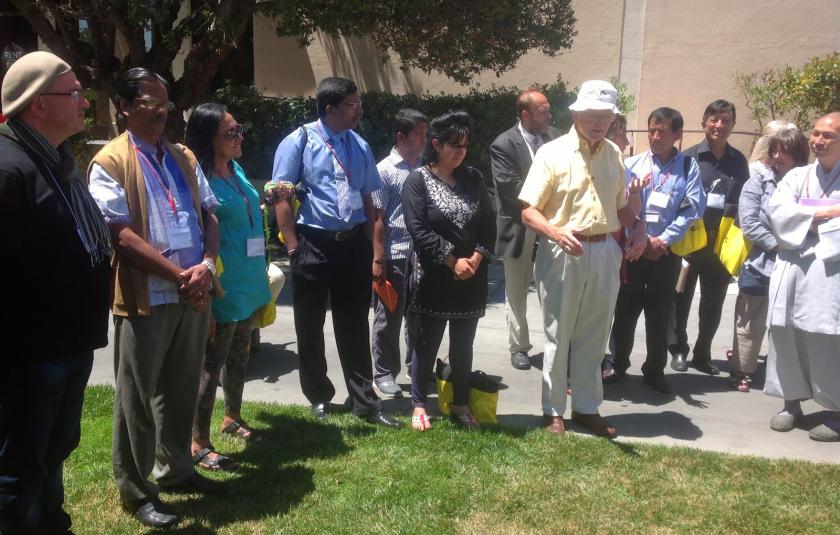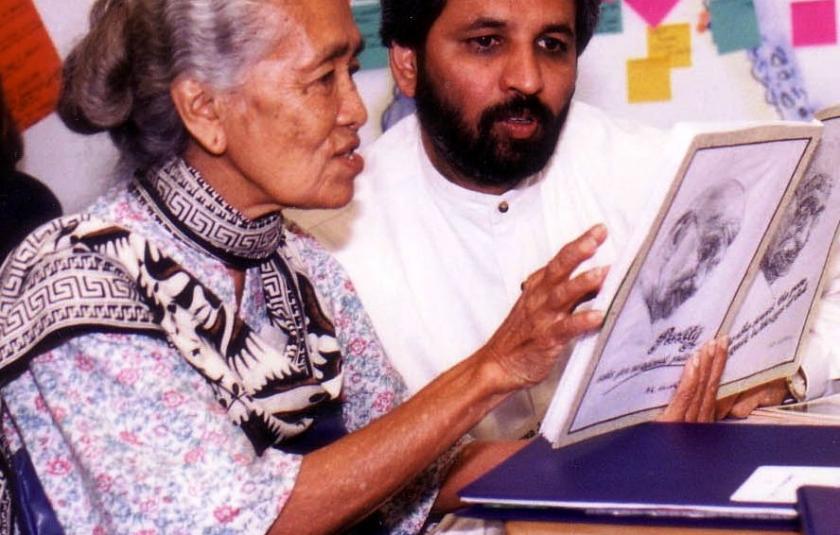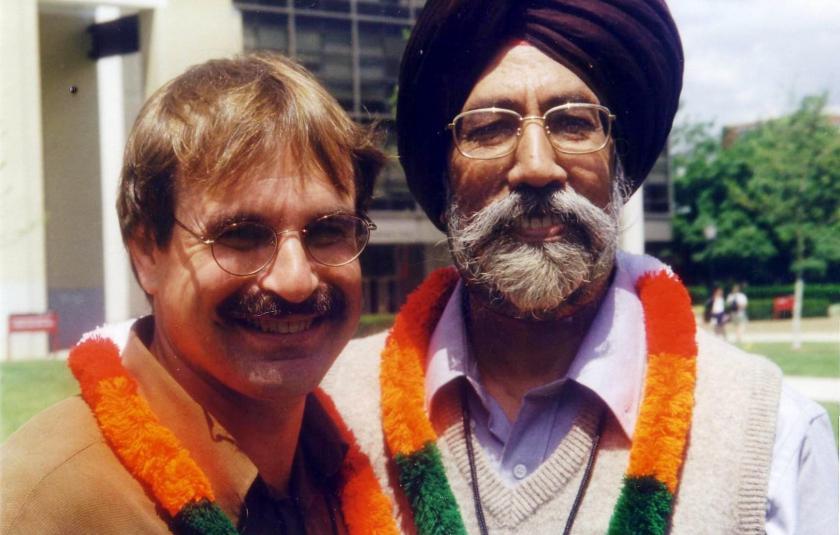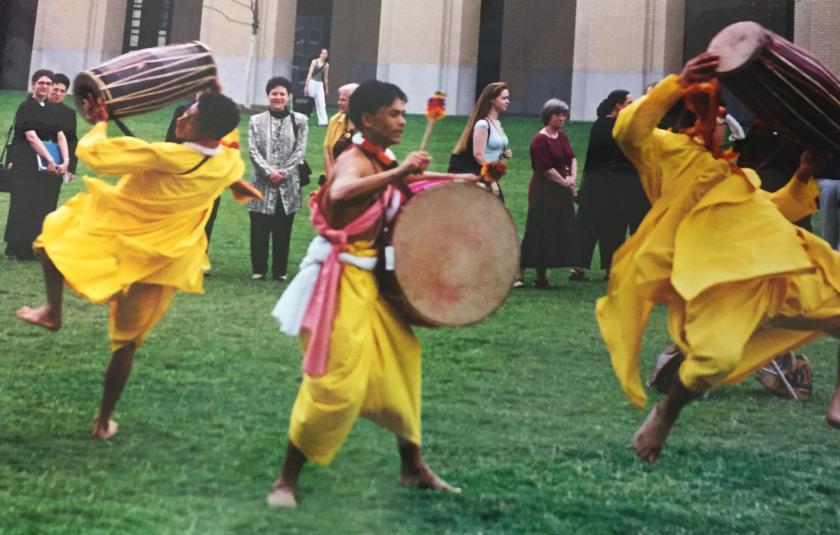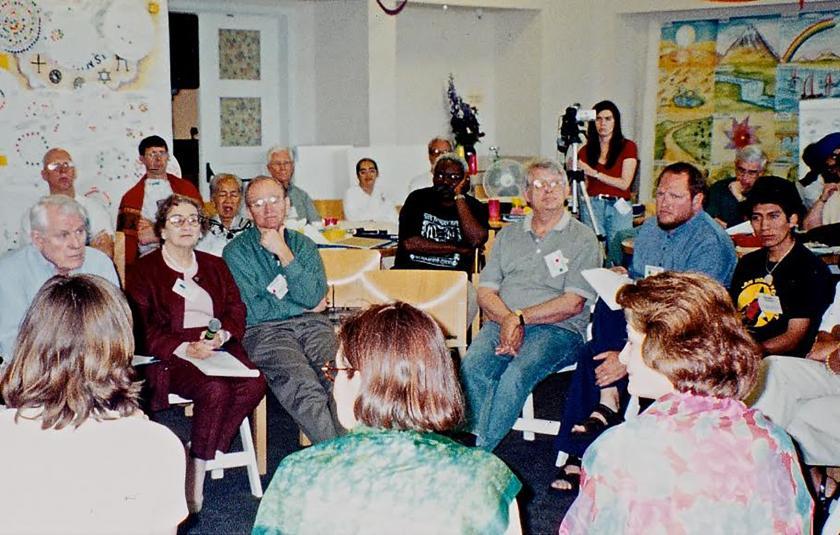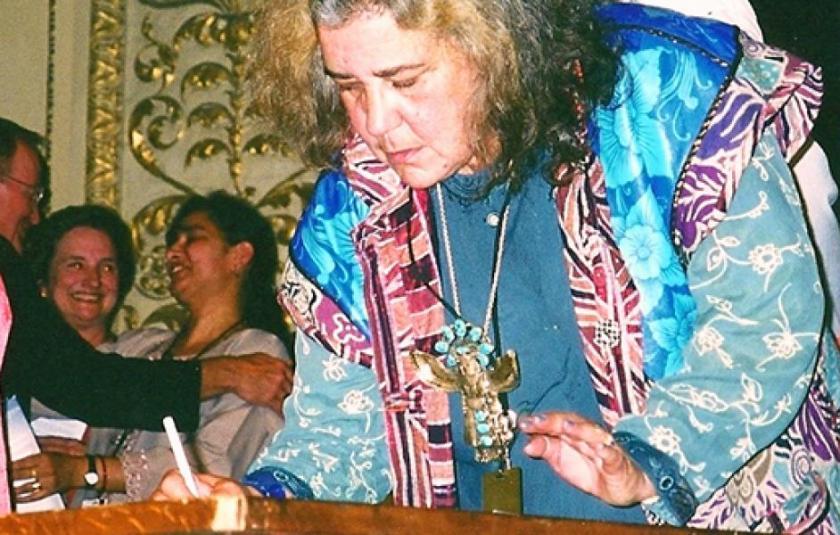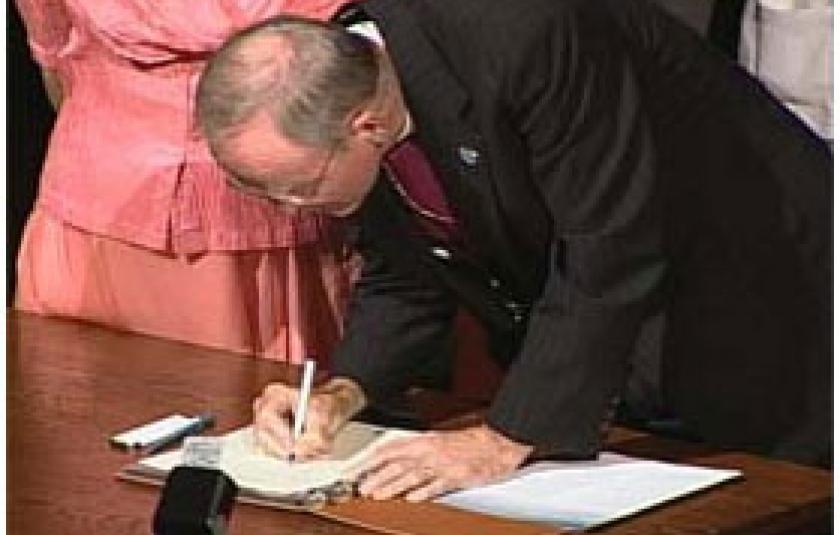 ---
Congratulations to all friends and URI family on the 18th birthday of URI.
But now I would like to say special thanks to Fr. James Channan, who spread the light and hope of interfaith harmony and interfaith dialogue in Pakistan with his friends. As a Pakistani, I think it is strongly needed in Pakistan. Again, I would like to say congratulations to Fr. James Channan.  
May Peace Prevail in Pakistan.
Regards, 
Coordinator, Shahbaz Khan
Tahareek Taraque-E - insaniate 
---
Happy birthday URI!
Herode Garry Laurent
---
Happy Birthday, dear URI family!!  We are One.

Love for all,

Ciro Gabriel Avruj
Peacemaker & Oneness seeker
Social Entrepreneur – Spiritual Activist – Inspirational Speaker
Buenos Aires, Argentina
---
Happy birthday URI. Wishing you all the best and may your good work continue to be good in your respective communities. My advice is: be strong, the work is plentiful as you advance in years, and you are the only one to be of a help to all. Open wide your hands.
In deep love,
Chaplain Mwagomba
---
Happy Birthday URI! 
Here is a special message from the young people of the Cape Town Interfaith Initiative Cooperation Circle, who were on Robben Island today, as part of their interfaith intercultural learning programme (see video).
Robben Island was the place where many political prisoners (including Nelson Mandela) were kept during Apartheid. This site tells an important story of the struggle for freedom in South Africa, and is a reminder of the dreadful mindsets, laws and actions that sought to divide us as a nation. On our learners' T-shirts are the words "Strength in Unity" (the T-shirts were designed by the learners themselves) - which brings the message of unity, harmony and peace between all people. This is the message we share with you all on this wonderful celebration of URI's birthday! We Unite! 
Sarah Oliver
URI Southern Africa Youth Development Officer
---
I hope everyone is very well and in family. I write to make a big thank you to everyone, for being part of this great global community that is URI. This global space that brings us together and teaches me to be a global citizen, a man who can appreciate and embrace all the spiritualties and traditions. This is something that changed me forever. As a member of an indigenous and Argentinean community, it makes me very happy to say, "Congratulations URI." 
Francisco Morales
---
Happy birthday URI! God bless Bishop Swing all the people who help him and let it happen. God bless all the people that help us today go on with this important initiative of our days.
Warm regards,
Enoé Texier
---
Wow! 18 years is not a joke for an organization. 
Happy birthday URI. Proud to be associated with URI.
Felix Iziomoh
Happy 18th Anniversary to all of our founders and sustainers all over the world. How blessed we are to be part of the vision and the reality of our interconnectedness!
Rabbi Pam Frydman
---
Happy birthday URI
God bless Bishop Swing, Victor, Sally, Alice, Maria, Linda... and all our URI family around the world. We are one! I'm proud I've been part of the nice URI family since 2006. Happy birthday to our house, united us first, our positive diversity family. The positives diversity us our power! We unite! 
Naoufal EL Hammoumi 
---
URI is a decent and spirited body whose parts are the hundreds of Cooperation Circles we are around the globe (Remember this: You Are I). Happy 18th to all of us. Let take the message for peace, unity and mutual understanding among people of different beliefs and traditions in every part of the globe. It's only what we do as Cooperation Circles and URI's flag carriers everywhere we work that makes us a dynamic living organism.
Many thanks to Bishop E. Swing and to all brothers and sisters who combined together their genius to give birth to this body we all find ourselves in and that we're so proud of. If we always remember we are one single body, we'll do extraordinary things and this body will have a footstep in every door and every bloc worldwide. I pray that URI Cooperation Circles develop exchange programs as part of inter-Cooperation Circle relationship development. Finally, we shall never ask what URI needs to do for us, but what we do as URI.
Yours, 
Richie Lontulungu 
ACIP Communication Officer
---
It gives me immense joy to share with you that 18th birthday of URI was celebrated at the URI Regional Office in Lahore, Pakistan on 26th of June. There were 22 Cooperation Circle Coordinators and 2 MCC Coordinators who participated from Lahore, Chakwal and Rawalpindi/Islamabad. 
I shared the story of URI and how it was formed and step by step finalizing the URI Charter and its grand signing ceremony in Pittsburgh, Pennsylvania, USA on 26th of June, 2000. 
Rich tribute was paid to The Rt. Reverend William E. Swing, Founder and President of this international organization. 
All CC Coordinators shared about their role in the URI, success stories, challenges and upcoming dreams to be fulfilled. All expressed their joy about the birth of URI. 
URI Cake was cut on a beautiful table decorated especially for this grand occasion. 
Long live URI! 
In peace,
fr James Channan OP
URI Regional Coordinator Asia-Pakistan
Click the yellow arrows to scroll through the photos in the slideshow below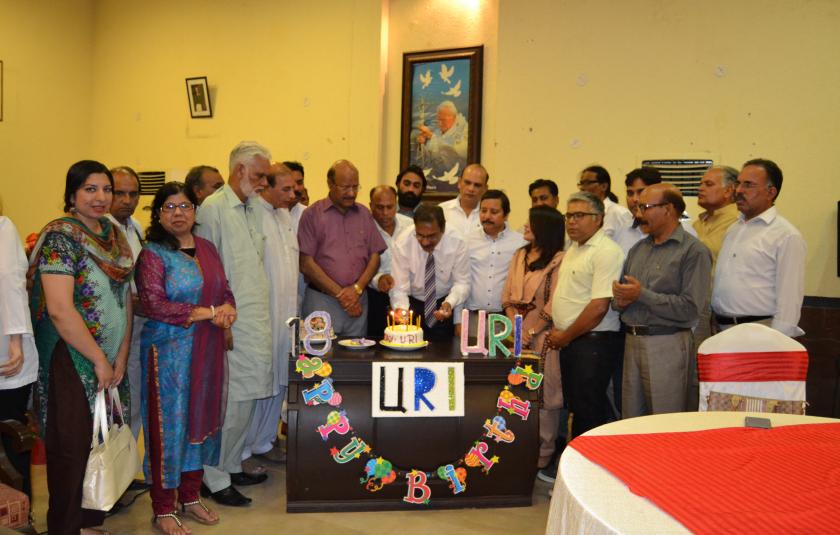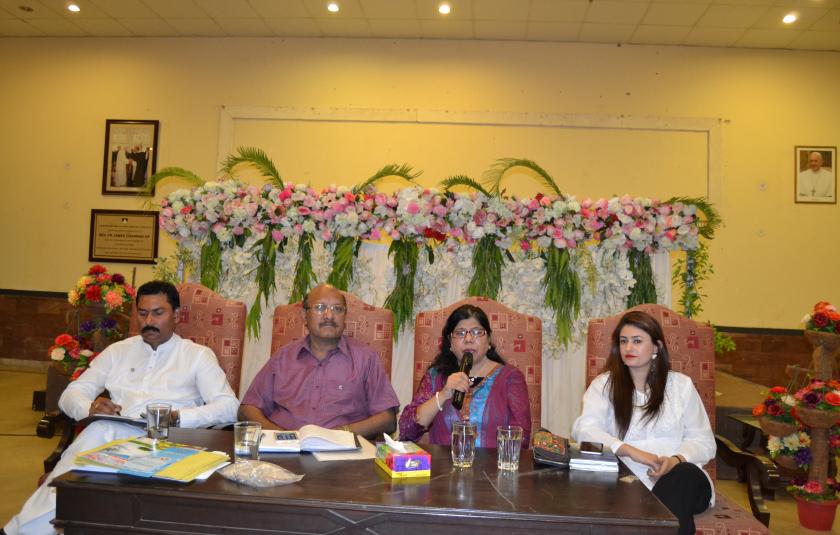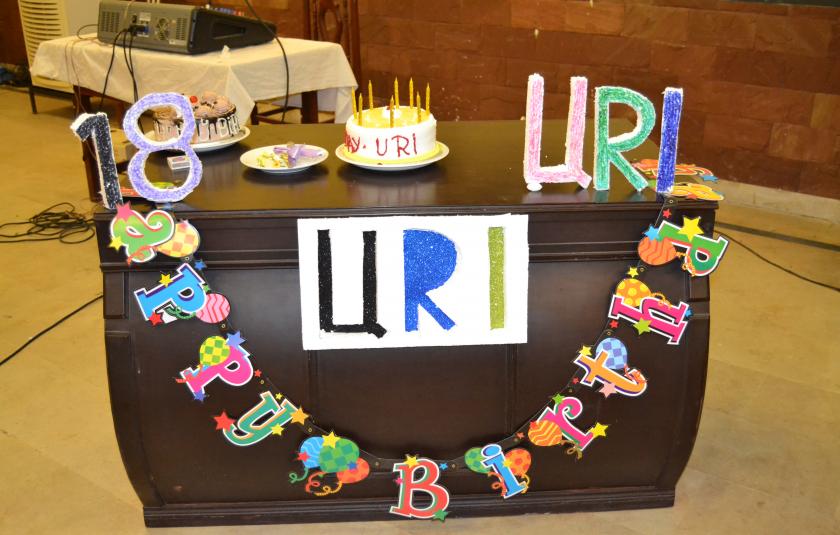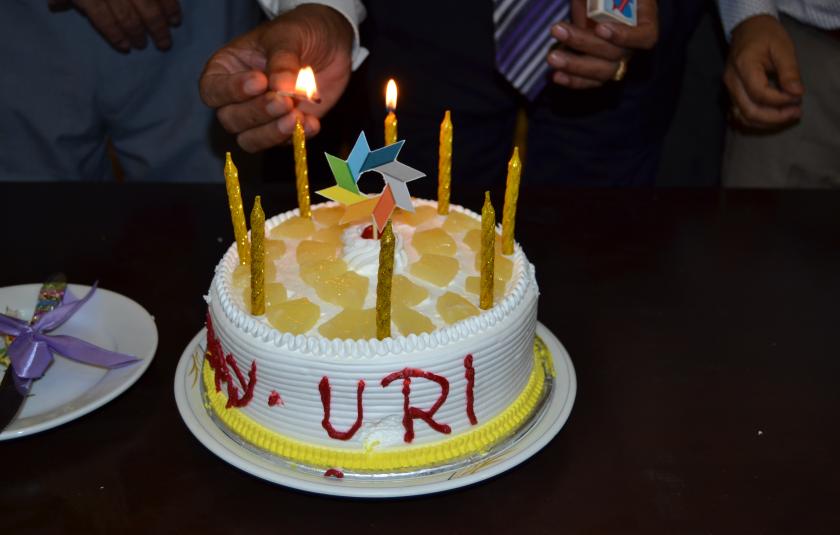 Happy birthday URI... in 18 years URI has added many beautiful things to humanity and positively impacted millions of diverse people across the globe. God bless all who support URI's mission and PPPs. URI is here to stay and will continue to grow to make our world a better place.
In love and peace,
Mamoun Ahmad, URI Middle East and North Africa Coordinator
---
We want to add our congratulations and multiple thanks to all those who initiated the URI eighteen years ago. What an amazing gift to the world. We have only been an active Cooperation Circle on the Gold Coast in Australia for a very short time and are inspired by the beautiful, compassionate actions of Cooperation Circles around the world. Happy and Blessed ANNIVERSARY!!!
Bryan Gilmour
MAAG (Multifaith Advisory and Action Group)
---
Happy anniversary - I am celebrating with a party of deep feelings of joy, love and gratitude in my soul, the 18th Anniversary of URI family, to which I have belonged since May of 2017, fruit of the Second International Festival of Song Authors "A Song for Peace" tribute to Facundo Cabral and Gilberto Gil , where the Latin American Cooperation Circle of URI Musicians was created, of which I am a member for the construction of a better world.
I am very proud of the work that you have been doing throughout these 18 years, fully complying with the mission that made it possible to create this valuable global network of an interreligious base that cultivates peace and justice for the good of our communities and the world, which seeks to bring people closer to religious and cultural diversity, where cooperation, love of the land, respect for the traditions of the indigenous peoples that have left us a present full of identity represent the heart of URI.
In the future I am certain that URI will continue to address spaces in different parts of the world, with the presence of a global community of Cooperation Circles, thus fulfilling its purpose, supporting itself with the talent of its members in the various activities that they program.
With honor I affirm that I will continue being part of a flag with the name of URI ... destined for the Peace of the World.
A big hug from Venezuela.
Grateful and committed!
Andreamaría
Songwriter of the Latin American Musicians CC
Original message in Spanish:
Feliiz Aniversario - Celebrando con una fiesta de sentimientos profundos de alegría, amor y gratitud en mi alma, el 18vo Aniversario de URI, familia a la cual pertenezco desde mayo del año 2017, fruto del II Festival Internacional de Canta Autores "Una Canción por la Paz homenaje a Facundo Cabral y Gilberto Gil", en donde fue creado el C.C Latinoamericano de Músicos de URI para América Latina y el Caribe, del cual soy miembro para la construcción de un mundo mejor. Me siento muy orgullosa de la labor que han venido realizando a lo largo de estos 18 años, cumpliendo a cabalidad con la misión que hizo posible crear esta valiosa red global de base interreligiosa que cultiva la paz y la justicia por el bien de sus comunidades y el mundo, que busca acercar a las personas en la diversidad religiosa y cultural, donde la cooperación, el amor a la tierra, el respeto a las tradiciones de los pueblos originarios que nos han legado un presente cargado de identidad representan el corazón de URI. En el futuro tengo la certeza que, URI seguirá abordando espacios en diferentes partes del mundo, con la presencia de una comunidad global de Círculos de Cooperación ,cumpliendo así con su propósito, apoyandose con el talento de sus integrantes en las diversas actividades que programen. Con honor afirmo que, seguiré siendo parte de una bandera con el mombre de URI…destinados para la Paz del Mundo.
Un abrazo grande desde Venezuela.
Agradecida y comprometida!
Andreamaría
Cantautora del C.C. Latinoamericano de Músicos.
Click the yellow arrows to scroll through the photos from Andreamaría in the slideshow below.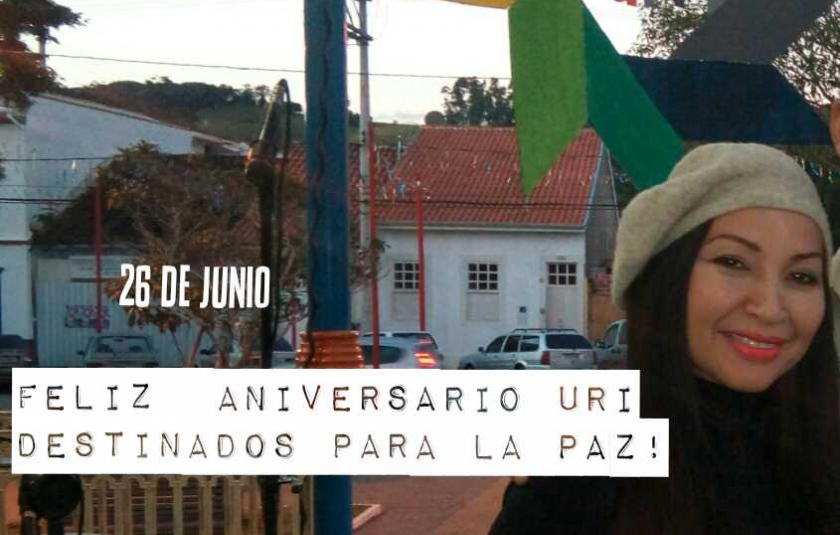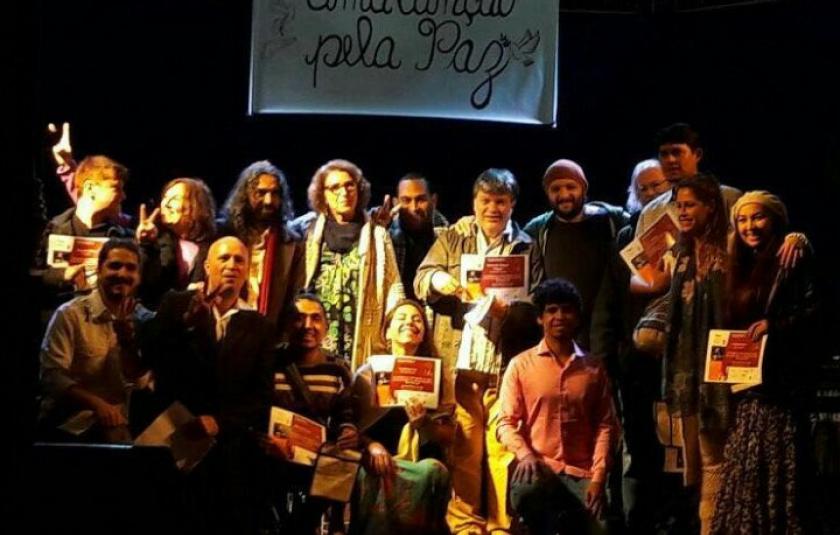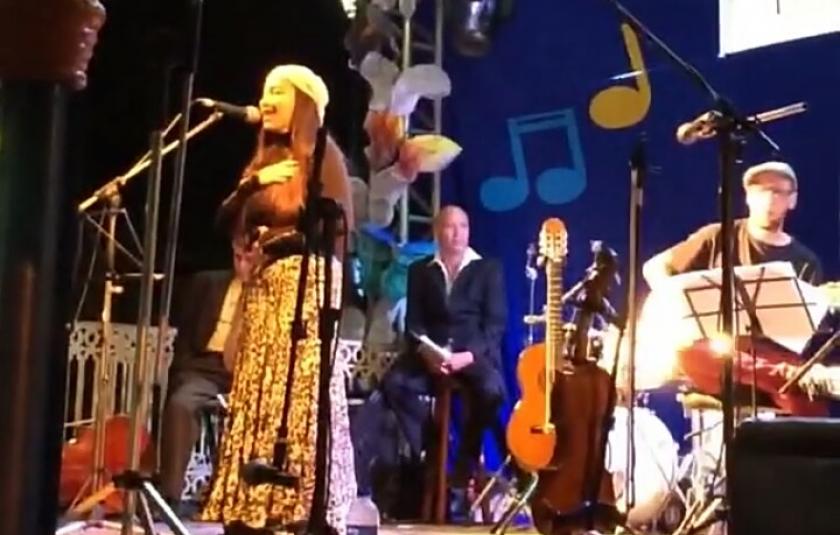 Dear Friends,
Happy Birthday URI! 
LCF team is proud to be part of URI community. We are sure together we can make difference.
Warm Regards,
Reema Malhotra
Director-Projects
Love Care Foundation
---
Historic group photo of the day URI Charter was signed on 6th of June, 2000. 
Happy Birthday URI! 
fr James Channan OP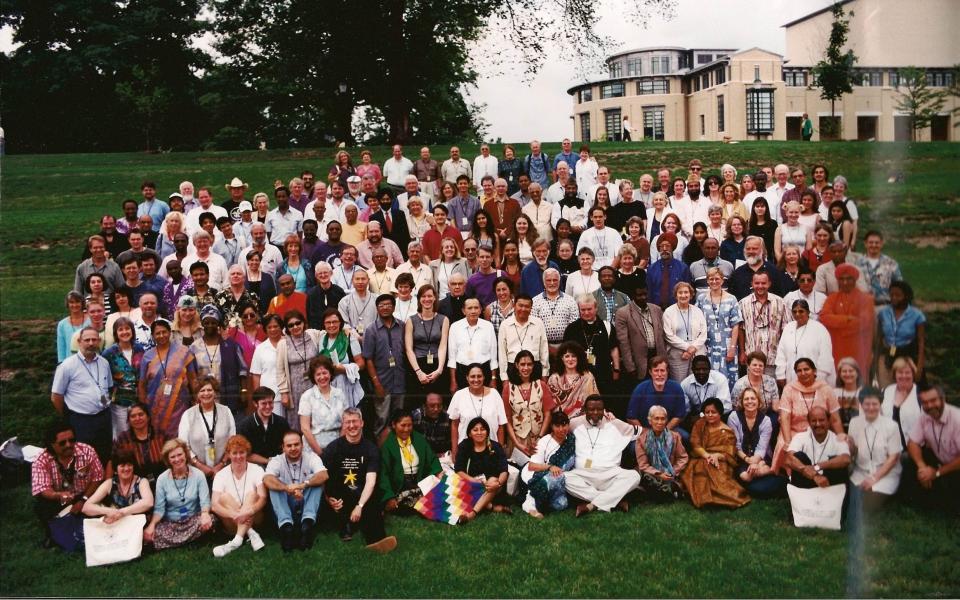 Dear URI friends,
Congratulations to all on URI's 18th birthday. May God bless you.
Regards,
Younis Khan
---
Wishing the entire URI family a very happy 18th birthday.
Last night we celebrated this momentous achievement under the auspices of Fr James Channan OP, URI Regional Coordinator for Asia, Pakistan, who threw a joyful birthday party with the full participation of URI Coordinators. At the event, Fr Channan also briefed us about the history of URI and its excellent role in Pakistan for the last 20 years.
Blessings,
Akhter Murad
Coordinator
Passion MCC, Lahore, Pakistan.
---
Happy 18th Anniversary to our staunchest partners! @uriglobal the world needs the work you do!
@baraza_ngo