URI Founder Bishop Swing delivers a "TED Talk" in San Francisco.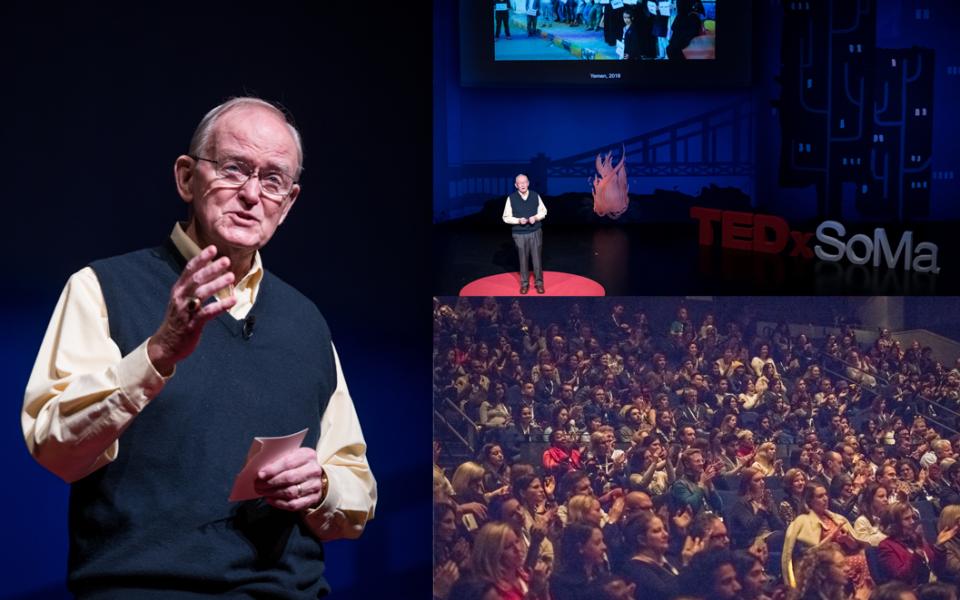 On January 15, 2019, TEDxSoMa brought together a group of esteemed visionaries at Yerba Buena Center for the Arts in San Francisco, CA, USA to "share new ideas that will shape our future together." The Right Rev. William Swing joined six other inspirational speakers to deliver talks about "masculinity, religion, mindfulness in policing, the hierarchy of language, facts vs. truth, and more." The theme was "Modern Campfires."
About Bishop Swing:
The Right Rev. William Swing is the President and Founding Trustee of United Religions Initiative (URI). The idea for URI came to Bishop Swing in 1993 after an invitation by the United Nations to host a large interfaith service in San Francisco, marking the 50th anniversary of the signing of the U.N. Charter. URI now has over 955 Cooperation Circles in 108 countries. Bishop Swing served as the Episcopal Bishop of California from 1980 until his retirement in 2006. In that capacity, he led the international Anglican response to the AIDS crisis, co-founded Episcopal Community Services to address San Francisco's homeless problem, and co-founded Community Bank of the Bay.
Bishop Swing is the author and co-author of several books, including The Sacred and the Silly: A Bishop's Playful and Eventful Life; A Bishop's Quest: Founding a United Religions; The Coming United Religions; co-author, Building Wisdom's House, and contributor to Andrei Sakharov, The Conscience of Humanity.
About TED Talks
TED is a nonprofit devoted to spreading ideas, usually in the form of short, powerful talks (18 minutes or less). TED began in 1984 as a conference where Technology, Entertainment and Design converged, and today covers almost all topics — from science to business to global issues — in more than 100 languages. TEDx brings the spirit of TED's mission of ideas worth spreading to local communities around the globe.