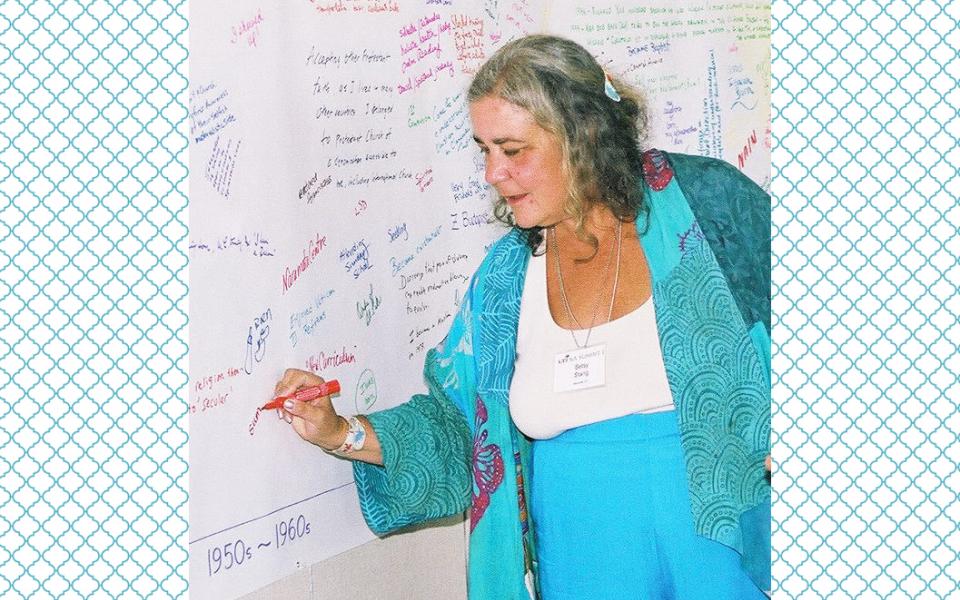 Betsy Stang served on the URI Global Council in its early years and helped lead the Mid-Hudson Valley Cooperation Circle, a URI member group based in Bearsville, NY, USA.
---
On February 15th, Interfaith Reverend Betsy G. Stang left us here on Earth for another dimension. While it is with great sadness that we deliver this message, it is also with a deep admiration for the life she chose to live and the love she left behind.
Betsy was a cosmic spirit of Light and fought endlessly for social and environmental justice. Betsy founded and led The Wittenberg Center, a non-profit in Woodstock, NY. Betsy and her team advocated for Indigenous rights around the world so well that the United Nations granted Wittenberg Center the much coveted ECOSOC (consultative) status. In addition to Indigenous rights, The Wittenberg Center focused on sustainability, women's rights, and planetary peace.
Her 2-year Interfaith Ministry program trained people to create and embody mutual respect, understanding, and comradery among faiths and traditions. These perspectives and skills are carried forth by the many people she ordained. She was also an award-winning filmmaker, a writer, a photographer and a sculptor.
Having survived 15 years after a 2004 inflammatory breast cancer death sentence of 3 months left to live, Betsy became a wise survival guide to people in similar circumstances. She spent endless hours coaching others through these challenging times. Who knows how many lives she saved or extended?
Known for her ability to call dolphins to nearby waves, provide welcomed food for bears and their cubs, create bird paradises, host a menagerie of wildlife, and be devoted to her pets, Betsy quietly nurtured all those around her whether they were members of the human, plant, or animal kingdom.
Betsy's love, generosity, wisdom, and wit were and are recognized by thousands around the world. Within 24 hours of her Facebook post announcing she had entered hospice, 258 had responded with their gratitude, admiration, and many stories of how she had changed their lives for the better.
Betsy was born in NYC August 2, 1947, was raised by Morris and Dorothy Greenstein, and graduated from Brandeis University. Betsy is survived by her son, Matthew Woodstock Stang and her daughter-in-law, Jackee Stang.
A rite of passage will be held for Betsy on 
Saturday, February 23rd, at 12pm at 
Lasher's Funeral Home - 
100 Tinker St, Woodstock, NY 12498.
She will be laid to rest at the Woodstock Artists Cemetery thereafter.
Cooperation Circles Involved