The Rev. Carolyn Wilkins grew up in Brooklyn, the sole African American child in a building housing Jewish families. She now devotes her time and abilities to educating others about religious and social acceptance and improving the lives of those she meets.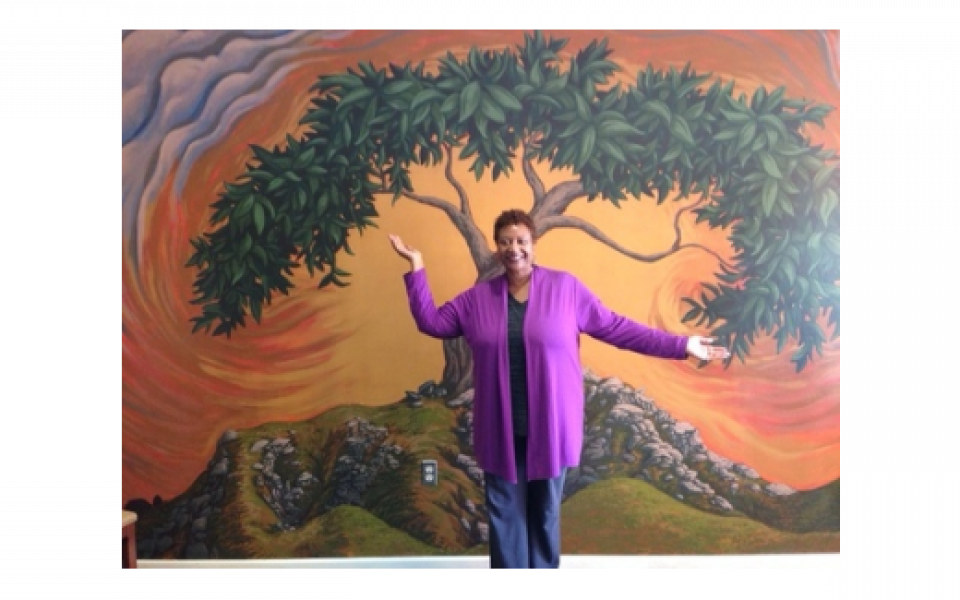 This is part three of our three-part mini-series highlighting the work of influential women of African descent in the United Religions Initiative North America network. Click the links to read parts one and two.
By Joshua Broadwell
The Rev. Carolyn Wilkins, director of the Culver City Interfaith Alliance Cooperation Circle, grew up in Brooklyn. Her family was the only one of African American decent, growing up in a building occupied by Jewish families. That, plus growing up in the New York City area, meant Wilkins viewed diversity as a natural fact of life.
She enjoyed learning about the people she met and their cultures and remembers food in particular as an important cultural learning tool. "Celebrating culture and heritage is important, and food and music are the ultimate celebration. It brings people together and teaches them how others live" Wilkins said.
It wasn't until a middle school field trip to the United Nations that Wilkins really understood how beautiful the diversity of the world was to her, though. Seeing everyone in their traditional clothing stood out the most. "It was like one of those moments in a movie, where the sun beams light the path." I knew 'This is what I'm meant to do,'" she said.
While fascinated with the multiplicity of religious buildings and people in New York City, her interest didn't extend as overtly to study religious beliefs until a bit later in life, though. During high school, her family suffered personal tragedies – her father left, and her brother was in a near-fatal car accident that left him in the hospital for a lengthy period of time. Despite what was taking place, and her family's heavy involvement in their church, Wilkins says no comfort or help was offered. "That was when I realized they didn't practice what they preached... and I no longer felt as committed and stayed out of church for a long time after that" she said.
During college, Rev. Wilkins indulged her love of learning about other traditions by conducting research into the various faiths with worship centers near  her university. After studying their customs and beliefs, she then did some "field research," as she called it, and visited services to see if people's words and actions matched their stated beliefs. Although everyone's beliefs centered on love, Wilkins recalls "I only got some strange looks", as often the only person of color, and did not receive a warm welcome.
Later, after establishing herself with a computer science degree and a quality corporate business reputation, Wilkins felt a desire for community and personal connection outside of the male-dominated, technical environment. Her life's journey led her to a new spiritual home, and she found the Church of Religious Science was exactly what she was looking for.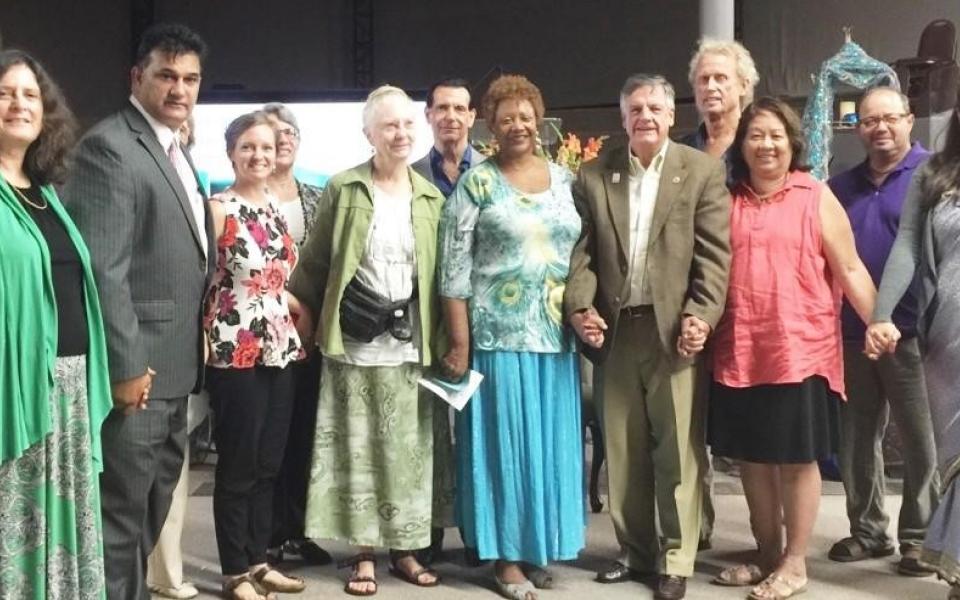 Fast-forward thirty plus years, and Wilkins is now a practitioner and minister. Rev. Wilkins is the Director of Agape's GlobalWorks Ministry in their international, thousands-strong, multi-faith congregation. She directs interfaith, intercultural and humanitarian partnerships and programs for social justice.
Wilkins is also involved in a number of other efforts that blend community building with interfaith work. One such effort focuses on at-risk youth in Los Angeles. There, regardless of their background, Wilkins provides participants with emotional support and teaches ways to channel their feelings and develop their characters.
In all the different facets of her life, Rev. Wilkins is always advocating for peace and nonviolence. One way she does this is by educating others about faith traditions different from their own when she participates in conferences and discussion groups with URI, the Association for Global New Thought and Institute for Nonviolence LA. Knowing whether the person who really needs the message hears it is always difficult with these larger events, but Wilkins offered some advice born from experience: "I've given up worrying about who hears the message. Instead, I try to live it. That's the best way to give a message to anyone."
Her work going forward is focused on building the Beloved Community through conversations on race, dignity and inclusiveness.
Cooperation Circles Involved