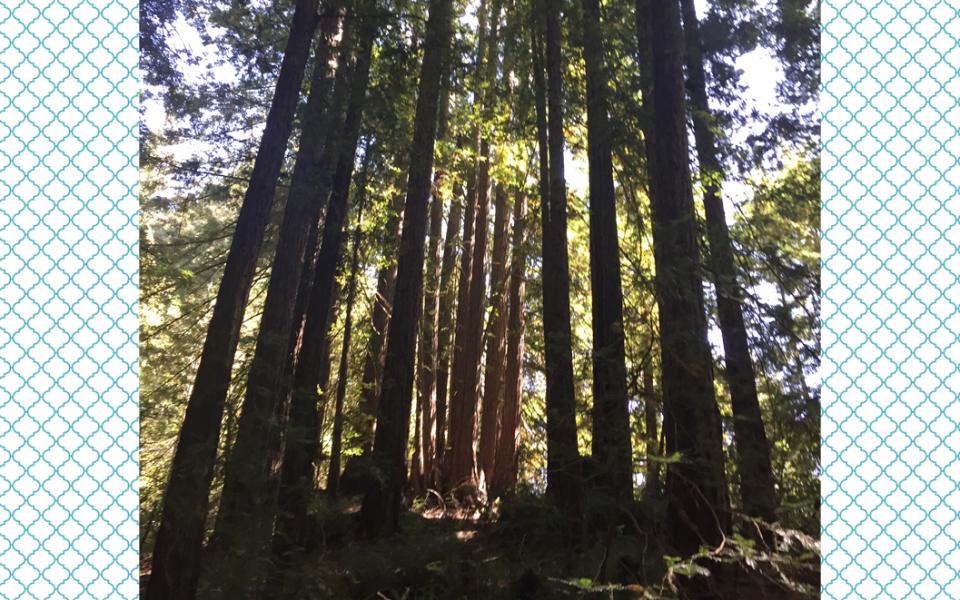 At breakfast, a kundalini yoga instructor suggested I take the "Forest Trail." She said, "it's magical."
I walked the paved road but didn't see the trail marker. I asked a passerby and he pointed me to the trail. I thought my journey to Russia would begin next week at the SFO International Airport, but it started here, on Forest Trail, Mt. Madonna Center, in the Santa Cruz mountains of CA.
I prayed along the trail, "May the silence and wisdom of this redwood forest breathe in me." Since I don't speak Russian, I imagined drawing a picture to explain to Russian people that, "I 
 walking in the forests of Russia."
I noticed how young redwood trees encircle ancient redwood stumps. The re-generation of life from old to young redwood trees reveals the life-giving forces in the forest. I saw one ancestor stump bending tenderly near her offspring, as if to say, "I am still here for you."
The word "inheritance" comes to me.
We, the ones alive now on the planet, are here to receive and pass on life-giving nurture to those who follow. If we are lucky, we will become old ones and pass on the precious inheritance of life.
I imagine walking in Russian forests, hopefully with new Russian friends, admiring the trees and praying the same words, "May the silence and wisdom of this forest breathe in us." Our forests reveal to us that we are here to pass on an inheritance of life to those who follow. I believe Russians and Americans embrace this truth. It's time to walk this trail together.
---
More about this series: Russia Today - Building Bridges
URI Senior Consultant Sally Mahé shares thoughts from Russia, where she is traveling with the Center for Citizen Initiatives. The trip is called a "Diplomatic Mission to the Russian Federation by American Citizens." Its purpose is to provide an opportunity "to make inquiry and analysis by traveling to Russia to learn additional points of view about US-Russia issues." The task is to begin "personal diplomacy to intervene in war-making efforts that could end all life on the planet."
Along the way, Sally is connecting with URI members and Cooperation Circles (member groups) as she examines the actions of ordinary citizens meeting and building bridges of understanding together. 
See the rest of the Russia Today - Building Bridges series here.