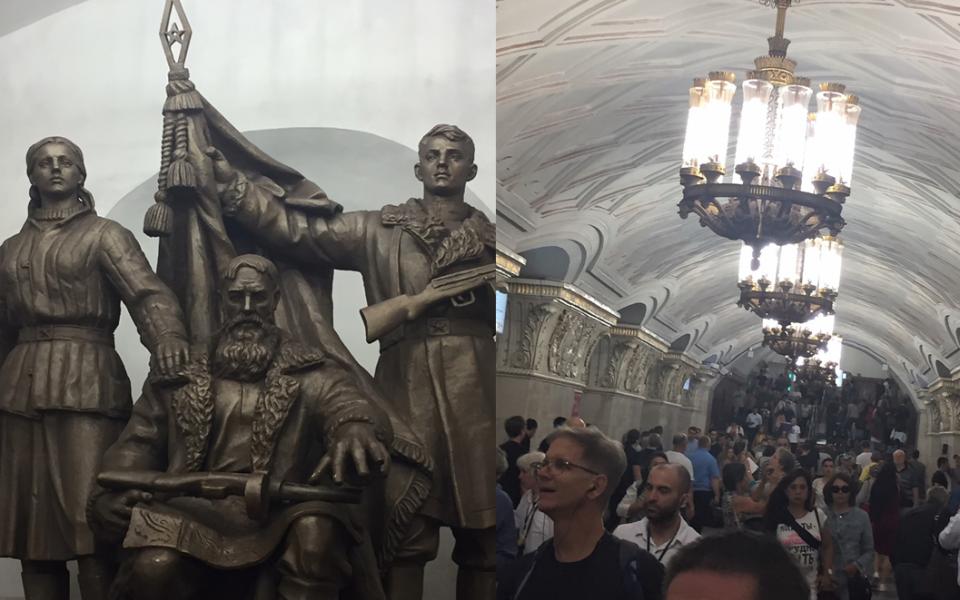 Touring Moscow's vast Metro system feels like jumping into a mighty fast flow of humanity. Escalators plunge us deep underground. People line every step in both directions. (These "ant lines" of people stacked on the escalators would have been an impressive photo, but I was minding my own step!)
The famed Moscow Metro was built by Stalin in the 1930s and 40s. Many stations were built as places of grandeur, museum-like, celebrating the glories of Russia: mosaics of early conquests, opulent chandeliers, "happy peasants," frescos celebrating regional diversity, best Art Deco of its age, bigger-than-life Revolutionary heroes. "Mother Russia," illuminated by golden mosaics, touched me with her ever-present vitality and resilience. During WWII, thousands of people flocked to these deep underground stations to hear Stalin give speeches. Today, Lenin persists, but all traces of Stalin have been removed – his reign now discredited.
It's difficult to fathom the impact that this kind of grandiose propaganda had upon the generations of Russians who took these subways every day. Today, Moscow's primarily younger generation stream past me glued to their phones. No one is looking at the surroundings that once were so carefully constructed to shape feelings and beliefs. I wonder what kind of cultural shaping is happening now? To an onlooker, the past is past –the present bears down, moving fast forward with uncertainty and possibility.
---
More about this series: Russia Today - Building Bridges
URI Senior Consultant Sally Mahé shares thoughts from Russia, where she is traveling with the Center for Citizen Initiatives. The trip is called a "Diplomatic Mission to the Russian Federation by American Citizens." Its purpose is to provide an opportunity "to make inquiry and analysis by traveling to Russia to learn additional points of view about US-Russia issues." The task is to begin "personal diplomacy to intervene in war-making efforts that could end all life on the planet."
Along the way, Sally is connecting with URI members and Cooperation Circles (member groups) as she examines the actions of ordinary citizens meeting and building bridges of understanding together. 
See the rest of the Russia Today - Building Bridges series here.