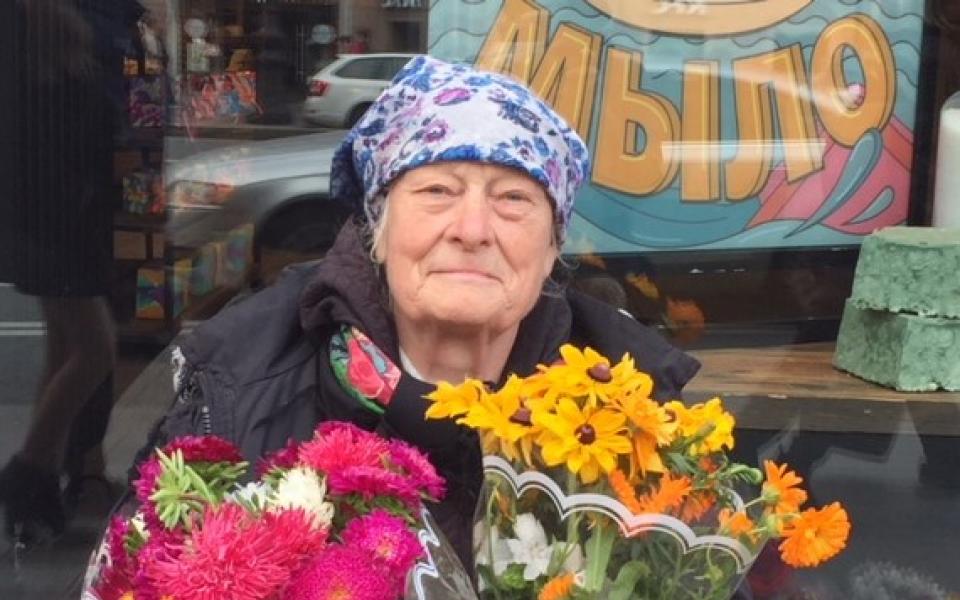 One of my favorite bridge-building moments was with a woman selling flowers on a street in St. Petersburg. Nevskiy Prospect, a famous thoroughfare in St. Petersburg, is packed all day and into the night. I usually walked a few miles on Nevskiy from my hotel to the center of the city to people watch and be part of this exuberant flow of humanity. A "flower lady" caught my eye. Her face had a special look. She was beautiful sitting on the sidewalk surrounded by her flower-bouquets. I had walked on but decided to turn back. I wanted to ask if I could take her photo. I offered to pay her a few rubles. She beamed warmly, welcomed the photo and refused any money. When I insisted, she picked out one of her best bouquets and gave it to me. Then we both beamed. I said enthusiastic "spacebas" [thankyou]!! Our eyes conveyed that we were delighted in one another and this momentary encounter. I was off with her gorgeous bouquet in hand – feeling exceptionally happy. In a few blocks, I spied an elderly lady walking with difficulty. I gave the bouquet to her and she beamed with surprise and gratitude.
Bridge-building moments come in all shapes, depths, in classrooms, around dinner tables, and out of the blue. Our citizen diplomacy trip gave us the opportunity to hear from recognized Russian leaders in business, media, diplomacy, etc. We also had homestays with opportunities to see how ordinary people carry on their lives. I heard different views on political issues (Putin, Trump, Stalin, Crimea, US sanctions, US-Russia policies since WWII, the current influx of Chinese, corruption, government controls on business, the role of the Russian Orthodox religion, Russia's treatment of countries in Central Asia, and the breakdown of treaties between US and Russia limiting nuclear arms). Learning about these issues was overwhelming and exciting. I want to continue to look for accurate information and keep learning more.
I witnessed Russians living their lives very much the same way we do in the US. They are frustrated by endless traffic jams, worry about earning a living, care about their cities, have family in other countries, work hard so their children can have a good life, and enjoy sharing special dishes. Russian people are incredibly generous and friendly to visiting Americans!
Listening to different perspectives, enjoying a favorite meal with new friends, iPhone photo shares of children and grandchildren – were rich bridge-building moments. My simple take-away from all of it is that people living our lives as best as we can – is universal and it is a sacred trust to help one another. People to people bridge-building takes us beyond hostilities and warring. Government policies that foment enmities, religions that spout hatreds and superiority, people who hold onto fears and prejudices, unbridled military and corporate power and greed – all act against this truth. These forces won't go away anytime soon. We can face these foes in many ways but our enduring, daily practice as unceasing bridge builders is imperative – nothing else will do.
As I close this blog series: Russia Today - Building Bridges, I give thanks to United Religions Initiative, URI's global community of grassroots bridge builders from different religions, spiritual expressions and Indigenous traditions who work to create cultures of peace, justice and healing. I am grateful to the Center for Citizen Initiatives (CCI) for its mission to stop the proliferation of nuclear weapons, increase understanding, counter misinformation and reduce tensions between Russia and the United States. And, for organizing this remarkable adventure of citizen diplomats!
---
More about this series: Russia Today - Building Bridges
URI Senior Consultant Sally Mahé shares thoughts from Russia, where she is traveling with the Center for Citizen Initiatives. The trip is called a "Diplomatic Mission to the Russian Federation by American Citizens." Its purpose is to provide an opportunity "to make inquiry and analysis by traveling to Russia to learn additional points of view about US-Russia issues." The task is to begin "personal diplomacy to intervene in war-making efforts that could end all life on the planet."
Along the way, Sally is connecting with URI members and Cooperation Circles (member groups) as she examines the actions of ordinary citizens meeting and building bridges of understanding together. 
See the rest of the Russia Today - Building Bridges series here.