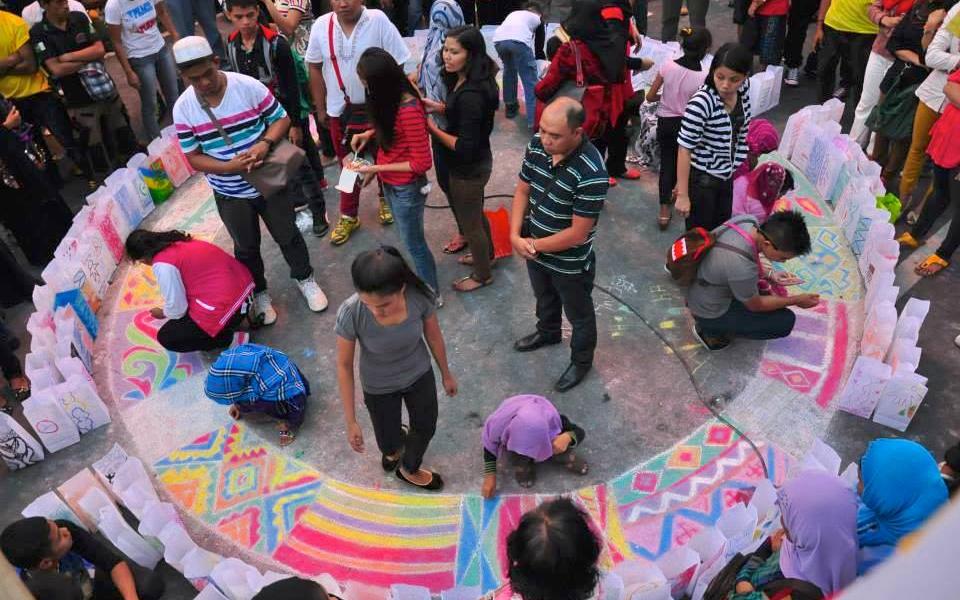 March clearly marks a growth tendency in URI. Having approved the largest group of CCs since conception, we can find the wish to make a difference in society as the common thread. The Quiet Voice CC describes it by expressing, "I CAN make a difference. I DO make a difference." Choosing different focuses: street children; family conflict; song & dance; radio & filmmaking; society empowerment through interfaith dialogue & education; and global meditation & sacred sites; these new members of the community show the capacity of grassroots interfaith groups to make a change.
---
Lilongwe Central Cooperation, Malawi
Aiming to have a well matured society formed by responsible citizens, Liliongwe Central Cooperation looks to find homes for street kids and mentor them until they become strong, productive citizens. Their hope for the future is to help build a better nation for everybody. This might seem like an immense task, but CC members believe that by working together, little by little and with the goal of improving the nation, they can make a change. They have set up meetings with city and health authorities. Already orphanages have been located, homes found, and the wheels put in motion to establish a program to guide these "lost" children into productive adulthood.
The Quiet Voice, South Africa
Media is traditionally the friend of drama, warfare, scandal and sensationalism – the hallmarks of a tendency to focus on the negative manifestations of humanity. This diverse group of mostly volunteer broadcasters has chosen to use their voices as a tool for change, to focus on the kind of things we want to see more of in the world so that others can be encouraged to join in helping to make the world a better place for all of us. The Taxi Radio sees the establishment of their CC, The Quiet Voice, as a natural step in the evolution of their stated desire to contribute to a more positive future in a better world. They believe URI will give them structure and a framework, and in return they give URI a mouthpiece for peace. They see this as an ongoing commitment to air the stories of the good that people do, and to be that one quiet voice that connects with the inner voice of every listener, whispering insistently: "But I CAN make a difference. I DO make a difference."
Radio is a particularly powerful tool, and its reach is never truly known. The Quiet Voice wants to focus on the good that people do, and to encourage acts of humanity and the law of kindness. The invitation is to come be part of the Weaving. The idea is that if we all mindfully add our little strands of hope, flights of fancy and dreams of good things; if we remind ourselves of the reward of respect, grace and compassion; if we learn to listen with our hearts, shift in our heads and are able to still the racing of our wants; if we can unstrap the rucksack of the past, shake of the shackles of the present and preclude a positive future; we will be led in the direction we require.
So much of The Taxi Metaphoric points to the quality of the journey. There can be no denying that nothing improves the quality of the journey more than like-minded companions.
Umbiyozo Cultural Diversity, South Africa
The strong cultural traditions of song and dance of the different cultures are not always acknowledged or respected. Engendering pride in the traditional song and dance is how Umbiyozo Cultural Diversity CC brings people together and fosters understanding and builds back pride and identity in groups where these things have not been strong for a long time. 
Together, members of this group have created a project through which they believe they can make a true and lasting contribution to those who follow in their footsteps. In the South African townships, children are very often lost to gangsterism, drugs and hopelessness because of the persistent poverty that surrounds them. It is not only poverty in terms of economics, but also a deeper and more soul-destroying poverty of relationship and family. This is why the work of uniting children, keeping them off the streets and giving them a positive, joyful expression of self is so important. By performing traditional South African song and dance, and organizing workshops on leadership in a diverse cultural community, CC members look forward to preserving the customs of traditional South African song and dance and to cultivating holistic living on ethnic youth growing in an increasingly globalized world. Group members are the light and the hope because they have seen a desperate need and they have answered a primal cry for help.
Vidyasagar Society, Bangladesh
Vidyasagar Society was established in Dhaka in 1997. The society has been playing an important role in the promotion of Bengali language and Bengali culture with the cooperation of the country's eminent writers and litterateurs. Activities of the Society include holding seminar-symposia and creating publications to mark the birth and death anniversaries of Vidyasagar. These activities aim to create goodwill and enlightenment, and are well-known in Bangladesh West Bengal (India).
The CC strives to empower Bengali Society to be the catalytic force of positive changes and to create a better future through the building of a society of equal opportunities without prejudices. They are currently hosting interfaith meetings, seminars, workshops and conferences promoting dialogue and interfaith cooperation to end violence and to create a culture of peace. They find partners to work on peace-building and bridge-building among the Bengali Society from different parts of Bangladesh. They organize activities for secular unity from different regions, as well as encouraging and providing resources and training for individuals to develop leadership skills. They offer advocacy and support to children and youths with special needs and without parents, which helps them to increase their life options, and helps society to overcome stereotypes and prejudices. Their desired outcome is achieving a discrimination-free society and bringing back the values of Bengali culture and the practice of co-existing in a harmonious society.
Ekta Samaj Foundation, India - East Zone
This small group works at the local level to address family conflicts and social issues like health and education for children. The CC worked from the beginning with Muslim, Hindu, Sikh and families from other religions, so once they learned about URI they realized that much more could be done to strengthen their interfaith relationships and strengthen their work. By knowing each other more in depth, they feel they can render better service to children and families.
At the moment Ektaa Samaj Foundation is engaging women in every social action, and promoting interfaith and intercultural relationships by addressing common social problems like children's education, health and environment. Members are taking steps together to resolve domestic conflicts. They engage each member of the family to expand their thinking and work with diverse interfaith people in addressing and resolving domestic problems. They are working to uplift family values. They have engaged more than 200 families to address and resolve social problems together, specially engaging women and children, who are most at risk of being victimized by any nature of violence. The CC is working together to create a safer circle and community, and encourages active participation to help children grow with happiness.
Arise Kochi CC, Kochi, Ernakulam, India - South Zone
Kochi (also known as Cochin) is a city with a large population of Hindus, Christians, Muslims, Dalits and a few Buddhist and Sikhs. Moreover, a large population from outside Kerala and abroad also have settled in Cochin, as it is a hi-tech city. It is very important to build cordial relations among these communities. Violence erupts occasionally in different parts due to terrorism and political manipulation. It is very important to foster interfaith relations among various communities, and this CC is mainly formed by artists who plan to do it through filmmaking.  For now, the group's most memorable activity has been the production of films showcasing Holy Books Conferences, first at Kottarakara in 2013,  and second at Colombo in 2015). They have also produced a film on Cancer Care, which has been widely published in TV programs.
BZN Silence Farm Metanoia - Belgium
The Silence Farm Metanoia is an interfaith center where silence and meditation is central in daily life and where spiritual seekers are welcome. Members invite their guests to slow down, to still, and to internalize. They offer them a diverse program with different workshops that are always related to nature. In the Metanoia center the main focus is silence in every aspect of life. The Silence Farm is built in real meaning and deep philosophy. Only vegetarian food is provided to the guests and they are involved in preparing the meal. The reason is not only health, but the global Earth crisis. Every guest is involved in the garden work of the Farm. Gardens need attention, and people try to reestablish their relation with the earth, to start to feel connected with the soil. Disabled people – mental and physical – are involved in the whole process of taking care of the farm. They are made visible again, because in daily life people often make no effort to relate to the disabled and they become invisible.
The Silence Farm Metanoia emphasizes that the way we deal today with spirituality is very different than how it was in the 80s. Metanoia offers a new vision for spiritual life in the 21st Century. In the context of the Silence Farm, people much more easily relate with what a personal spiritual path could be for them.
Eilat Interfaith Encounter Group - Israel
This group is mainly formed by educators who develop their work in Eliat, just around the corner of Aqaba, in Jordan, with a unique interfaith composition for Israel. Their population is formed by Muslims, Christians, Armenians and other sub-groups. CC members believe that education is very important in building bridges. They organize meetings at private venues to study basic religious texts and lectures, concentrating on the educational scope. They also promote social meetings, associating children and relatives, and arrange trips and visits to sites connected to the various religions. By learning and sharing, students, teachers and parents understand the importance of appreciating the different. They hope to build a strong interfaith community in Eliat.
The project draws inspiration from local sacred circles popularly referred to as the Mandala which means "Sacred Circle" in Sanskrit, the ancient language of India. Existing in almost all of the world's traditions, the circle has been a medium for integration and seeing all things as whole, interconnected elements. Using the mandala as medium, process, and message, valuable earth wisdom coming from the local culture and practice are applied to the existing conditions that need solutions and actions.
The CC's purpose is to support and empower communities in tapping existing knowledge, capacities and resources to address existing ecological, social, and/or political conditions. Transformational community actions are designed using integral, innovative, and whole systems design and approach. Through shared earth stories, the project hopes to derive collective wisdom that holds space for Earth Wisdom to be remembered, explored, translated, and most importantly - applied to some of the pressing issues humanity and the earth face today in relation to conflict, ecological degradation, and climate change related disasters. At this moment CC members are working on the following projects:  Earth Wisdom Circle, Kites for Peace, Seed Story Project, Living Library Project, Project Rainbow, Cocoon Dream Lab, and Inner Climate Change. Something outstanding about these projects is that they are all accompanied by wonderful partners.
UNIFY CC launched on December 21st of 2012 with 284 events around the world.  They then supported Idle No More for their J11 event where events in Canada and The United States were highlighted. They organized an event in +54 on World Water Day in +309 locations and most recently inspired a meditation at sacred sites around the world on June 21st, 2014. Also, since their start, they have been key organizers of synchronized global events and meditations for International Day of Peace. Unify has been interested and involved with marking, in and with ceremony, the equinoxes, and leveraging these events via social media. They have also marked several special events with our meditation circles and worked to identify and protect sacred sites. UNIFY uses technology, social media, and events to inspire shared connection across cultures, religions and countries. They also have a robust social media presence where they propagate inspiration, knowledge, and invitations to take action in line with Unity.  It has strong partnerships with like-minded organizations.
The intention of Wisdom Circle Ministries is to co-create a world where all life is valued and celebrated.  They will do this by assisting people who are seeking the deeper meaning of their life experience during and after the current challenging times of accelerated changes.  The result of this co-creation will be a global expansion of consciousness, a sustainable world of balance, a world of peace and compassion and a world where love is the catalyst for change. The highlight of their organization has been the focus and the inclusion of Interfaith Clergy by creating a cohesive platform for their ministries. These ministries are primarily located in the United States (including Puerto Rico) but include Costa Rica, India, Australia, Canada, New Zealand, Nigeria, Haiti and the Netherlands.  Their primary work involves facilitating and developing Wisdom Circles that are centered on major issues and ministries of their membership.  Calls to action are developed and answered by Wisdom Circle Ministry in collaboration with the Circles.
Cooperation Circles Involved