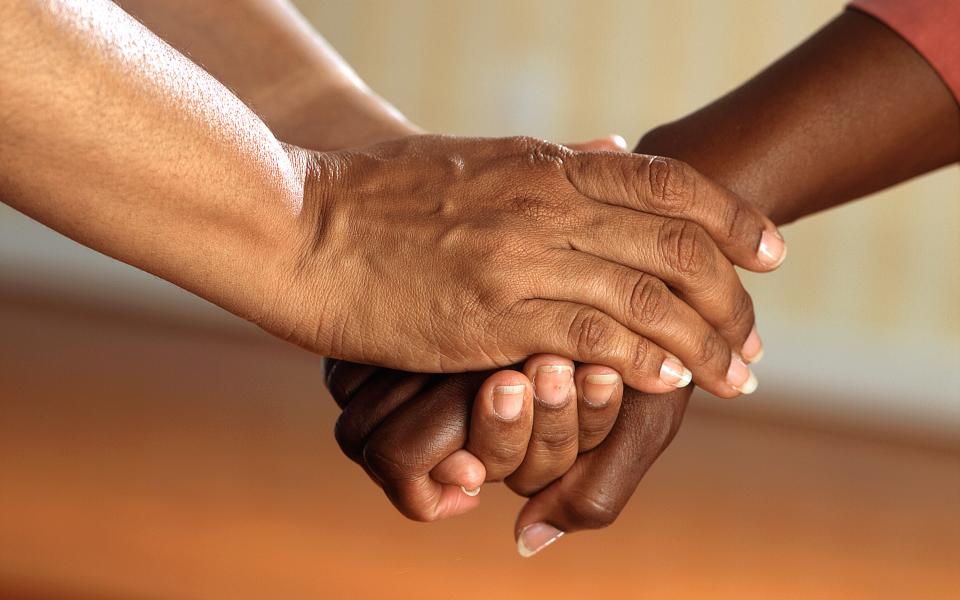 In times of sorrow, the United Religions Initiative family draws closer together to offer sympathy, prayers, and messages of comfort and support. Below are some of the messages offered in the wake of the tragic campus massacre in Garissa, Kenya.
Dear my URI family, 
Thanks so much for kind words. The official number is over 147 dead certainly the number could only be bigger. My heart is so sad. My adopted daughter was rescued from the hostel but I am still hoping to see her when they bring the survivors to Nairobi. Pray for all of us. Kenya is smelling blood all over again. Terror is a nightmare. waiting to see a time when religions will be bridges to peace and love rather than to terror and hatred. Enough must be enough.
I am so terrified, another attack from alshabab militia to Garisa University in Kenya. Where is the society moving towards? dead conscience leading to the destruction of our society. The little ones are innocent please join me in praying for the precious lives of our society, my adopted beloved daughter, student in this university is as traumatized as I. Oh my people, terror all over. A peaceful coexistence for a better world is all I desire for all.
God save us. 
Best wishes brothers and sisters.
Fr. Charles
--
United Religions Initiative Africa condemns in the strongest terms the terrorist group al-Shebab deadly attack against the innocent men and women of Garissa University College student in eastern Kenya that resulted in the deaths of 147 people and injured many others. Such atrocious, despicable and barbaric acts of violence have no justification.
URI Africa stands firmly with the international community in condemning all form of terrorism, and stands in solidarity with the people of Kenya to overcome terrorism and violent extremism.
URI-Africa expresses its deep condolences to the victims and sincere sympathy to their bereaved families and wishes a speedy recovery to those injured. URI-Africa has extended its condolences to the people of Kenya through a letter sent to H.E. Mr. Uhuru Kenyatta, the President of the Republic of Kenya.
May Peace Prevail on Earth
Mussie Hailu, URI African Continental Coordinator
--
Dear Mussie and African URI family,
We are sad for this brutal incident and stand in sorrow and solidarity with you all. We the members of Seeds Of Peace CC and Ezaz-e-Niswan CC pray for you and the families that have lost their children, the youth of the nation.That God may console them at this difficult time. May God grant eternal rest to the innocent souls departed. We In Pakistan understand the terror and its after effects. May peace prevail all over and especially in our hearts. AMEN.
Miss Naseem George T.I., Director, Ezaz-e-Niswan Development Organization 
--
Thank you, Mussie, for this strong stand against this senseless attack at Garissa University College in Kenya. Our condolences to those who lost loved ones in this terrible act. We stand with you all in condemnation of such violence and terrorism, and send our prayers for comfort, guidance and righteousness. May good prevail in Kenya and everywhere.
Blessings,
Anne, Paul and your AZ friends at Arizona Interfaith Movement
--
Dear Charleso and All,
Another terrible attack, now in a Kenya. Here the victims are innocent students of Garisa University. More than 70 students were killed, mostly Christians, we are told. Pakistan stories still linger in our minds. 
This is real bad news on Good Friday. How to cope with terror is a big question. We have to disarm the opponents with the message of love. But the work has to start in schools to re-orient the future citizens. There is no short cut to peace. Let us all unite for a great transformation and let URI lead from the front.
Our prayers with you all at this critical juncture.
Regards,
Abraham Karickam, Regional Coordinator, URI India, South Zone
--
Dear Charleso and friends and Karickam and all the brothers and sisters of URI in Africa and everywhere,
Charleso be assured, you and your family and especially your beloved adopted daughter, of our deep feelings and our earnest prayers for you after these terrible killings at Garisa University. The news began to reach us in New Zealand last night and the toll of dead and wounded had grown horrendously by this morning's news broadcasts. We sense keenly how you must be traumatised and pray for healing for you all. Terrorism's goal is to paralyse by terror and it must not succeed and we here are sure that it will not succeed in your experience. Coming hard on the heels of news about the slaughter of people in Yemen, your sorrows are sorrow upon sorrow to a deeply divided and wounded world. URI has brought us together to comfort and support one another as we persevere through such horrors to a far far better future that is ours for the building. Let us do just that.
George from New Zealand
--
Dear Fr. Charles, 
You and African friends are in our prayer to overcome the hard situation and to recover peace and harmony there.
Dr. Jinwol Lee, URI Asia's Regional Coordinator for Korea 
--
Dear Brothers and Sisters, 
Another terrible attack! Let us pray together for peace prevail on earth.
Peace, peace, peace
Dra. Enoé Texier, Coordinadora Regional de la Iniciativa para las Religiones Unidas, (URI) América Latina & El Caribe
--
Dear Charleso Kwanya,
I am really shocked to learn about this barbaric and senseless attack on and massacre of the university students. It is unbelievable how human beings can kill other innocent humans. These terrorists create so much fear and terror in the people. I wish they think and act with a human mind and heart to respect others and respect the freedom of others and do not kill others. 
Please accept my condolences and prayers. I wish I could do much more than praying and condemning this gruesome act against humanity. I hope these culprits will be brought to justice. Be assured I am with you at this difficult time.
May Peace Prevail in Kenya! 
With sympathies,
fr James Channan OP, URI Regional Coordinator Pakistan
--
Dear friends and colleagues,
I take this opportunity to thank all of you who have written following the Garissa University attack on the list-serve and also who made direct phone calls and on facebook. Thank you so much and we ask that you continuously hold us and other places in turmoil in good thoughts and prayers.
Forgive my delayed, updates, I was out in the Southern part of Garissa and only returned to Nairobi on Saturday night. This attack on the lives of innocent young Kenyans pursuing their education has left many individuals in a state of utter helplessness and an uprising rage. 
A few updates on the aftermath of the Attack, especially on the religious reactions and our own efforts as URI Kenya;
The Muslim Fraternity, both grassroots, and National and other affiliated actors have come out to condemn the attack, saying, that though it is reported that the Militia gun men acted as Muslims, and slayed non Muslim, (systematically sparing Muslims), the attackers are not Muslims and do not represent Islam. 
Whilst that may be understandable to people who understand terrorism and the elements that drive it, majority of Christians, both lay and Clergy have restrained themselves from appearing with other Muslim religious leaders, saying, eminently Christians are a target and calling for Solidarity will be a message of betrayal to those who have been slayed for their faith. They are also requesting for a stronger condemnation voice of disassociation from the Muslim community to paint a clear picture of no connection to those who carried out the attack and not on individual basis. 
Since my return from Garsen, I have been in conversations with some of our CC contact persons, and some Religious leaders and many are in communal mourning, tangible tension will least describe the primary feel of the people but more is the will to be engaged in the conversations towards real dialogue and prevention of other attacks. I do know that the tensions, and hurt is so strong now for especially the Christians and fear for the Muslims but this is going down as the days go by.
The URI Africa Coordinator Amb. Mussie Hailu has also sent us a message of condolences to the different key persons, government institutions and organizations in the country. The Trustee Ms. Channa also continues to collaborate and share with the different key persons.
I am yet to find out from the CCs what their next step can be in this whole situation before sharing with you further updates. We are therefore allowing individuals to grapple with the tragedy and loss before engaging them in their wish for a peaceful wayforward. We will be hopefully holding a meeting with CC contact persons in the week and also intend to engage the religious leaders affiliated to URI, I have called-in to other interfaith organisations for possible common "Interfaith Action". 
I will keep you abreast as the events unfold. 
Thank you for your continued and heartfelt thoughts and messages.
May Peace Prevail.
Nyambura Mundia, URI/Africa Country Contact
--
Dear Nyambura,
Your insightful explanation of local reactions and deep mourning are deeply appreciated. Thank you for deepening our understanding of the need for some people to "take sides" and also offering all of us in URI's global community sensitivity to feel the suffering and grief of people in terrible shock and mourning. Good just to "be with" people in pain before rushing to "interfaith actions."
How very complicated deep feelings are when people feel they would betray their "group" if they stood in solidarity with the "other." How to engage in "real dialogue" when feelings are so raw and violence and fear so close is very hard. I will forward your email to a few friends who I trust to be excellent leaders of deep dialogue like what is called for. Let us see if there are resources that might serve you and CCs there.
With ongoing respect and support and care, 
Sally Mahé, Co-Director of URI Global Programs & Organizational Development 
--
We are with you at heart as we all grieve over the act of brutality and barbarism netted on innocent students in Kenya by those that do not value life. We pray for the families of deceased and the recovery of the wounded. We also pray that the work done by URI and partners will bring light to those in darkness.
May Peace be Ultimate and Happy Easter,
Honorable Elisha Buba Yero, URI Global Council Trustee
--
Dear All,
It is indeed shocking to experience yet another terrorist attack in Kenya. The mass killers did not even spare University students.They shot dead 149 students and injured 79.The families who lost their children are devastated,and we are all concerned about our safety, in the Malls and other public places.. Thank you Elisha for your e-mail, please keep Kenya in your prayers. I pray to the Almighty to give eternal peace to the souls of those who were killed in this terrorist attack,and give courage to the families who lost their loved ones.
May Peace prevail in Kenya,
May Peace prevail in the World.
Rattan Kaur Channa, Global Council Trustee
Cooperation Circles Involved