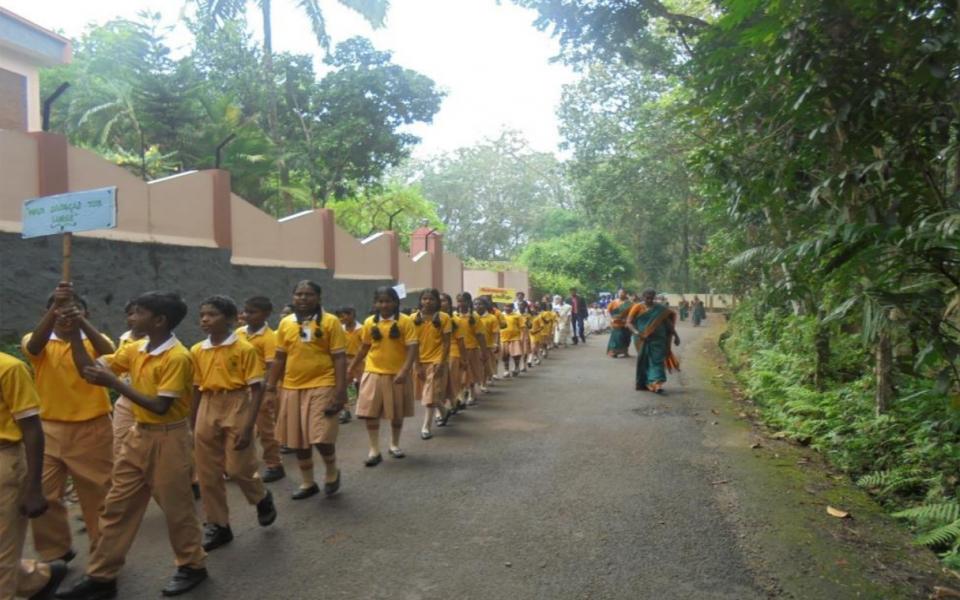 The three URI Cooperation Circles featured here are concentrating their efforts on helping the younger members of their communities. With the upcoming generation learning the benefits of interfaith cooperation, great hope is given to the sustained peace and prosperity of each community.
Pialsole Aboriginal Development Society, Purulia, West Bengal, India
Pialsole Aboriginal Development Society's vision is to have "a world free of discrimination, one in which no one is judged by the color of their skin, and where there are no castes." Because the region is located deep in the countryside, local communities face a large exodus of youth to the city as they pursue career opportunities. The Cooperation Circle hopes to rebuild the communities by offering more job opportunities to youth locally and contributing to economic sustainability in an interfaith context.
"We are facing difficulties in providing a good education for our children, better health services, roads, and at the same time there are many harmful businesses, such as the logging factories, who are successfully doing good business. We are also faced with communities and families breaking down, separating due to migration. Young people are running away from villages to live in the city under unhealthy conditions. We are attempting to preserve and utilize indigenous knowledge on traditional healing and other valuable principles for leading a peaceful life."
The Cooperation Circle reaches youth through the activities they love: soccer, cricket and volleyball are very popular programs. In addition to sports and health camps that are open to all participants, the group also organizes education about eco-friendly and sustainable ways of farming. They plant trees with high earning potential and protest environmental damage caused by logging companies. They invite community elders to provide public treatment with local medicinal plants. And they share stories of people who have remained in the village and lived a peaceful life.
The interfaith efforts promoted through these activities are showing much success: "Hindus are giving blood to people from different religions, which was previously unheard of." There is also a decline in young people joining violent groups. "You can study reports in the last several years and find that our social activities have lowered violence in the region. People are learning to stand up for each other, and this is preventing conflict."
CLICK HERE TO READ THEIR FULL CC PROFILE
---
St. Mary's Public School, Mulakuzha, Alapuzha District, Kerala, India
Since its founding 25 years ago, St. Mary's Public school has been conducting programs for educational development and communal harmony in order to bring the wisdom of other religions and cultures to younger generations. They work to promote harmony among the three main faith traditions in the community: Hindus, Christians, and Muslims, and work against stereotypes promoted by the caste system. "Our strategy is to bring people together with different faith and cultures in the same platform through various activities, like peace rallies, seminars, leadership trainings, health awareness programs, and medical camps."
Through its programs, the Cooperation Circle has achieved a high measure of success among local youth. "People are eagerly watching our activities and wholeheartedly supporting our programs on interfaith harmony justice and peace. We have many parents expressing their interest in our interfaith programs." Not only are the programs well-received, but the youth who participate often go on to become interfaith ambassadors in their communities. "We hope to create an impression and understanding among the youth that all the religions must respect and help each other to eliminate racial and religious discrimination," school representatives say. "People are enthusiastic about our vision for a better world."
CLICK HERE TO READ THEIR FULL CC PROFILE
---
Faiths Together Uganda, Seeta-Mukono, Uganda
Faiths Together Uganda engages engage youth from Muslim, Pentecostal, Anglican, SDA, African Spiritual, & Orthodox communities. The group's goal is to heal fragile communal relations in the face of recent ethnic/religious violence and polarization that swept their country and region. They use song and dance to bring members of different cultures and religions together, and to pass on the message of religious tolerance.
Their main programs include interfaith and intercultural clubs on school campuses, as well as organizing an intercultural performance troupe. The programs help youth participants forge strong relationships across cultural and religious lines through collaborative action and dialogue. "By mobilizing students in schools, [and] engaging them in discussions, debates and sharing about their respective faiths and cultures; the children, youth and the general community are able to appreciate and respect one another's faith and culture."
"The children that are targeted in schools have been brought together and they gradually change their inherent prejudice against people of different religions and culture. They are able to sit together and ask each other about their religious and cultural values. The capacity to inquire into the unknown is a great step to breaking the barriers to peaceful coexistence and cooperation."
CLICK HERE TO READ THEIR FULL CC PROFILE
Cooperation Circles Involved