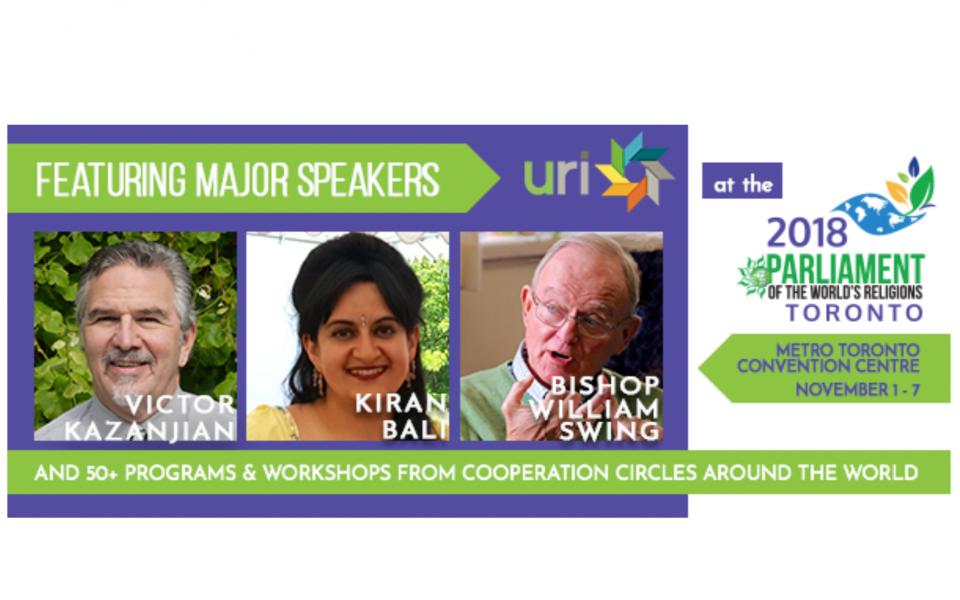 United Religions Initiative To Be Featured in More than 50 Programs at the Parliament of the World's Religions in Toronto
United Religions Initiative (URI), a global grassroots interfaith network, will be featured in more than 50 programs and workshops at the 2018 Parliament of the World's Religions (PoWR), the largest global interfaith gathering, this November 1 – 7, 2018 at the Metro Toronto Convention Centre in Toronto, ON.
The 7th PoWR's seven-day convening will bring thousands of persons together of different religious, spiritual and ethical backgrounds from around the world to explore its theme: "The Promise of Inclusion, The Power of Love: Pursuing Global Understanding, Reconciliation, and Change." The Parliament is proud of the ways URI's presence will showcase real-time grassroots action from locations around the world.
A heavy schedule of events features 1,600 presenters in 900+ programs, workshops, and dialogues across six major tracks that will highlight expert analysis, spiritual wisdom, advocacy training and cultural flair. Music, dance, art and photography exhibitions and related events presented by the world's religious communities and cultural institutions will take center stage at major events like the Sacred Music Night, the Parliament's 125th/25th Anniversary Banquet, Indigenous Cultural Awareness certification program, and a first-ever Parliament Interfaith Family Festival, presented in partnership with URI Cooperation Circle Spiritual Playdate, and more.
Rev. Dr. Larry Greenfield, PoWR Executive Director, celebrates the partnership URI offers in saying, "We are committed to acknowledging the indelible role grassroots interfaith cooperation has played in the advancement of peace, justice and sustainability on earth. What a privilege it is for the Parliament to be partnered with the world's largest grassroots interfaith network, a showcase of truly needed collaboration at a time our movement is most necessary to intervene in the rising tide of division, greed, and environmental degradation."
"We offer our deepest gratitude to URI for its commitment to partnership and impressive achievements, from URI's efforts at the UN to its growth in hundreds of cities across the world where interfaith groups have the chance to be part of a resource network that connects their local insights and achievements to a fast-growing group of global peacebuilders," said Dr. Robert P. Sellers, Board Chair of the Parliament of the World's Religions.
LEARN FROM URI LEADERSHIP AT THE PARLIAMENT:
URI Executive Director, Rev. Victor Kazanjian, an ordained priest in the Episcopal Church - and community organizer working to address the systemic causes of poverty and injustice through the support of religious and community-based groups -  will speak in a Friday-evening plenary entitled "Faith & Interfaith: From Grassroots to the Globe" on November 2.
Hindu scholar and grassroots leader - tackling climate change and empowering women - URI Global Chair Kiran Bali will be speaking at the Women's Dignity Assembly, Saturday, November 3 and The Future of Religion, Sunday, November 4.
Bishop William Swing will speak at "End Humanity's Greatest Threat: The Moral, Medical, Spiritual, Legal, Practical Response to Nuclear Weapons" on Monday, November 5. Bishop Swing, founder and president of URI, the world's largest grassroots interfaith organization, is a proven pioneer in the creation of global networks and since 1983 has been deeply involved in nuclear disarmament.
We can look no further than the work URI will showcase at the Parliament for confirmation that the interfaith movement is creating a beloved community on earth for all peoples and all living beings.
SEE MORE OF URI'S PROGRAMMING AT THE 2018 PARLIAMENT
Last-minute registrants from around URI's global network can benefit from a 40% savings using a promotion code (Cooperation2018) at registration.
Based on past events, PoWR expects more than 10,000 delegates from 80 countries representing nearly 200 religious, spiritual, and Indigenous traditions to participate. PoWR presenters comprise students, clergy, interfaith leaders, scholars, Nobel Laureates, city mayors, spiritual luminaries, best-selling authors, globally-recognized entertainers, thought leaders, state actors, and more. To view the current list of Keynote Speakers, visit the Parliament website here.
About Parliament of the World's Religions
The Parliament of the World's Religions was created to cultivate harmony among the world's religious and spiritual communities and foster their engagement with the world and its guiding institutions to achieve a just, peaceful and sustainable world.
For more information about the seventh Parliament of the World's Religions and for the full list of confirmed speakers, please visit: www.parliamentofreligions.org. Follow The Parliament on Twitter @InterfaithWorld, Instagram @InterfaithWorld, and "like" them on Facebook.