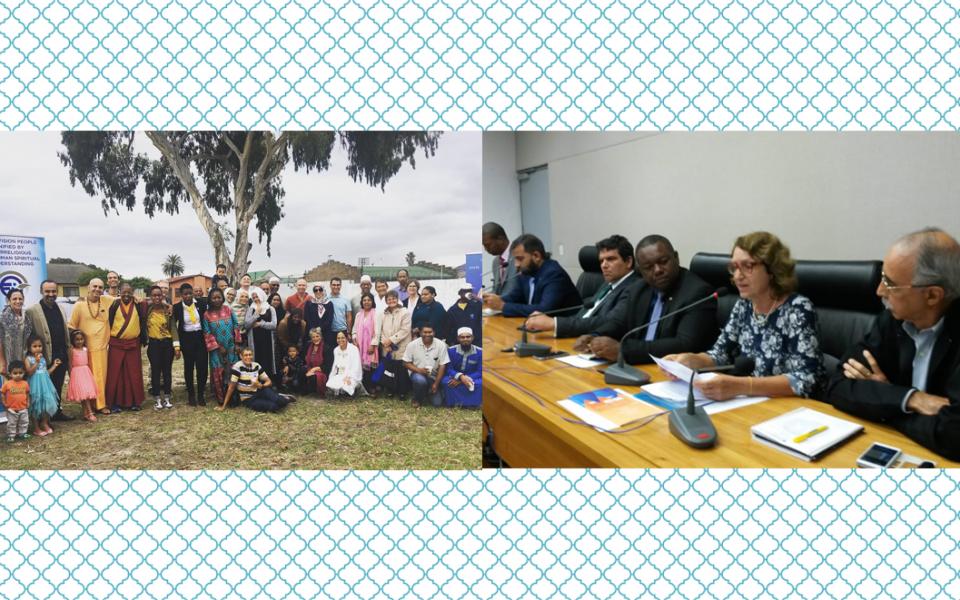 The World Interfaith Harmony Week 2019 prize winners have been announced, and two URI Cooperation Circles (member groups) are in the top three!
The URI winners were chosen from over 1,454 events submitted, from all over the world, all of which celebrate harmony between people of different faiths. Every year, during the first week of February, URI groups worldwide join in celebrating interfaith harmony by hosting different types of events, from large, city-wide marches to intimate dinner discussions, and anything in-between. See a list of URI Harmony Week events over the years here. World Interfaith Harmony Week is based on UNGA Resolution A/65/PV.34, and was proposed in 2010 by HM King Abdullah II and HRH Prince Ghazi bin Muhammad of Jordan.
Congratulations to...
Cape Town Interfaith Initiative, a URI Cooperation Circle based in Cape Town, South Africa, won the World Interfaith Harmony Week 2019 first-place prize this year.
"This year, for the first time, the Cape Town Interfaith Initiative took the prayers from the places of worship to the people. We decided that from now on, every year we will identify a troubled location and take our prayers there. The violence in some of our suburbs is so bad that 'death by violence' daily figures are considerably higher than those in war zones in other parts of Africa."
The prayers were aimed at touching and uplifting the people who were most in need, as well as raising awareness of the responsibility to be good neighbors to each other - wherever we may live. People came from many faiths, including Buddhist, Baha'i, Muslim, Christian, Hindu, Hare Krishna, Brahma Kumaris and Unitarian participants, and brought poems, prayers, songs, and other contributions to a sense of unity and encouragement.
"My deepest desire is that this award will serve as encouragement and hope for the many grassroots cooperation circles in Southern Africa who are doing transformative and important work," said Berry Behr, primary contact person of the Cooperation Circle. "It is work from the heart, for the heart and the dedication of my colleagues in interfaith is inspirational. Interfaith work is an act of healing for the planet and her people. I feel so blessed that I get to do this work every day, not just during World Interfaith Harmony Week. Tonight I am humbled, and proud, and so very grateful to our Creator, to my team, my colleagues, the amazing organisations who support this work and of course, to the judges."
URI Brasilia Cooperation Circle, a URI member group based in Brasília DF, Brazil, won a joint third prize for their actions. On February 7, URI Global Council Trustee Salette Aquino joined the table in a Public Audience in the Legislative Chamber of the Federal District of Brazil to celebrate the UN World Interfaith Harmony Week. The activity was co-organized by the URI Cooperation Circle Brasilia, and on the occasion, the group officially delivered a request to the Human Rights Commission to create the Parliamentary Front of Religious Diversity - a requirement that was accepted.
"Interfaith Harmony and Human Rights are the focus of the work of our Cooperation Circle," Salette says. "For many years we have been bringing URI's Preamble Purpose and Principles into politics. It is really important that the request of the creation of a Parliamentary Front of Religious Diversity was accepted and that the work of URI Brasilia under Elianildo Nascimiento leadership was recognized. This gives us hope to continue with the work in these challenging times. Thank you, World Interfaith Harmony Week, and of course to the generous King of Jordan for the award!"
---
The prize-giving ceremony will take place in the last week of April, 2019 in the Hashemite Kingdom of Jordan. Read the full list of World Interfaith Harmony Week 2019 prizewinners and more about the winning events here.
Cooperation Circles Involved