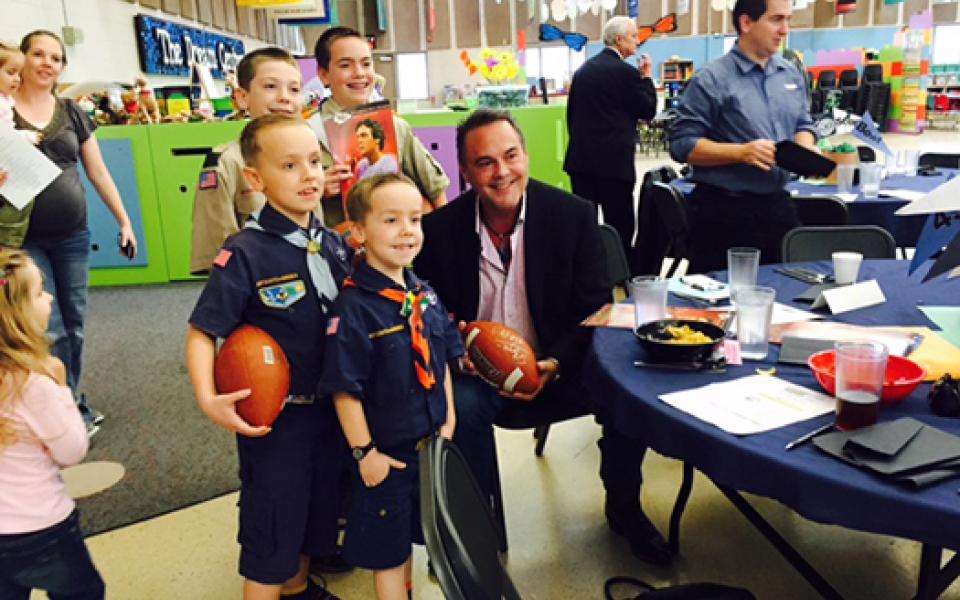 In celebration of World Interfaith Harmony Week 2015, Cooperation Circles around the world organized gatherings where participants of all faiths could find common ground in music, art, and interactive activities. Taking part in these activities together reaffirmed the human need for connection and collaboration. Below are some reports submitted by Cooperation Circles detailing their experiences.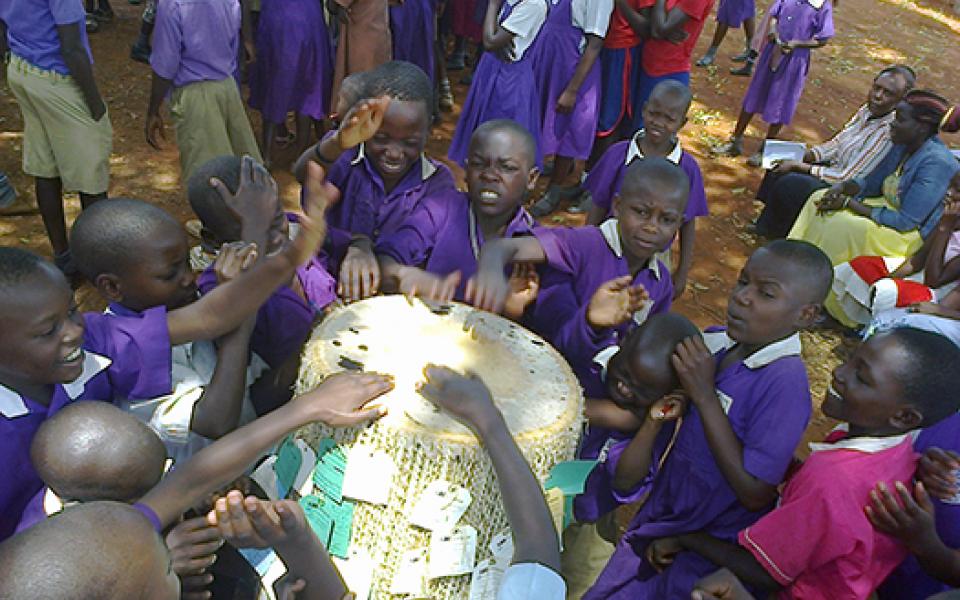 Faiths Together Uganda (FTU) CC is located in Seeta-Mukono, Uganda. We primarily engage youth from Muslim, Pentecostal, Anglican, SDA, African Spiritual, & Orthodox communities. We are actively working to heal fragile communal relations in the face of recent ethnic/religious violence and polarization that has swept our country and region. We use song and dance to bring members of different cultures and religions together, and to pass on the message of religious tolerance. Our main programs include interfaith-intercultural clubs on school campuses and organizing an intercultural performance troupe. Faiths Together Uganda has helped many of their youth participants forge strong relationships across cultural and religious lines through collaborative action and dialogue.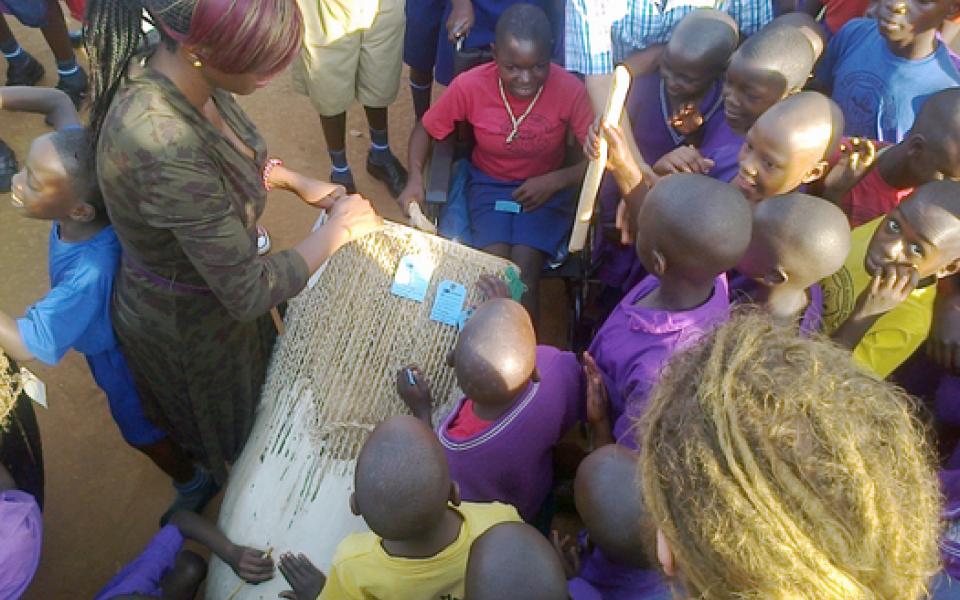 A drum is considered one of Africa's leading means of communication. The peace drum initiative comes to front the interfaith and religious tolerance. The Initiative uses art and music as an instrumental tool in bridging the gap between people of different religions to express love for oneself and one another, enhancing thus enhancing social harmony and development.
During this year's World Interfaith Harmony Week (WIHW), we used two big drums as symbols of interfaith and inter-cultural diversity. One drum is black and the other is white, representing the different races. We believe that drums as a symbol of peace have reawakened the minds of young people towards tolerance. This initiative is also intended to reawaken the schools and surrounding communities to the culture of sounding drums as a symbol of peace.
The peace drums were also extended to Children with Special Needs, an often "forgotten" group in peace and development campaigns. This was intended to give them a platform for their voices to be heard as human beings with equal rights to others. The children had a moment to sing together a famous Bob Marley song; "One Love," led by Marco De Jong, a music Intern from the Netherlands. He had this to say about religion: "It is so hard for people of different religions to work together back home in the Netherlands as I have witnessed here today. This is a lesson I will take home with me." The message was to use art and music to build the spirit of oneness and harmony among people of different faiths.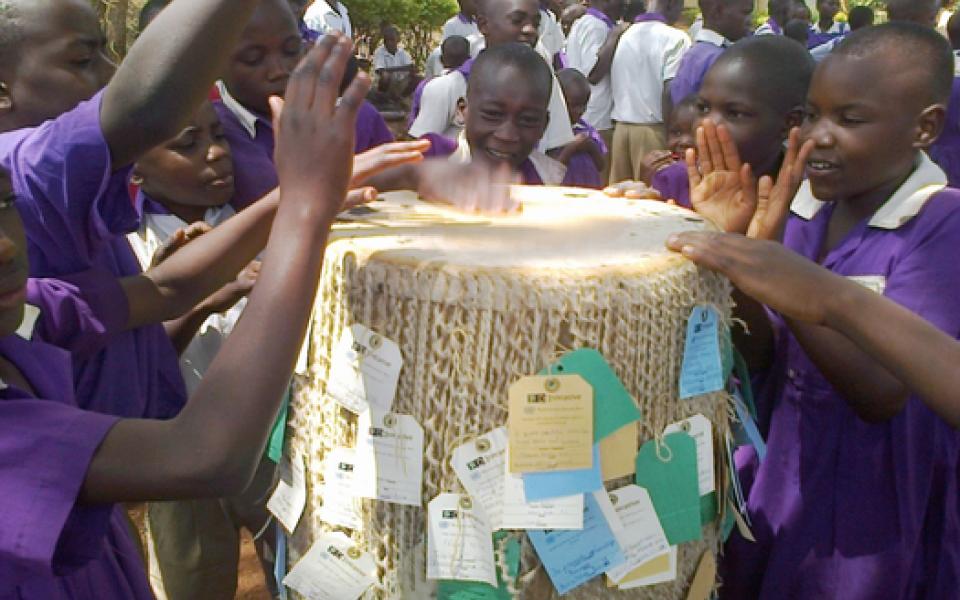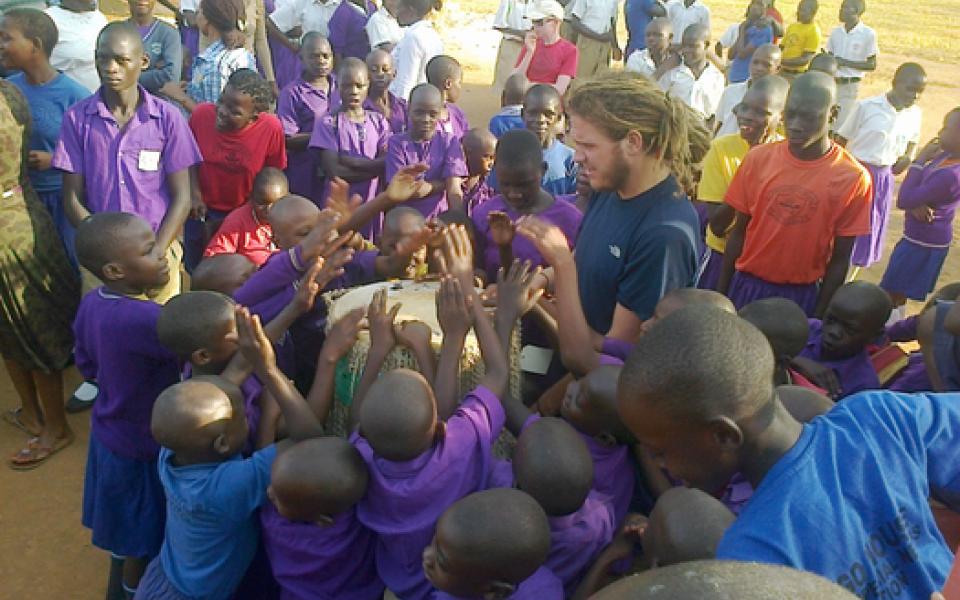 As a climax of the celebrations, a verbal, open-air declaration was made by all pupils, students and teachers through a phrase reading: "We Declare That we will live, respect Religious Differences, Value love of all, and say no to Religious Based Violence To Bring Lasting Peace To Humanity." This was followed by signing of the 'declaration banner' by teachers, students, and religious leaders. Members of the community joined by expressing their commitment towards global peace and a sustainable development by sounding the Interfaith Harmony Peace Drums and appending their signatures on the Declaration banner.
Submitted by: Despina Namwembe, Regional Coordinator, United Religions Initiative (URI) - Great Lakes Africa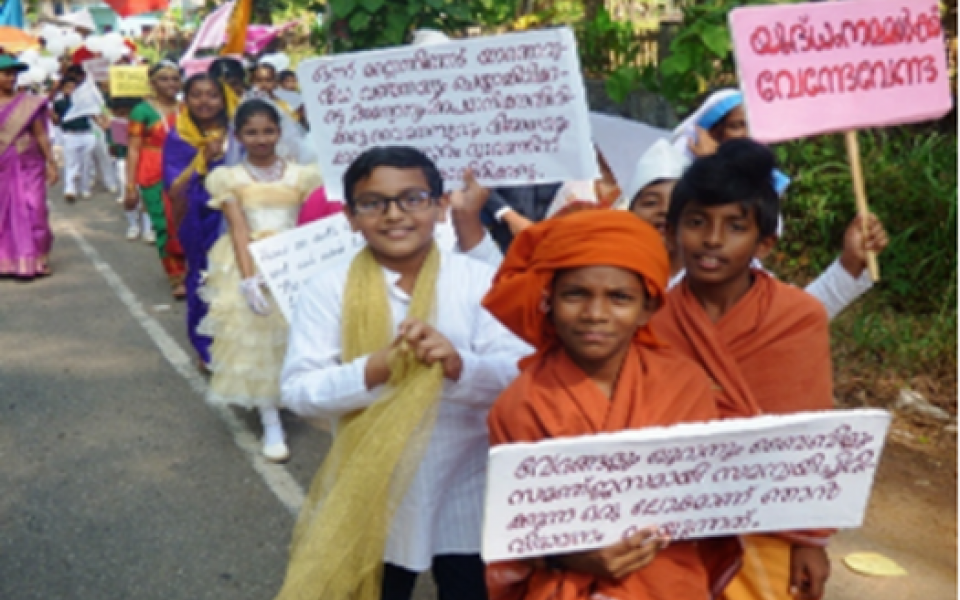 Karickam International Public School in Kerala, India, held a colorful Proclamation Peace Procession in honor of Interfaith Harmony Week. Rev. Dr. Victor Kazanjian (International Executive Director of United Religions Initiative), who was visiting Kerala, inaugurated the peace procession by flying a pigeon to the skies. He also flagged off the March which was led by a students' band from the forefront.
The inaugural session was presided over by Dr. Abraham Karickam, Chairman of the school. Many other dignitaries from various organizations were also present on the occasion. Hundreds of students in numerous fashions participated in the peace procession. Many of them were carrying white flags and a number of posters declaring the glory of peace and evils of war. The program was a great success and helped in really promoting deep interfaith harmony and peace.
A large number of spectators (including students' parents) viewed the peace procession from both sides of the main road through which the participants marched. This has become a regular feature in the area, and the people belonging to several communities flock on both sides of the road to encourage the peace walkers. They walk a distance of two kilometers.
Submitted by: Abraham Karickam, Regional Coordinator, India, South Zone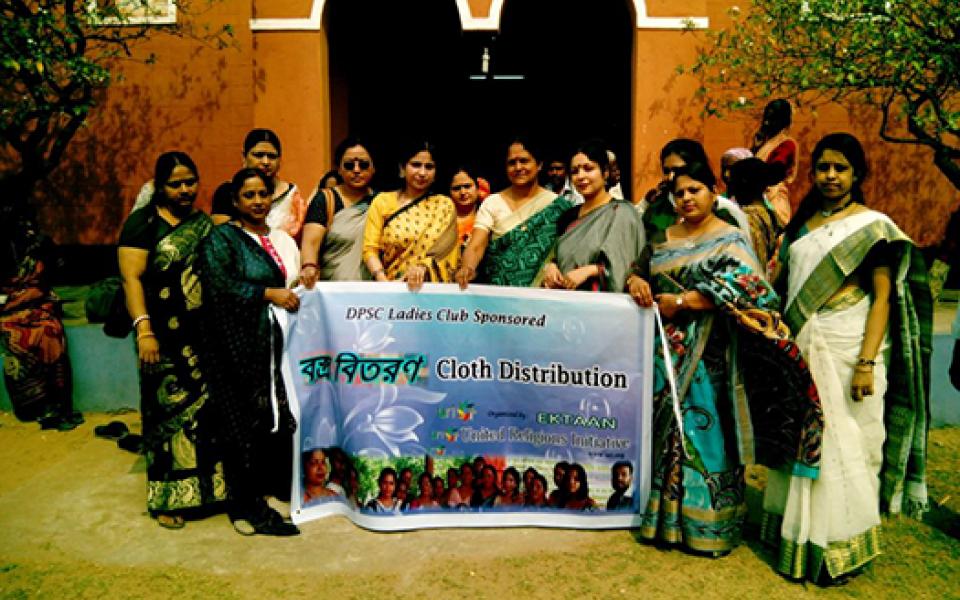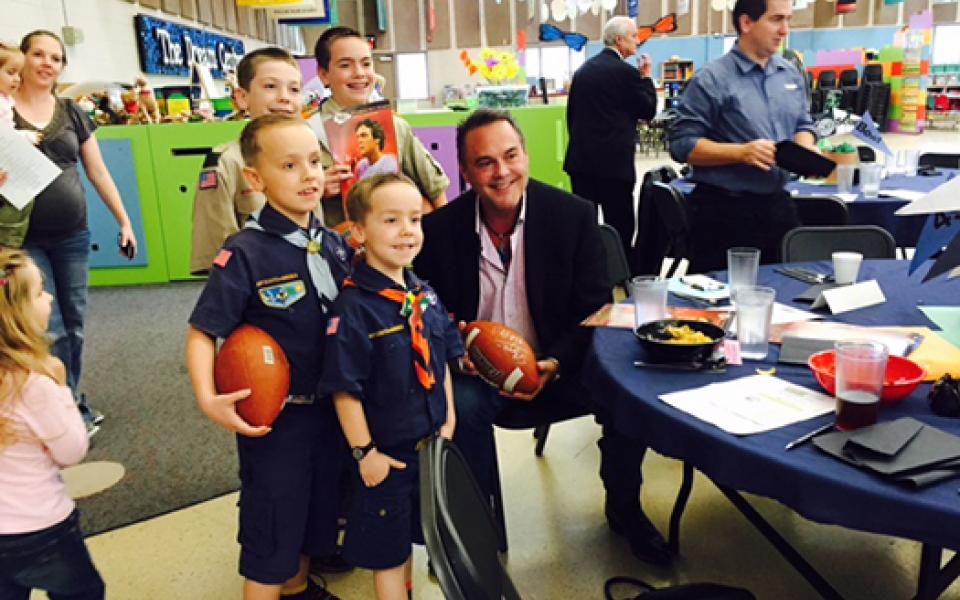 Host Cooperation Circle: Arizona Interfaith Movement
Location: Phoenix, Arizona, North America
The Arizona Interfaith Movement kicked off the week with their "Souper Bowl Kickoff Luncheon" to help tackle hunger. As many celebrated the 49th Super Bowl game, they remained mindful of those without a bowl of soup to eat.
Submitted by: Sari Heidenreich, Regional Coordinator for North America 
Host Cooperation Circle: Abbey of HOPE
Location: Brunswick, Maine, North America
Abbey of HOPE hosted a World Interfaith Harmony Week observance with people from Jewish, Christian, Interfaith, Earth Based spirituality and Scientology joining together to reflect, sing and make peace flags.
Submitted by: Sari Heidenreich, Regional Coordinator for North America 
Host Cooperation Circle: CARAVAN 
Location: Paris, France
Following the recent tragedy in Paris and in the midst of the increasing chasm of discord and misunderstanding that exists between the Middle East and the West, and between Christians, Muslims and Jews, the 7th CARAVAN Exhibition of Visual Art titled The Bridge opened in Paris, France at the historic Church of Saint Germain des Prés in the Latin Quarter, the oldest church in Paris, to commemorate the United Nations World Interfaith Harmony Week.
The Bridge involves a diverse range of Arab, Persian and Jewish visual artists. Participating artists include women and men, from premier contemporary artists to emerging younger artists, from the three primary monotheistic faith backgrounds and 13 countries. Each artist has submitted one original work (done specifically for the exhibition) addressing the theme "The Bridge," focusing on what they hold in common through their cultures and creeds, illustrating their ideas of how to build bridges between us all.
Submitted by: Rev. Canon Paul-Gordon Chandler, Founder/President, CARAVAN
---
Host Cooperation Circle: Hope In Life Foundation
Location: Around the World
The "Compassion Games: Survival of the Kindest" is a collaboration exercise designed to awaken us to the power we each have as "players" to choose to play the "game" of life differently (and more compassionately) with each other and ourselves. For World Interfaith Harmony Week, over 30 teams around the world submitted nearly 100 reports showing that well over 50,000 people were served through the Compassion Games in this seven-day "coopetition."
See the Compassion Games video.
Submitted by: Sari Heidenreich, Regional Coordinator for North America 
---
Read even more accounts of World Interfaith Harmony Week 2015 celebrations.
Cooperation Circles Involved